The fun chaos of the holidays is in full throttle! Family gatherings to plan, delicious meals to prepare, gifts to find and purchase, and a house to decorate … the list goes on!  With entertaining season approaching at warp speed, it's time to get your home spruced up and looking like new. Your time is precious around the holiday season, so to help make the most of your days – and budget – try these easy solutions to make your home holiday ready while keeping your sanity below.
* A simple way to decorate for the holidays year after year is with an artificial tree. Lowe's offers four trees pre-lit with color-changing LED lights, meaning you can change the look – and color – of the tree with just a push of the pedal making your decorating process much easier. For a formal dinner event, glowing white light sets a perfect ambiance. Switch to the multi-color option to delight the kids.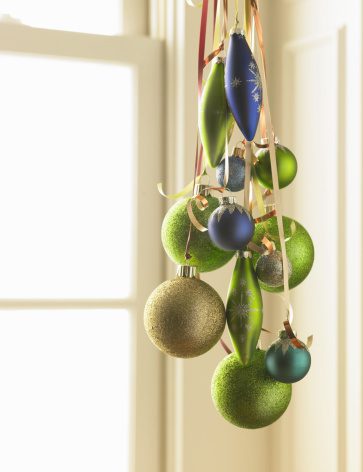 * Use holiday decorations in unexpected ways to add festive cheer in every room of your home with minimal effort. Try hanging ornaments to decorate live plants, light fixtures, doorway overhangs, stairwells, mirrors and even the mantel. For this project, don't use expensive or family heirloom ornaments – just purchase coordinating ones that work with the color pattern you already have in the room.
* Potted evergreen plants decorated with lights bring plenty of festive feelings into a room. The best news is that when spring arrives, you can plant them outside in your backyard, or donate them to a community project that needs evergreen trees. Using live plants infuses the room with light and good, clean oxygen, and it's the subtle touches your guests will appreciate and remember.
(BONUS:  One of my favorite learned tips this season is discovering the power of a table charger!  Adding a charger plate to your holiday table adds sophistication and glam without additional decorating required!)
With these timely tips, you – and your home – will be last-minute ready for a holiday season of celebrations.  How do you get your home holiday ready for the season?  Share your last minute tips (and tricks) below!
Comments