Bare Necessities, the leading online destination for brand name bras and lingerie, today launched two new catalogs without printing a single page. The editions are completely digital and designed specifically for a tablet shopping experience. The catalogs are available today via the free Google Catalogs and Catalog Spree tablet apps for both iPad and Android, and can be viewed on BareNecessities.com as well.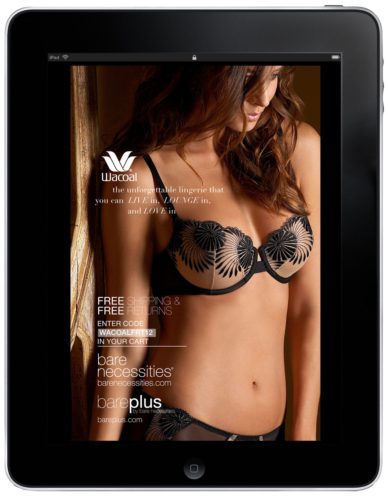 The first new catalog features Bare Necessities' incredible new swimwear collection, featuring brands such as SPANX, Elomi, Freya, and Fantasie.
The second digital catalog highlights Bare Necessities' Spring bra and lingerie collection from Wacoal in a rich, sensual experience that is accentuated by being designed for an interactive, tablet environment.
Bare Necessities also launched www.Bareplus.com in February 2012, which features more than 1,200 styles of full figure and plus size bras and lingerie.
"We are excited for the opportunity to use digital technologies to connect with consumers in new and engaging ways," said Bob Vitale, President of Wacoal America.  "Through the digital catalog, Bare Necessities has made our bras and lingerie really come to life for women of all sizes."
Google Catalogs and Catalog Spree are available free on Apple's App Store for iPad and on Google Play for Android.