Just three weeks ago, I was trapped on public transit working on a few documents under a deadline and stressing out.  In an attempt to return a few travel documents, I realized that using the PDF apps currently installed on my iPad – I was still unable to edit, save and email the documents in time.  In a panic, I tweeted: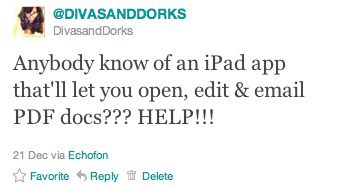 Many responses led me to believe that there were no such apps available that could manipulate, edit and save pdf documents.  That is until, I randomly found out about Readdle's PDF Expert available on iTunes for $9.99.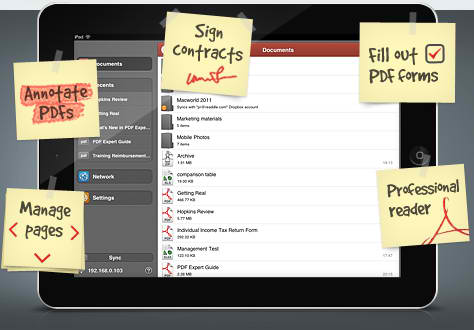 PDF Expert is the ultimate solution for all your PDF needs. Fill forms, annotate PDFs and sign documents on the go.  PDF Expert lets you read and edit PDF documents, highlight text, make notes, draw with your finger and save these changes which are compatible with Preview and Adobe Acrobat! Moreover, PDF Expert is the only iPad application that can fill in PDF forms!  PDF Expert can get documents from any place you may need: PDF files from the desktop computers, email attachments, documents on the Dropbox, MobileMe iDisk, GoogleDocs and even in other iPad applications.  How cool is this???  Can you believe that with PDF Expert, you can be a productivity pro while on the go?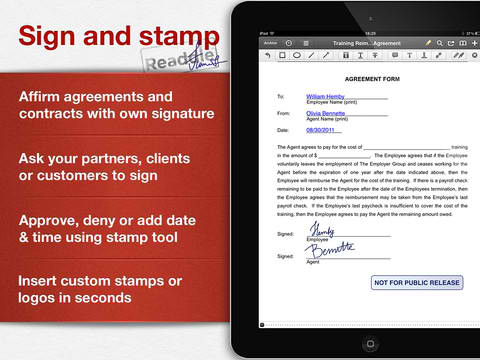 Wondering about syncing documents?  With a single tap the whole folder can be two-way synced to the Dropbox, iDisk, SugarSync or any WebDAV storage.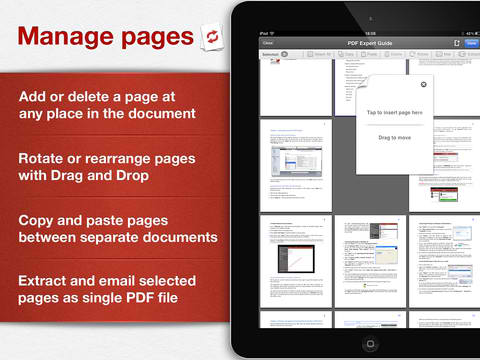 You can even use iTunes file sharing to transfer files directly to your iPad via USB cable. As an alternative you can connect to the iPad running PDF Expert via Wi-Fi and use it like a wireless flash drive. No additional software is required.
Just when you thought working on the go was easy, it just got easier with the PDF Expert!  After downloading this app, I was able to edit, save and send off my documents with ease.  It's the easiest and most useful PDF app on the market today, I guess that's why it's the expert…PDF Expert, that is.  But don't take my word for it.  Check out these customer reviews below…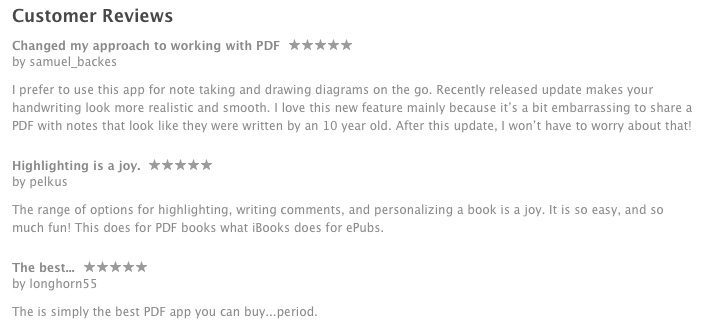 Have you used any other pdf apps recently? Which ones stand out to you?  Are you planning on checking out the PDF Expert? We wanna know!