Betsey Johnson's company sent the fashion world into a tizzy on Thursday after filing for bankruptcy. But not to fret—the party is far from over for the legendarily perky designer. Despite having to close 63 freestanding stores, Johnson will stay on as creative director for the brand focusing on sportswear and her moderately priced line, among other projects.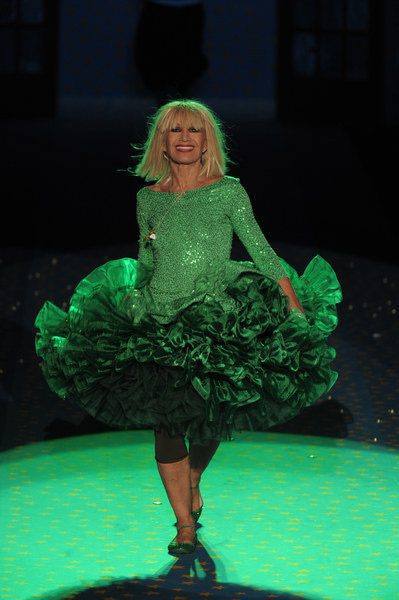 I certainly didn't see this coming.  As a fan of Betsey Johnson fashions (and even more a fan of her MBFW runway shows) I thought they could do no wrong.  However, the company was in deep water after a $48 million loan evasion that resulted in a bail out by Steve Madden (Steve Madden Ltd. owns intellectual property rights to the company). The Wall Street Journal explains that the brand's luxe prices are simply not affordable to its younger demographic and could not compete with lower-priced retailers (H&M,Topshop) targeting the same customer base.
But hold back your tears, because here's a bit of good news: a few flagship stores will remain open in Manhattan and a few other cities. Saks Fifth Avenue,Bloomingdale's and Nordstrom will continue to carry the collection. Johnson also plans to hold a runway show during Fashion Week in September to promote her more affordable frocks. "I love the moderate price range," she told WWD. "It is in synch with all the girls who are buying my clothes."
The 70-year-old will also be cartwheeling onto—what else—reality television. The show, Betsey + Lulu, is set to air this July and will star the designer and her daughter. She will also put her nose to work releasing two more fragrances to follow up last year's release of Too Too.
Looks like things are looking up for one of my favorite eccentric fashion brands, check out some of our favorite Betsey Johnson runway moments & let us know if you'll be keeping an eye out for their new "more affordable" lines coming soon.