It's official! This past weekend has been the busiest "Breaking News" moments the world has seen in a while.  From the Royal Wedding (yeah, that just happend on Friday – REMEMBER?) To last night's breaking news by President of the United States, Barack Obama announcing that world reknown terrorist Osama Bin Laden had been killed.  This is where the interesting part comes in…if you're like the millions of people from around the world that has interest in the latest world affairs you probably didn't have to wait to hear the news via your broadcast news medium of choice, you simply logged onto your favorite social media platform at recieved the news immediately BEFORE THE REST OF THE WORLD!
For example, my story is this….on the day of Royal Wedding my timeline was filled with audio, video, photos and comments painting a play-by-play picture of the ceremony from gown to song (after song, after song, after song).  Literally 15mins before the official Bin Laden announcement was made via President Obama, my Facebook feed was buzzing with the news that Osama was indeed captured and dead.
Is it possible that the Osama is DEAD Facebook page had something to do with the news traveling so fast?  The page was actually created years before his death actually occurred.  I don't believe this conspiricy-theory driven page had anything to do with it, but with almost 350,000 LIKES this page is serving as an online memorial board where visitors are sharing their stories and feelings about his Bin Laden's death.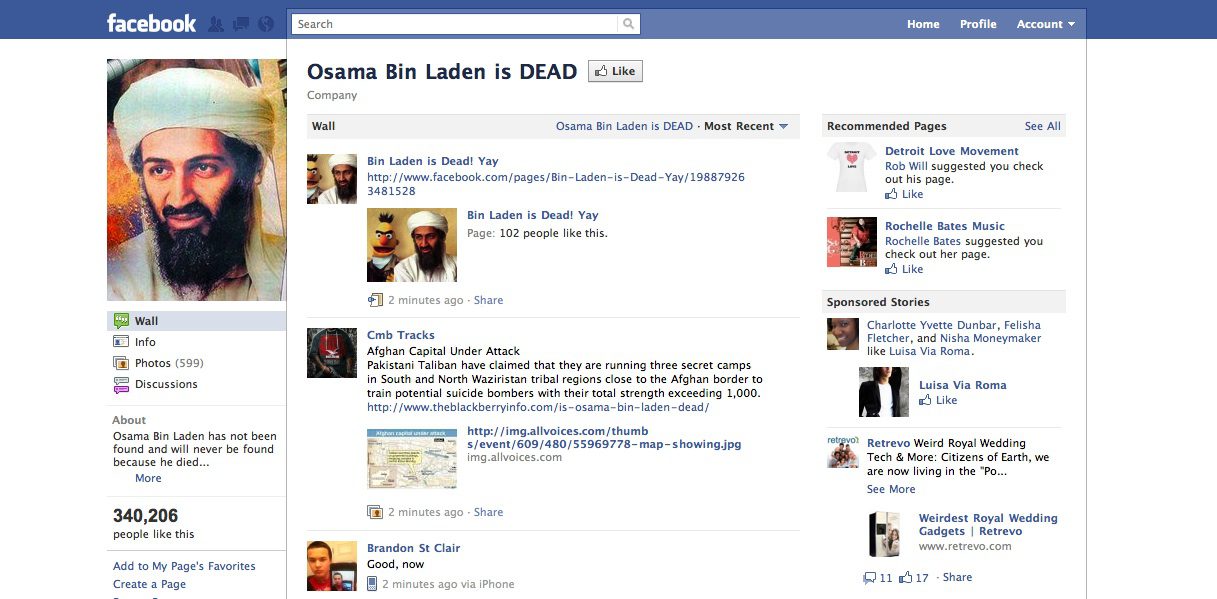 Now, you want to know who had the news before Facebook, CNN and Twitter?  This guy…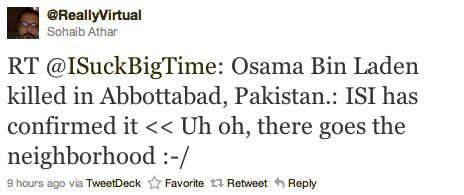 That's right, he tweeted LIVE just feet from the actual mele that brought Bin Laden down.  This is the exact reason why Broadcast media won't be able to compete with social media.  The live updates of billions via social media platforms will always out-perform the traditional means of relying on broadcast media for breaking news and reports.
(Twitter has just confirmed that nearly 4,000 tweets PER SECOND were sent out during last night's speech by President Obama. – via CNNTech)
Still don't believe that social media is outperforming traditional broadcast media when it comes to news delivery?
Check out this poll listed on Mashable.com:
So far, over 35% of all polled heard the news not via CNN or local news programming but via TWITTER!
The everyday journalist, Twitter-user and Facebook-correspondent are the ones making news happen and reporting it IN REAL TIME!  After this weekend, I know that I'll be the one checking for news more often online and awaiting for broadcast media to confirm it later, how about you?
In case you were wondering about the Royal Wedding and social media buzz, you can catch the details HERE.