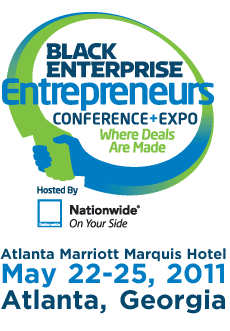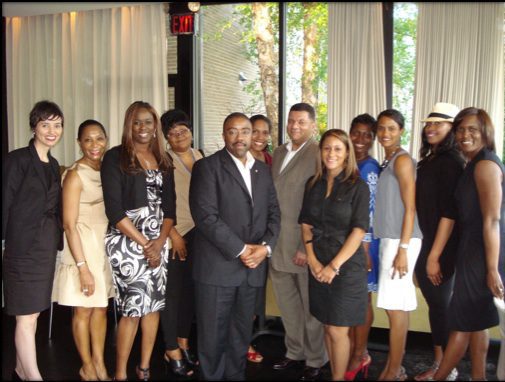 BUICK WELCOME DINNER:  Fellow Journalists and  Bloggers accompanied by the gracious GM Management Team. (Photo: Rachel Roe)
What does Buick, Black Enterprise Magazine and Divas & Dorks have in common?  A phenomenal three days of inspiration, empowerment and much, much more!  The Black Enterprise Entrepreneurs Conference + Expo 2011 in Atlanta, GA was a phenomenal event that went beyond my expectations!
It all began with an evening of getting acquainted with fellow bloggers, media and Buick/GMC staff during the Buick Welcome Dinner…and somehow ended with Nina, Rachel and I getting the party started participating in a line dance…."The Hustle" to be exact at the Black Enterprise Welcome Reception!)
Nina, Rachael and I, "walking in out" on the dance floor! =====>
After an evening of getting acquainted, it was immediately time to get down to business!  The opening keynote speaking, Dr. Dennis Kimbrough kicked off the conference with a remarkable and thought-provoking keynote address reminding attendees that "...Our problem isn't that we don't have money, it's what we do with the money that we have!"  Other gems of wisdom that Dr. Kimbrough shared regarding entrepreneurship included:
"Whatever you do, do it so well that no one can take their eyes off of you!"
Four Key Factors in every Millionaire's Mindset (Dream BIG, Be Different, Dedicate to Continued Education, Refuse to Fail!)
There were so many more inspiring thoughts and stories shared throughout the conference and sessions that I couldn't possibly list them all, but I will be sharing how I've implemented them in my daily journey through entrepreneurship soon.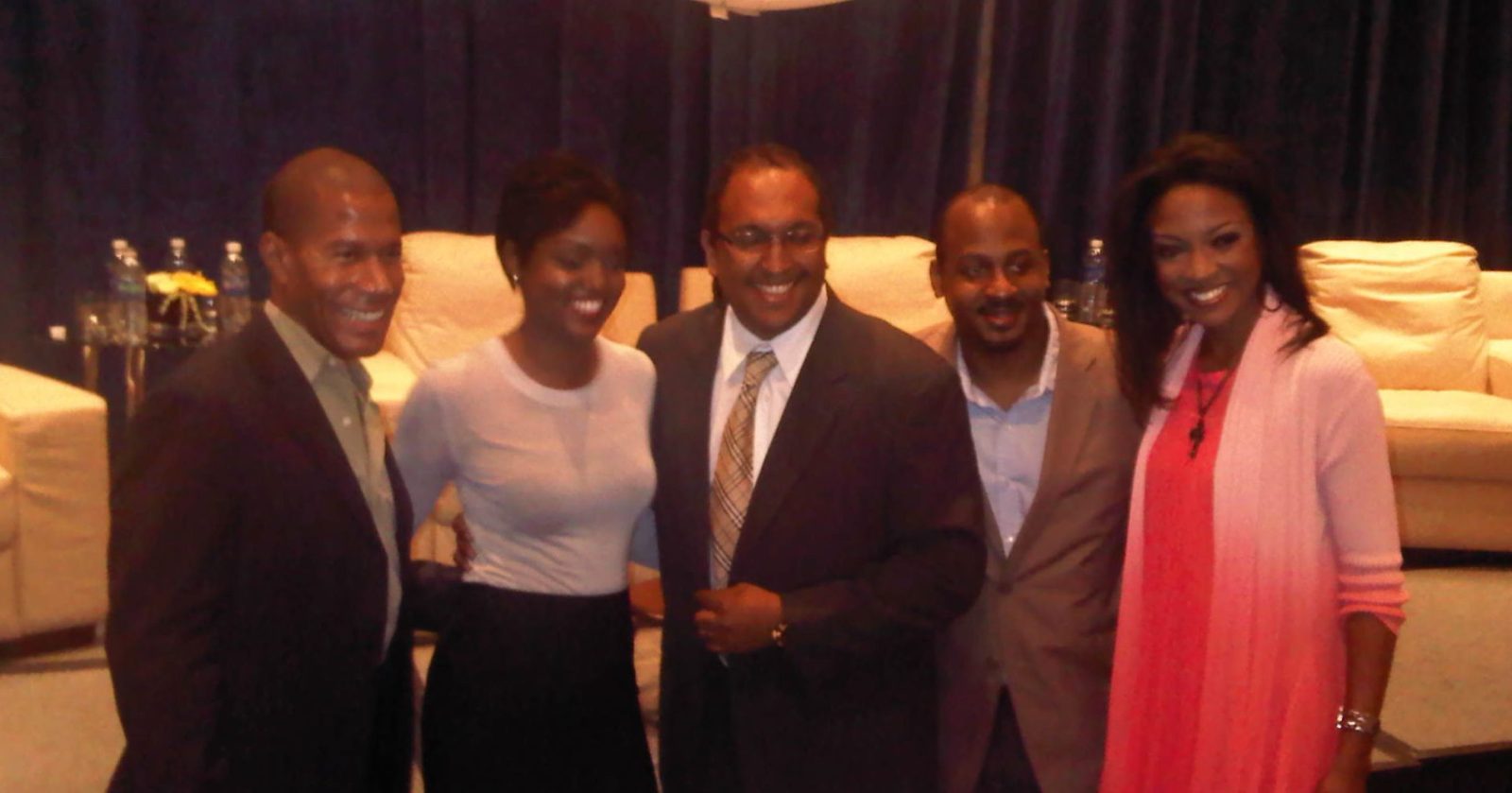 The excitement immediately jumped into social overdrive with the very first BEEC Session of the day:  "Go Digital or Die Trying!" featuring Torrence Boone, James Andrews, Wayne Sutton, Marshawn Evans & moderated by Patricial Cesaire, Director of PR for Black Enterprise Magazine.
Are you a website owner that would like to learn how to quickly monetize your numbers (traffic, analytics, etc.)?  Then this was the course for you!  (If you didn't make it, don't worry – in the next 30 days I will share all the knowledge learned from this session and more!
I had the chance to meet with Earl Graves Sr. founder and publisher Black Enterprise Magazine.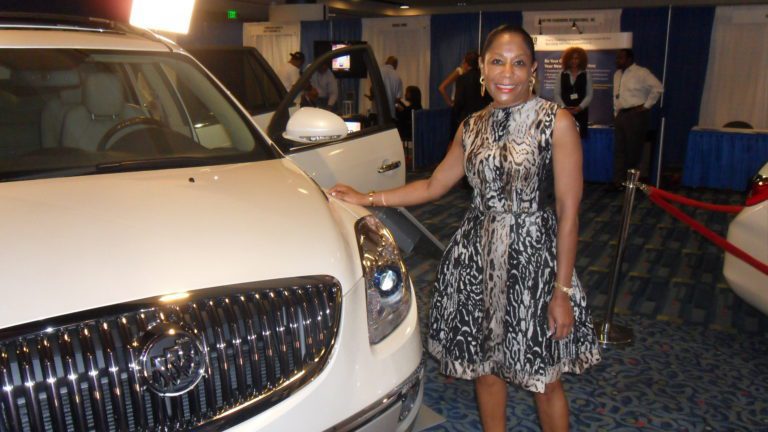 Having the opportunity to chat with Vivian Rogers Pickard -President of the General Motors Foundation and Director of Corporate Relations and Grassroots Initiatives for General Motors Company. Her responsibilities encompass overseeing GM's community relations, grassroots and charitable giving strategies and efforts.  Vivian excitedly shared news of GM's programs which include scholarships for first generation college students, K-12 education programs and more!  GM is not only a vehicle manufacturer, it's a corporation that takes education, entrepreneurship and diversity seriously – and proves it by re-investing in the community.
Three days of empowerment, networking and entrepreneurial fun!  The Black Enterprise Entrepreneurs Conference + Expo featured unforgettable moments and words of wisdom that will completely impact Divas and Dorks over the next 30 days and beyond…
STAY TUNED within the month of June for important announcements from DivasandDorks.com which could lead you to major giveaways, insightful business opportunities, fashionable makeovers and more!
Special Thanks to General Motors (BUICK) for including Divas and Dorks in this opportunity of a lifetime.
About Buick
Buick is a modern luxury brand offering vehicles with sculpted designs, luxurious interiors with thoughtful personal technologies, along with responsive-yet-efficient performance. Buick is attracting new customers with its portfolio of award-winning models, including the Enclave crossover, LaCrosse sedan, Regal sport sedan and highly anticipated all-new 2012 Buick Verano compact luxury sedan. Buick is the fastest growing major brand in the U.S. and remains a best-selling brand in China, with continuing record growth. Learn more about Buick cars and crossovers at www.buick.com, on Twitter @buick or at www.facebook.com/buick.