With over 50 million tourists annually, New York City is launching a better map to help them navigate a little easier or at least one that makes it easier to patronize city businesses.  A new iPhone map app from the city's official tourism center portrays businesses not as little red pins, but with their logos. It incorporates social media updates, OpenTable booking capabilities and daily deals directly into the map.

The app is a co-branded version of a map app called CityMaps that launched earlier this month. By hooking into a bundle of APIs, it's able to expand beyond capabilities of a typical online map.
Store owners can claim their spot on the map in order to curate their presence on it, and eventually the startup hopes to make money by charging them for some of these privileges.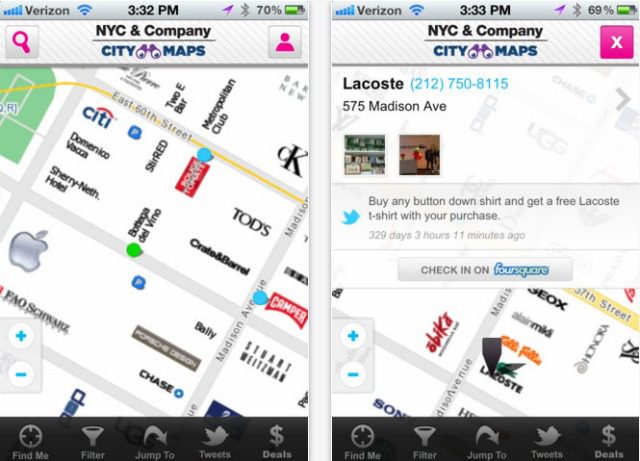 Advertisements for the new co-branded version of CityMaps will appear on bus shelters, on taxicab video screens and even on a Time Square jumbotron.
Which NYC based apps are you currently using to navigate through the "concrete jungle where dreams are made of"?  Would you use this new app as an NYC tourist, transplant or original borough dweller?