There's nothing better than a taste of home!  During my recent visit to Detroit, I just had to get my favorite breakfast dish of Texas french toast with strawberries and a side of thick-sliced applewood bacon.  Now, while I know the city of Detroit and all the best places to find authentic Detroit dishes, I decided to use my YP app to locate if I could find my breakfast treat a little closer to me.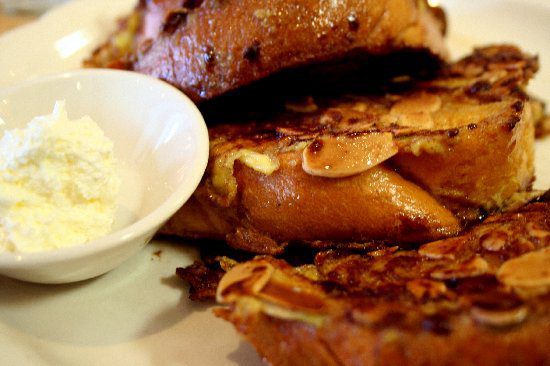 My YP app led me to the Original Pancake House where a line of patrons awaited to eat inside for breakfast.  (You can always tell a good restaurant when you see a line of people ready & waiting to eat.)  Luckily for me, the YP app also lists reviews of restaurants, making it easier to find what's right for you before wasting your time and money.  Check out a few of my YP reviews in case you're looking for hot grub spots in Detroit, LA, New York or New Orleans here.
Find businesses faster with predictive text, and quick links to top categories. The auto-complete feature remembers your favorite search terms making it easier to access past or favorite (pick one) on-the-go. Get the scoop from other locals, access comprehensive business listings including ratings, reviews, business details, open hours, or click to the website.
Save money on-the-go. Search, share, and redeem thousands of local deals directly from your phone. Deal alerts notify you of saved coupons expiring within the week.
Find what's around you in a flash! Whether you're looking for a great place to eat or to find cheap gas on the way, the YP app connects you with local businesses, deals and events to help you get things done.
• Search over 18 million businesses by typing, speaking, or browsing popular categories including movie theaters, hotels, mechanics, dentists, and more.
• Add personalized shortcuts for instant access to nearby businesses, deals, gas prices and events.
• Craving a specific food? We'll look through over 300,000 menus to figure out who's got what you want.
• Find the "best" gas prices near you with our unique visual gas price search.
• Save with thousands of local coupons and deals from businesses near you.*
• Get important information before heading out including:
– Ratings and reviews
– Photos – plus upload photos to your favorite businesses!
– Restaurant and service menus
– Movie showtimes
– Hours of operation
– Phone numbers
– Maps and directions
If you're looking for an app that'll help you find life's essentials (no matter what what city you're in…) then the YP app is for you!  Download it today! 
Thank you to YP for being a sponsor. Check out the latest YP app or YP.com to find food nearby fast! YP is your local companion for making decisions on everything from where to eat to where to find cheap gas. This post is in conjunction with my relationship with the Clever Girls Collective, and all opinions expressed here are my own. #YPcrave