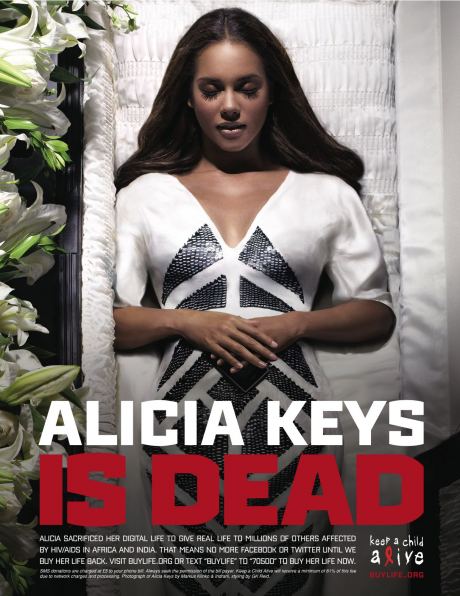 On World Aids Day 2010, the "Keep a Child Alive" campaign is just one organization seeking to raise money.
Keep a Child Alive, headed by celeb mom Alicia Keys, is the campaign where celebrities' "digital death" seeks to raise $1 million.
As Hollywood dies digitally with World Aids Day's 2010 Keep a Child Alive, fans are asked to donate to BuyLife.org to buy back their favorite celebrity's life – and save lives in the process.
On World Aids Day, visit BuyLife.org or text 90999 to buy your favorite celebrity's "life" back for Keep a Child Alive.
In addition to Alicia Keys and her husband Swizz Beatz, American Idol Jennifer Hudson is also participating, as are Lady GaGa, Justin Timberlake, Usher, Ryan Seacrest, Kim Kardashian, Elijah Wood, and Serena Williams.
All of the celebrities in World Aids Day 2010 Keep a Child Alive campaign have stopped using Twitter and Facebook until the $1 million goal is reached.
About Keep a Child Alive:  "provides first class AIDS care through doctors, nutrition, testing, transportation, and treatment for opportunistic infections, which are all necessary for anti-retroviral treatment to be successful. KCA also provides the care and support to keep orphaned and abandoned children safe."