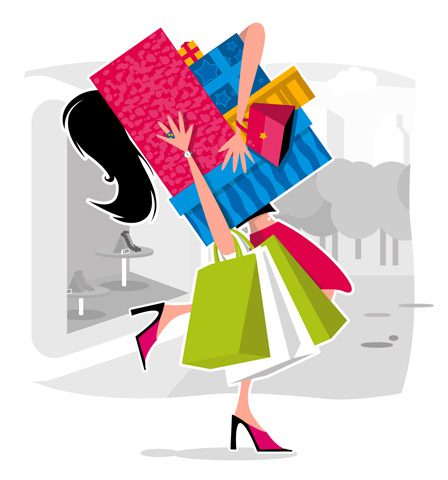 The biggest shopping day of the year is upon us and if you want to score the biggest deals easily and keep your sanity – these quick tips are for you!
TIP #1 – Strategize.
Compare the prices at the stores. You can research on the Internet as well as look through the circulars that you receive in your Sunday paper.
Choose which stores have the most savings for you.
Plan to hit only one store for the morning sales. The long lines will prevent you from getting the best deals at multiple stores, plus usually the items are gone within the first hour.
TIP #2 – Work as a team.
Shop in group of 2 or more – and have your team split up for items and carts for easy shopping.
Try getting the cart after you have gotten your first item or split up and send your partner to get the cart.
Use a partner so that you can hit multiple areas of the store at the same time.
TIP #3 – Wear comfortable shoes.
Black Friday Sales are like marathons, so you must dress accordingly.  Wear walking shoes like New Balance or Nike.
Try adding insoles to the shoes for extra added comfort (especially when standing in those long lines.)
BONUS NOTE:  If you decide to hit the sales line directly from the "After Thanksgiving Nightclub Excursion" here's a bonus tip – to avoid blisters in your high heels lather your feet in vaseline, the coating will prevent any extra rubbing after a long night of dancing.
TIP #4 – Stick to a budget.
Go for your big items first. Do not allow yourself to be distracted by aisle displays or other items.
Stay on budget by shopping with a specific list in mind. In the madness it is easy to come out with ten items that you didn't mean to purchase and blow your entire budget. The sale is only worth going to if you manage to stick to your budget, otherwise you would be better shopping online without the temptation to splurge.
TIP #5 – Shop at MIDNIGHT.
Some twenty-four hours stores will offer their Black Friday deals starting at midnight. Look for the item and place it in your cart before midnight. Although they may have certain big-ticket items covered before then.
Most people do not realize you can hit the sale that early, and so it is a lot less crowded. Contact your local store to see what their policy is regarding these sales.
[polldaddy poll=4128428]