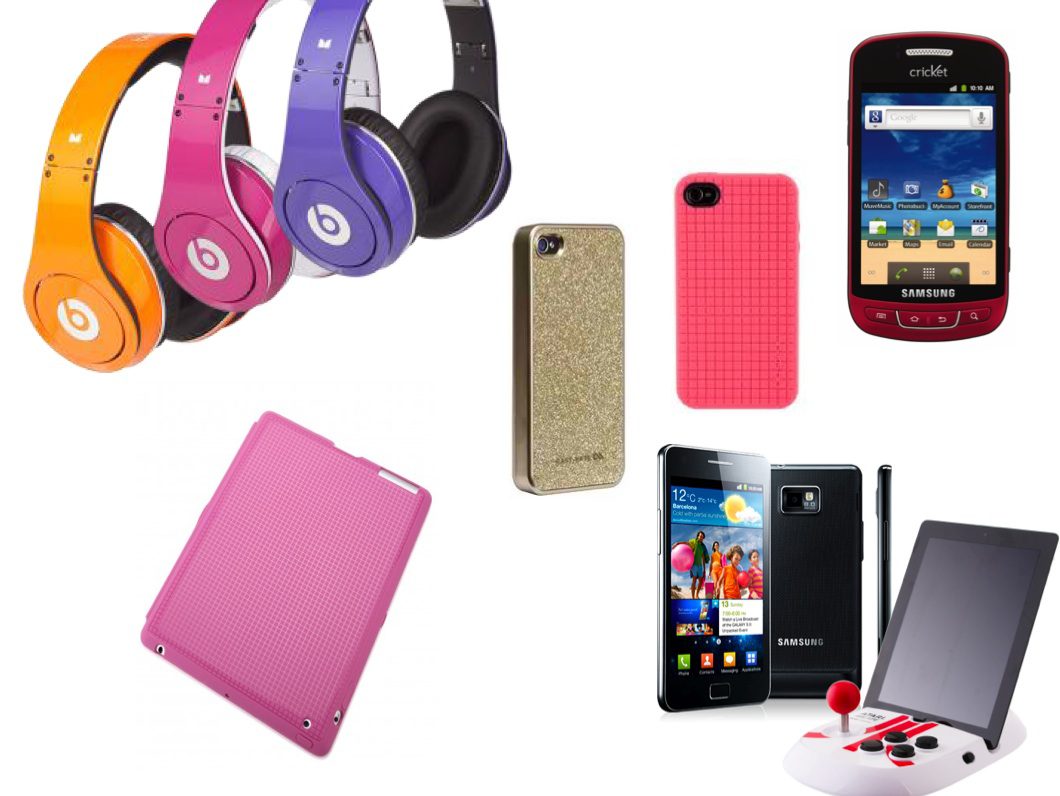 Looking for a gift for her?  The collegiate diva, girly gamer or pretty in pink gadget girl – we have a gift for her!  Check out our list of go to gifts that'll be sure to keep you on Santa's "nice" list all season long.
Beats Studio Colors ($299) – The Beats Studio Headphones previously available only in White, Black and Red are now offered in a diversified collection of colors and are currently sold nationwide for $299. The flagship product in the popular line of Beats™ by Dr. Dre™ from Monster headphones is now available in new colors – Blue, Orange, Purple, Silver and Pink – for added style and fashion to match any occasion. The Beats Studio High Definition Powered Isolation Headphones showcase precision-engineering, advanced speaker design, and powered noise cancellation to let you hear music the way the artist intended.
Speck iPad 2 Case ($49) – The front cover on this iPad 2 case folds back into a multi-angle typing or viewing stand, so you can prop it up and bang out some emails at the perfect angle. The cover then folds closed and stays shut with a micro-suction closure. A raised screen bezel protects your iPad even if it falls screen-first, and the touch-thru button covers are satisfyingly press-able, right thru the case. The cool "pixel" texture gives you a little more grip, and creates a subtle yet eye-catching shiny/matte pattern. Available in Pink, Blue and more assorted colors.
Case-Mate Glam iPhone 4/4s Case ($40) – Glitter does more than dazzle in the Glam iPhone 4 / iPhone 4S case. The high shine style combines an on-trend look for an attention grabbing iPhone 4 / 4S case that's ready for a night out. With its slim silhouette, the iPhone 4 / 4S case sparkles with a glitter coated inlay. A smooth and clear finish coats the shine, creating a polished case that shimmers from day to night. The lacquer coating keeps the layers of sparkles in place, while creating an iPhone 4 / 4S case that is easy to slide in and out of your purse or pockets. Available in Gold, Silver or Pink.
Speck PixelSkin HD iPhone 4 Case ($29.95) – Don't have to sacrifice protection and grippiness to use a slim iPhone case! PixelSkin HD is a thin, lightweight case that's also protective, durable and abrasion resistant. It's pliable and flexible, but not soft or sticky, so it slides easily in and out of your pockets. The touch-thru button covers are protective and satisfyingly press-able, right thru the case. Fits iPhone 4S and 4, Flexes on and off easily and available in an assortment of colors.
Samsung Vitality Smartphone ($219.99) – The Vitality is the first Cricket Android smartphone with Muve music. With a 3.5" HVGA touch-screen, 3.2MP camera/camcorder, wifi capability, 3G Real Web Browsing, the Vitality has lots of great smartphones features. The Vitality is a fully featured Android smartphone featuring the Android 2.3 OS (Gingerbread) and an 800 mhz processor for a great Android experience. This smartphone also gives customers access to over 200,000 cool apps on the Android market as well as great Google apps like YouTube, Gmail, Google Maps, Google Search and more.
Samsung Galaxy SII ($229) – The 4.3″ SUPER AMOLED Plus display goes a step beyond the already remarkable SUPER AMOLED to provide enhanced readability, a slimmer design, and better battery consumption for the best viewing value of any smartphone. Keep your music close, while accessing the world of 13 million tracks of songs. Samsung's Music Hub*, powered by 7digital, provides an intuitive playback system while you search, discover, preview, purchase and download tracks on the go. Organize and synchronize better all in your online contacts through Social Hub. Streamline your email, SMS, IM and SNS information into one unified box, and interact faster with more people in the way you want to.
Discovery Bay Atari Arcade for iPad ($59.95) – Atari Arcade – Duo Powered lets you relive the fast-action excitement of all your Atari favorites—such as Asteroids, Centipede, and Missile Command—on your iPad. With its joystick and buttons, Atari Arcade lets you experience arcade games exactly the way they were meant to be played.  Download Atari's Greatest Hits app on the App Store or choose individual games starting at $0.99 each.
COMING SOON – GIFTS FOR HIM