Thanks to L'Oreal for sponsoring my post about my favorite beauty looks, tips and tricks! Check out Makeup.com for beauty advice from the experts.
First of all, I must admit my moment of vulnerability at the moment…blogging about makeup and makeup application is something that I'm no expert on, but I'm still extremely passionate about. (If I didn't blog about fashion and technology, I'd definitely be a beauty blogger – chatting about mascaras and foundations and lip colors (oh, my!)). Growing up, the one person who I idolized when it came to beauty was my mom. She'd whip out her makeup bag on a Friday night and within minutes went from "mom" to "AMAZING". She's the woman that introduced me to names like L'Oreal, MAC and Bobbi Brown and taught me "less is always best!"
Since her teachings, I have been able to accomplish the challenge of the "cat eye", "smokey eye" and even "sun-kissed" looks with ease. But the one technique that I've been "eyeing" for the past year is how to find the perfect "red" lip.
I'll admit, I've tried different shades, some that were too orangey, others that were too dark or blueish — but a couple of months ago, I strolled into Macy's Herald Square with my girlfriends, on a mission…to find my perfect "red" lip.
After a few misses, I stumbled upon my HIT! It was a beautiful matte finished red by MAC (Ruby Woo). Since then, I've learned how to perfect my red lip and make it last a little longer and stay a little brighter and I've listed my step-by-step tips below:
1. Start with a clean lip. (no glosses…maybe a tad of chapstick if your lips are too dry.)
2. Use a very light concealer and dab a bit across your lips (and a little beyond your lip line.) until you have an even colored surface.
3. Apply a lip liner (preferably the same color as your lipstick) to create the boundary of your lips. Start at the top crease of your lip (drawing the letter "V").
4. Starting from the corners, apply the lipstick from right to the left of your lip (make sure you stay within the lip liner lines.)
5. Gently press your lips together to evenly distribute the color across the entire lip.
…And VOILA! INSTANT DIVA!!!
I don't know about you, but there's just something about a red lip that makes me feel invincible. I'll experiment with L'Oreal colors when I'm looking to alter my mood, or just for a little extra pep when I need it most. One of my favorite red lip divas is the one and only Gwen Stefani – that girl can rock a red lip better than anyone else.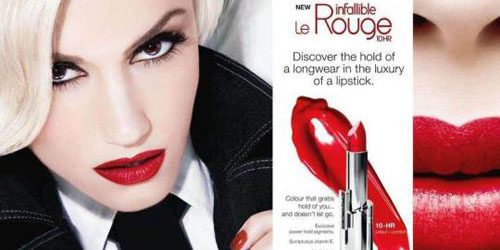 Have you conquered your "red" lip yet? Which of your favorite makeup looks are you trying to conquer next?
I was selected for this sponsorship by the Clever Girls Collective. Click here to learn more about Makeup.com or become a Facebook fan by clicking here.