There comes a time, when after trying something new you're rewarded with an uncontrollable surge of electricity and unexpected feeling of pride – and for me, this weekend's NASCAR experience was IT! It's no secret that I'm a fan of fast cars (I'm from the Motor City…duh!) however, being immersed in hundreds of technically-supercharged cars and learning about the business and community that makes NASCAR then multi-billion industry that it is. Over the weekend, I was an invited guest of the Toyota Racing Team to for a weekend of NASCAR fun during the NASCAR Sprint Cup Series in Charlotte, NC.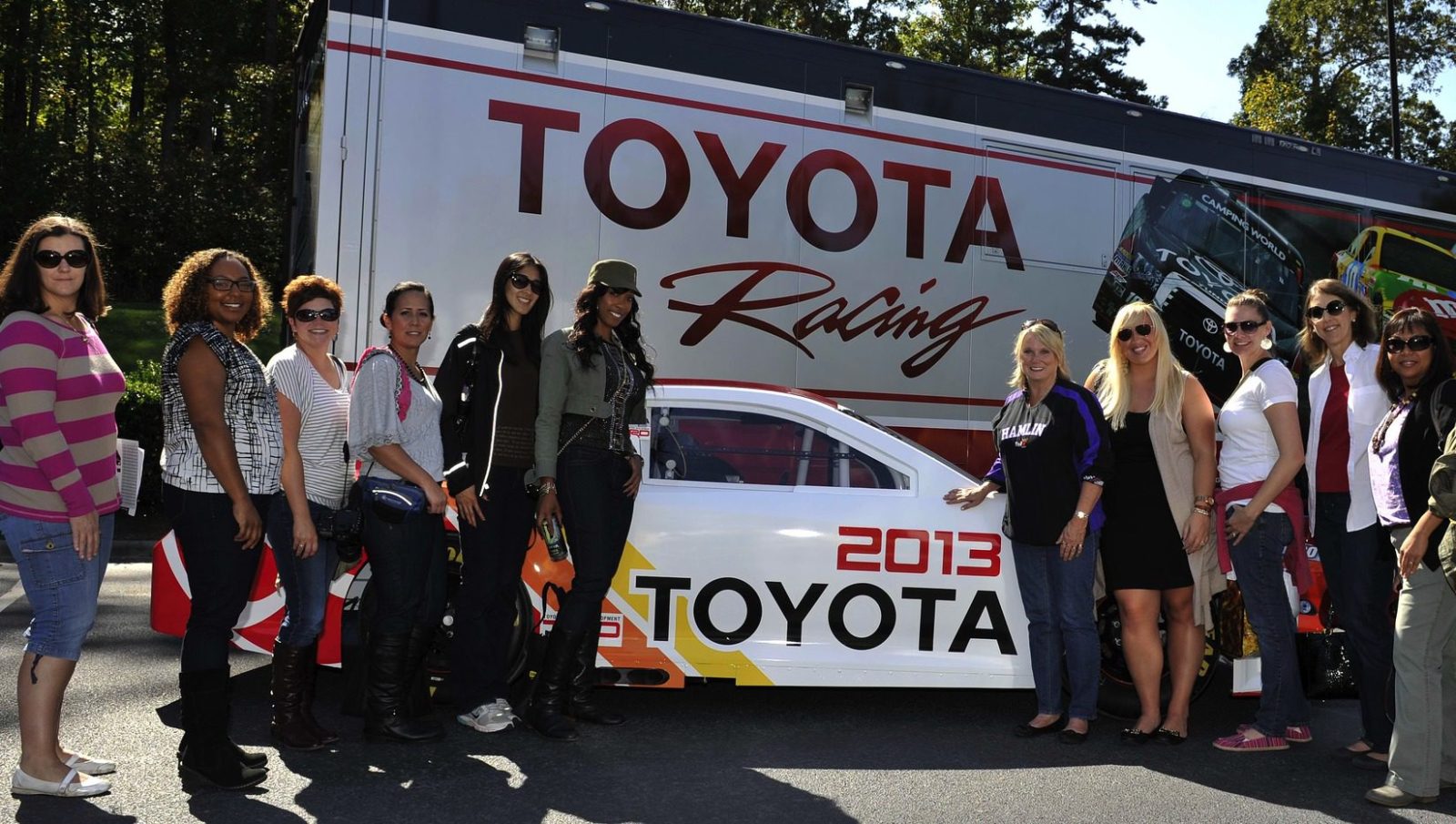 Kicking off this fast-paced Toyota Racing experience included fun in the sun at Joe Gibbs Racing Shop for a NASCAR fan fest! At Joe Gibbs Racing, fans got to interact with several of NASCAR driving superstars including Kyle Busch and Joey Logano – and we got to pick the brain of the man himself – Coach Joe Gibbs.During an intimate Q&A session, we were introduced to several unique members of the Joe Gibbs Racing and Toyota Racing Team. Bryan 'Boris' Cook shared the highs and lows as a NASCAR Digital Marketing Manager, while Maggie Martin discussed the ins and outs of being a Sponsor Services Account Manager for Dollar General (the title sponsor behind Friday's Nationwide series race). Breaking one of the many myths of NASCAR (you know, the one that says African Americans aren't into NASCAR racing) – Toyota Racing's Darrell "Bubba" Wallace Jr. explained his start and love of racing. As the first African American driver to earn a pole in the NASCAR Nationwide Series – just two weeks ago, he has a lot to celebrate (in addition to is 19th birthday just last week.)
Upon arrival to the Charlotte Motor Speedway Friday night, luxury accommodations quickly followed as I was ushered to the Toyota Racing Suite to enjoy the Dollar General 300 / Nationwide Series Race and dinner in grand style.
As the start of the race begun, even from the comfort of the Toyota suite I  heard the roaring of these monster engines as each car rounded lap by lap.  By the time the drivers were 180 laps into the race, it was clear that a Toyota Racing driver could pull off the win!  With just 5 laps to go, Toyota Women guests were escorted down toward the racetrack and inside the winner's circle to join the rest of the Toyota Racing team in celebration of the Toyota Racing WIN –  front and center with none other than Joey Logano!  We took photos with Joey and the team, I even got to ask M ZMAX about her racing jumpsuit (I've got a costume idea in mind…LOL)  ALL in all, there's no other words that could describe my first NASCAR experience other than amazing, surprising and absolutely spectacular.  Talk about a great day for a Diva To Do NASCAR for the first time.
Check out a few of the candids & official Toyota Racing / Toyota Women experience photos below…
(credit: DivasandDorks/Instagram and Toyota Racing)
Disclosure: I was selected for participation in the TWIN community through a program with Clever Girls Collective. I did not receive any compensation for writing this post, or payment in exchange for participating. The opinions expressed herein are mine, and do not reflect the views of the Toyota.