If you're in New York (the taxi cab capital of the world), chance are, you've seen the headlines across today's papers "Cabs Cash In: Rides Will Rise 17% more in September" With rising costs left & right, and bills, expenses & everyone trying to take your money wouldn't it be nice if someone put cash IN your hand for a change?
That's where we come in…
DIVASANDDORKS has partnered with Cash Cab to put a little joy back into your taxi cab experience. We've all been a lil too fabulous at times to catch the bus or subway – so the taxi cab is the next choice, right? But taxis are often like a box of chocolate…"you never know what you're gonna get." To celebrate the surprising fun that Cash Cab brings to the taxi experience, we too want to surprise our readers with a Cash Cab giveaway on DivasandDorks.com. And because you should never have to work hard for a surprise, we're making this giveaway contest one of the easiest yet!
Share your CRAZIEST CAB CONFESSION in the comments below for your chance to win $100 in CAB CASH!
One (1) winner will receive:
$100 Visa Cash Card
Prizing provided by MGM
Giveaway open to US Mailing addresses only
The reader with the best comment selected will WIN $100 CASH!
Contest Ends July 20th 2012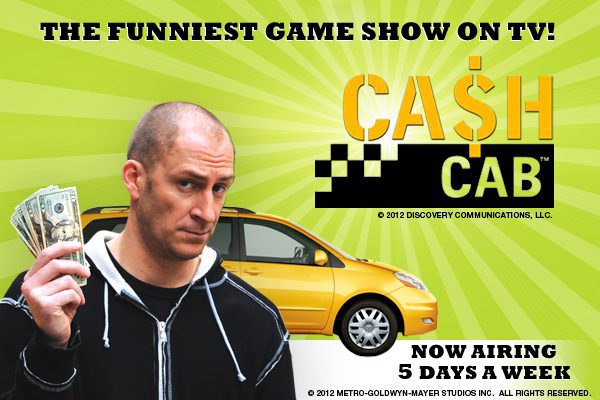 Discovery's Emmy winning hit Cash Cab is now airing 5 days a week! The funniest game show on TV, Cash Cab combines elements of Who Wants To Be A Millionaire, Family Feud and Candid Camera as taxi driver/comedian Ben Bailey picks up unsuspecting people hailing a cab and gives them a chance to win thousands. To find out where Cash Cab is playing in your area, visit http://cashcab.mgm.com.
***UPDATED***
CONGRATULATIONS @eemaanee, YOU'RE OUR CASH CAB WINNER!!
***UPDATED***