As an avid Klout user (and advocate) you could only imagine my excitement when I recently recieved a Klout Perk for a Windows phone – just for my technology influence online.  Yesterday, I tweeted photos and gushed on how happy I was to recieve a new tech toy when I was bumrushed with questions from people that still didn't know what Klout is (don't worry – we'll tackle that issue momentarily.)  As I explained, via text messages, twitter responses and facebook chats exactly what Klout entails and how everyone can benefit in their own way via Klout perks – the idea became clear "Everyone needs to sign up for Klout!"  It doesn't matter if you're influential about food, shopping, technology – whatever – "There's a perk for that…" (<— this should totally become Klout's new tagline…)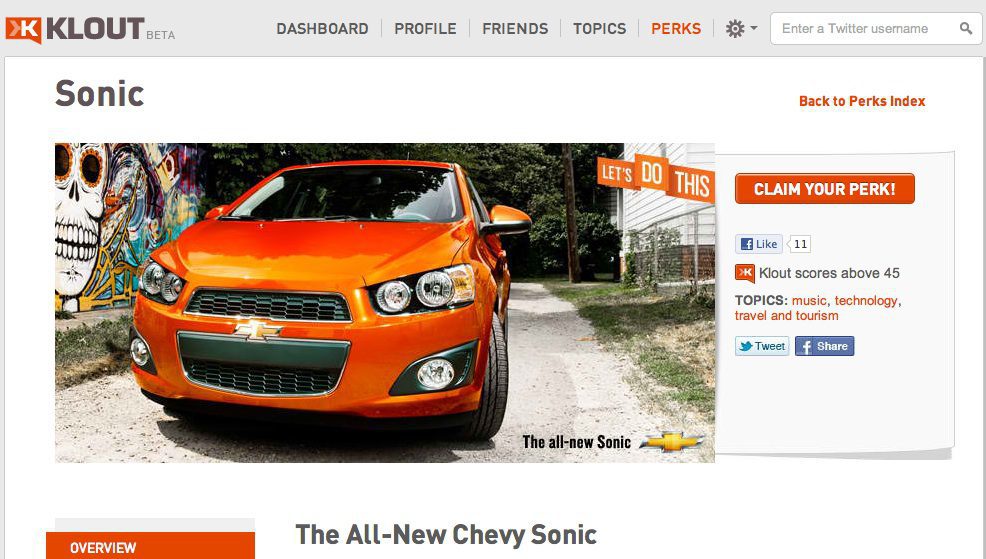 Case in point, Klout's newest perk which is brought to you by Chevy.  Building on the success of a Klout campaign with the Chevy Volt in Chicago, Chevy is again partnering with Klout, this time to implement the first national automotive Klout Perk to date.  The promotion, which begins Nov. 9, enables qualifying Klout users in Chicago, San Francisco, New York, Atlanta and Dallas to sign up via the Klout Perks Program to drive the all-new Sonic. Each Perk is a three-day vehicle loan granted between Nov. 11 and Dec. 14.
"We are aiming the Sonic squarely at consumers who are part of the Millennial generation," said Carolin Probst-lyer, manager of digital consumer engagement, Chevrolet. "Partnering with Klout allows us to reach this audience, encourage them to get behind the wheel of a Sonic and use social media to share their driving experiences."
Chevy Sonic:  
The all-new 2012 Chevy Sonic was built to be fun to drive, but it is also the first and only car in its class with 10 standard air bags – receiving a 2011 Top Safety Pick designation by the Insurance Institute for Highway Safety (IIHS). Sonic is designed to command attention with its sleek, aggressive appearance, lots of available options for connectivity and personalization, as well as impressive rear-seat roominess. Built in Michigan, the Chevy Sonic is the only subcompact built in the United States. Check out the Chevy Sonic on Facebook and see if your eliigble for your Chevy Sonic Klout Perk HERE.
What Is Klout:  
Klout measures influence online. When you create content or engage, you impact others. Klout analyzes that impact to find your Klout Score, influential topics, and your influencers. Klout is the standard for influence. Top brands such as Disney, Chevrolet and Turner use Klout Perks to reach and engage influencers. Over 3,000 applications and partners use Klout data to display Klout Scores, prioritized based on Score or topics, and segment users. Klout members receive Perks because they are influential and have authority on topics related to the product. For more information, visit http://klout.com/corp/about.