Thank you to Yahoo! Mail for sponsoring this post about staying connected. I was selected for this sponsorship by the Clever Girls Collective, which endorses Blog With Integrity, as I do.
Have you ever recieved a love note via email? Feels nice, doesn't it? There's nothing like a quick, unexpected email to interrupt your day telling you how special you are, how somebody loves you or how you're on somebody's mind and heart! What about professing your love via email (or social media) and it backfiring?
Well unfortunately, the rest of this post isn't the post for you…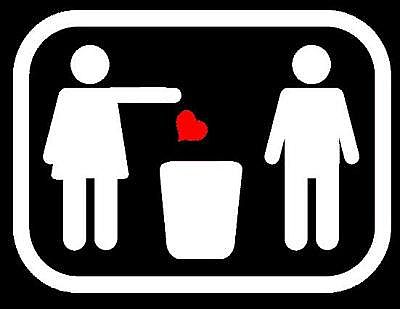 Have you heard of the LOVE GONE WRONG stories that always seem to begin with the "unexpected" breakup email or the dreaded email hack that exposed infidelities & affairs. *YIKES* Sites like BreakUpEmail.com, "…helping you break up with the power of the internet" have made the opening of inboxes mighty difficult for many people in the electronic age. There are even tons of sites online that walk you step-by-step on techniques on "Breaking Up via Email."
Check out some of these e-breakup tips found online…
Give facts when discussing the break up. Shorter is better when breaking up through email. It's hard for the other person to dispute facts.
Refrain from asking questions in the email such as "This relationship hasn't been right for a long time. Do you agree?" Doing so invites a response, which is not what you want. You want to avoid an email "argument" that can ensue after you send an email breakup message.
Take the other person's feelings into account. Use phrases that show you are sensitive to the other person such as "I think this is best for you" or "I know how you are feeling." Be firm but compassionate.
Repeat that the relationship is over in every subsequent email should you get involved in an email debate with the person over the breakup.
Don't go off into long personal discussions or explanations when breaking up over email.
Putting a break up in writing allows for the words to come back to haunt you later. Once it's written, it's done. Choose your words carefully. Don't write anything you may regret later.
Last but certainly not least:
Break up in person, if at all possible. It is not considered proper social etiquette to break up through email, text messaging or over the phone.
It's apparent that email is an essential part of communication (good & bad) and its to be used wisely & personally professional as possible. Some things in this day and age should be kept offline and out of emails and BreakUps are included. I'd like to see more love letter stories and happy ending tales via email like stories found on Zoomdoggle.com or LoveLettersNow.com or even sending an email via Yahoo! would be a nice start. Let's Let Love Rule again by staying connected in the good ways and thinking twice about conveying not-so-good news via email. This week try to make someone feel special by sending a quick E-Love-Me email (rather than the E-Love-Me-Not…)
Have you ever professed your LOVE via email? What about a BreakUp via email? Share your stories below…