If you guessed No Doubt lead turned L.A.M.B designer, Gwen Stefani and Nicki Minaj than YOU'RE RIGHT!!!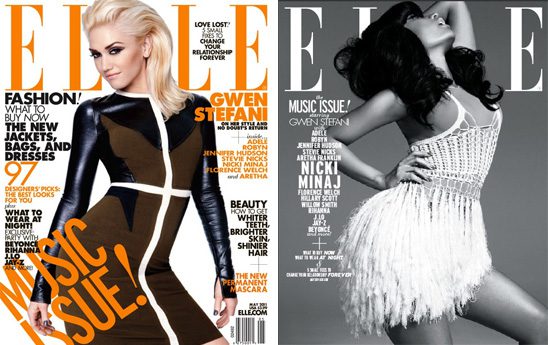 In next month's ELLE Magazine, covergirl Gwen Stefani talks on whether she thinks today's artists like Rihanna & Lady Gaga were influenced by her style, she says:
"I was more, in the band, like a tomboy. Of course, I think every girl is sexy, so there's going to be a little of that. But I see a lot of younger artists going more toward the sexy thing."
We know that Gwen Stefani and Nicki Minaj are on two ends of the spectrum as artists, but they both have a unique style that cannot be ignored.  We voted on our Top 10 Gwen Stefani / Nicki Minaj looks and as you'll see, whether they're going for a tomboy/"one of the guys" look or the sexy vixen route – either way, they're eccentric style sense cannot be denied.
We've watched Gwen's style evolve from No Doubt lead singer with braces, bikini tops and baggy pants to creative designer with grace, classic style and fashion presence.
We're watching Nicki's style transition frequently from shock-factor-fashion to attention-grabbing fashionista who leaves the media wondering what she'll wear next!
[polldaddy poll=4865781]