Want to get even more connected with your favorite celebrities (because Periscope, Instagram, Twitter and Facebook aren't enough?) The geniuses behind Facebook just launched a new feature for its verified users called Live for Facebook Mentions. The app, which is available for DL only for those with verified Pages to share and connect with their fans, just added the capability of live streaming to bring all those out-of-reach people one step closer to their followers.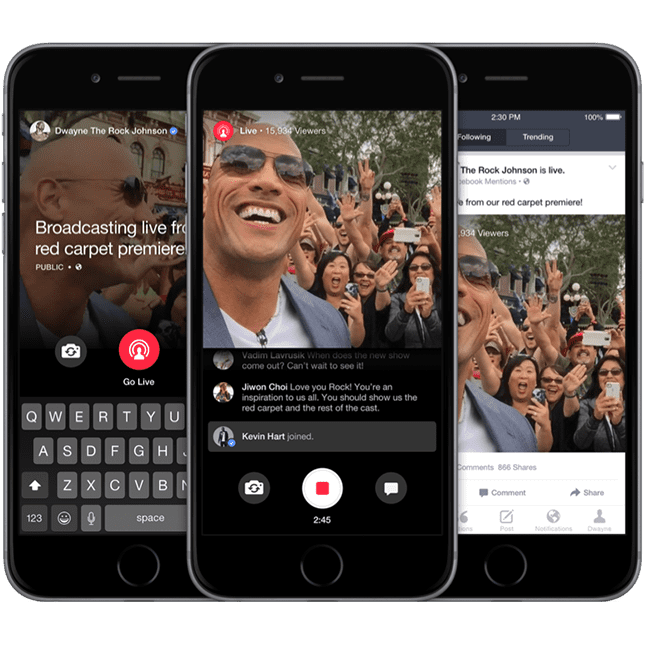 So far a handful of celebs have tried out Live, and Dwayne "The Rock" Johnson has officially partnered with the platform (announced via his Instagram page).  Plus more celebs like Serena Williams, Ashley Tisdale, Martha Stewart will be joining the platform soon. Facebook wants to be your one and only social media platform and it's upgrading services to ensure when it comes to everything LIVE and social – you can find it on Facebook!
With Live, athletes, musicians, politicians and other influencers can easily share live video with their fans to take them behind the scenes, reveal big news and even host live Q+A sessions directly from their phone to their follower's News Feeds. Just like with the other live streaming channels those tuned in can comment and interact with the celeb in real time for them to respond to. But different from similar streamers, letting the videos live on is possible. Once the live broadcast ends it will be published on the celebs Page for fans to re-watch whenever they feel like it.
What celebrity do you want to see using Live for Facebook Mentions? Share in the comments!
via
Comments