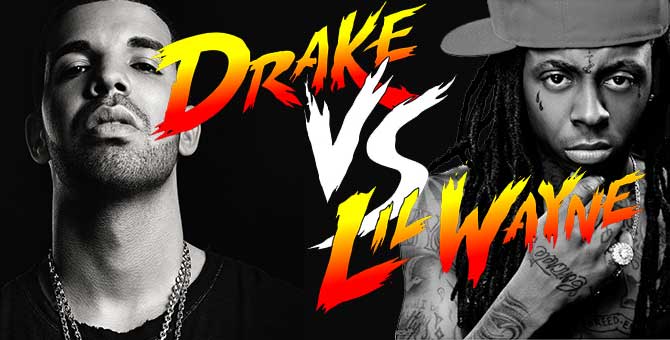 Making a blockbuster concert tour isn't easy, sky-rocketing ticket prices in a recession torn economy makes it harder than ever to purchase tickets to see your favorite acts perform.  Let's not even talk about the concert experience nowadays, unless you're at a Beyonce', Jay Z or Justin Timberlake, you won't find many pyrotechnics or displays of in your face entertainment, that is until Grammy® Award-winning, multi-platinum selling, recording artists Drake and Lil Wayne squared off against each other on the opening date their co-headling Drake Vs Lil Wayne Tour at the Darien Lake Performance Arts Center in New York on Friday night.
As the lights dim to begin the show, fans are treated to a "Street Fighter"-inspired intro video which set-up the conflict between the student and teacher.  Fans who used the Drake Vs Lil Wayne Tour app prior to the show were able to determine which artist goes first.  After numerous rounds of Drake and Lil Wayne hits such as "John" "The Moto," "Believe Me," and more fans have a front seat for all the action and can send "Power Up" energy using the Drake vs Lil Wayne concert app to their favorite performer.
After a heated final round, fans are instructed to use their app to vote for a winner.  
I love the concept of "using" "real time" crowd participation to interact with the show flow of a concert tour.  Plus the fact that the app and tour takes on the concept of one of my favorite video games "Street Fighter" by Capcom doesn't hurt either.
Promoted by Live Nation, the tour kicked off on Aug. 8 at the Darien Lake Performing Arts Center in Darien Center, N.Y. and will make stops in 31 cities across the United States with shows planned in New York City, Chicago, Atlanta, San Francisco, Houston, Dallas and Los Angeles. Tickets for remaining shows are on sale now through the Live Nation mobile app and at www.livenation.com.
Could you see more and more concert tours taking on the interactive app approach?  Which concert would you like to see with an app soon?
Comments