The Sephora App includes up-to-the-minute beauty news and information from Sephora's Facebook and Twitter feeds, its BeautyTalk community, Beauty And The Blog website and Sephora's newly revamped YouTube Channel, providing the latest beauty trends and advice. The sophisticated and information-rich layout updates each time the app is accessed and can be tailored to only show the content individual users want for a truly personal experience.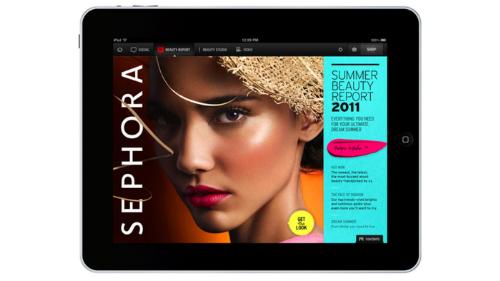 Once you've read the reviews, seen the videos and posted your own comments, Sephora's App for iPad offers a seamless online shopping experience and a special-edition, iPad-only summer catalogue that puts the hottest products and top seasonal trends at your fingertips.
"We're extremely proud of Sephora's App for iPad and consider it an immersive, educational and entertaining beauty retail experience," said Bridget Dolan, Vice President of Interactive Media. "The limitless capabilities of iPad inspired us to rethink how we deliver content digitally to our clients, leading us to develop unique functionalities that will drive the entire category."
The Sephora App is available for free from the App Store on iPad or at www.itunes.com/appstore.
SOURCE Sephora