If you've ever wandered about the glitz and glory that is the Kentucky Derby – did you know you can place your bets on finding the hottest fashions, prettiest horses and all the fun at a track a little closer to home?  Recently, a few of my blogger friends and I were guests of America's Best Racing and visited the historical Saratoga Race Track in Saratoga Springs, NY.  Check out some of the racing fun and fashions found at our day at the races below.
On your mark, get set, GO!  In addition to the beautiful stables filled with race horses trained to win, the racing experience begins way before you step foot inside of the racing center.  You can't just show up for a fascinating day of racing without the right fashions from head to toe.  That's why my girls and I made our way to Dora Marra for luxurious fascinators to kick our day at the races off right.  Dora Marra offered a variety of stylish head pieces for our big day at the races.  We were like kids in a candy store looking for the perfect fascinator for Saratoga [Check out our hilarious behind the scenes video and more photos from our Dora Marra shopping day.]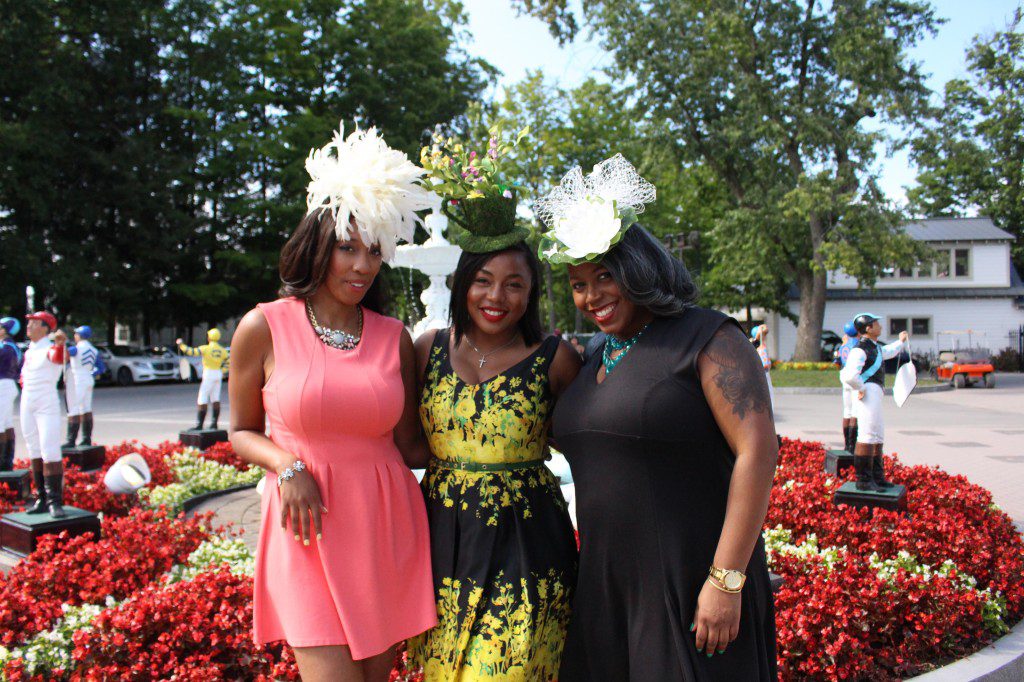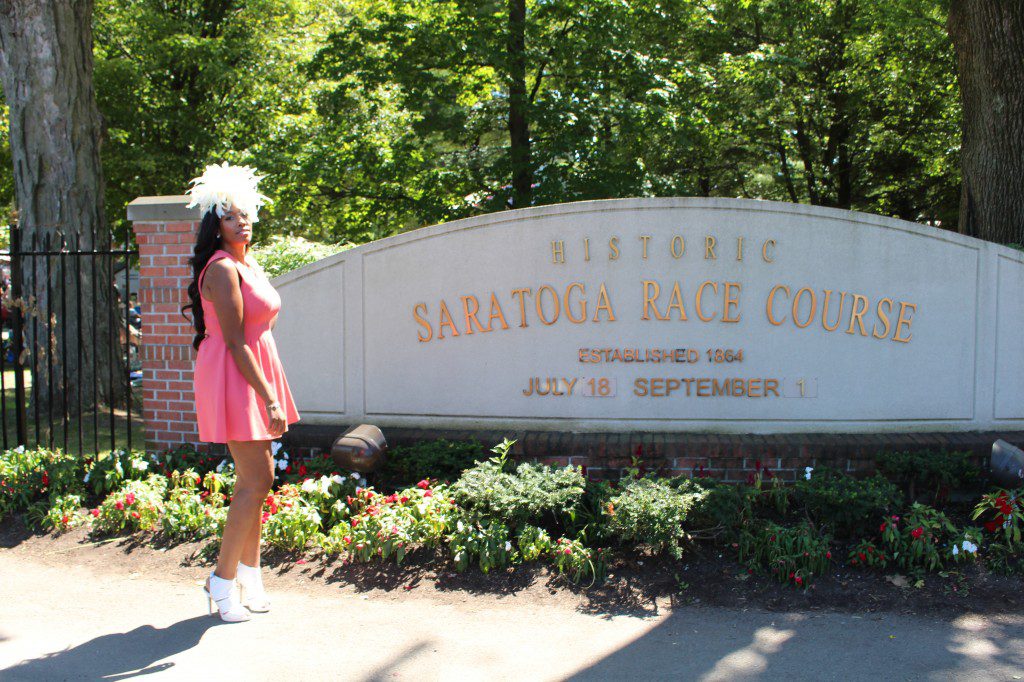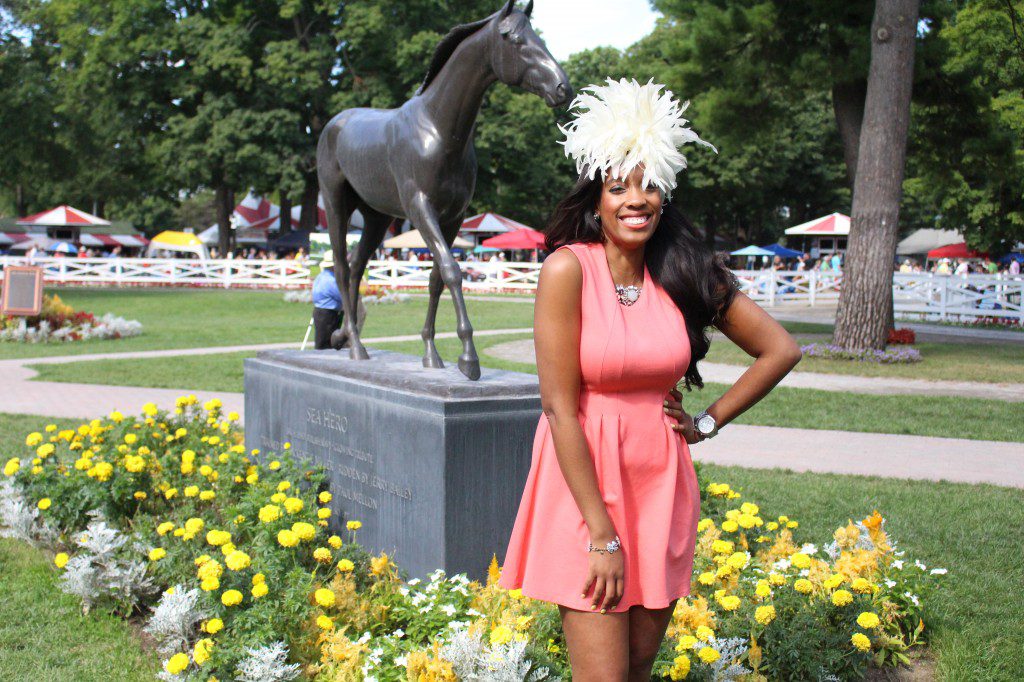 The fascinating fashion:  Picking the right attire for the races isn't an easy feat.  I wanted a dress that wouldn't show up my amazing feather fascinator, but I also wanted to dress for the weather (which is unusually hot and humid for this time of year in upstate New York).  I opted for this coral and cream number which got it's fair share of compliments while at the races.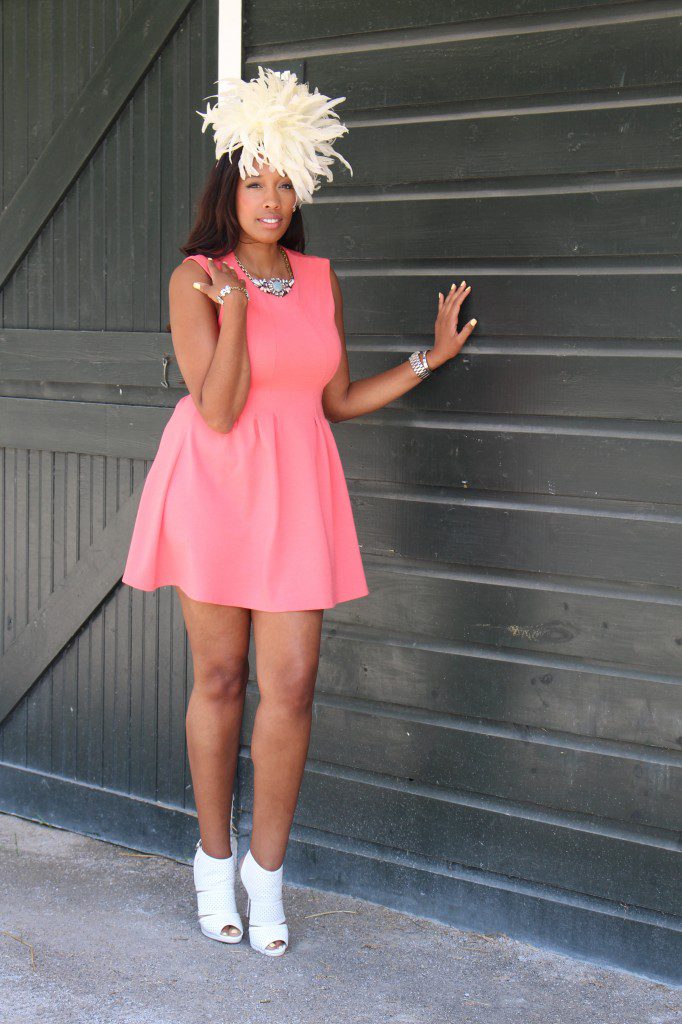 Fascinator:Dora Marra
Necklace & Accessories:  J. Crew / Michael Kors
Dress:  Monteau
Shoes:  Shoedazzle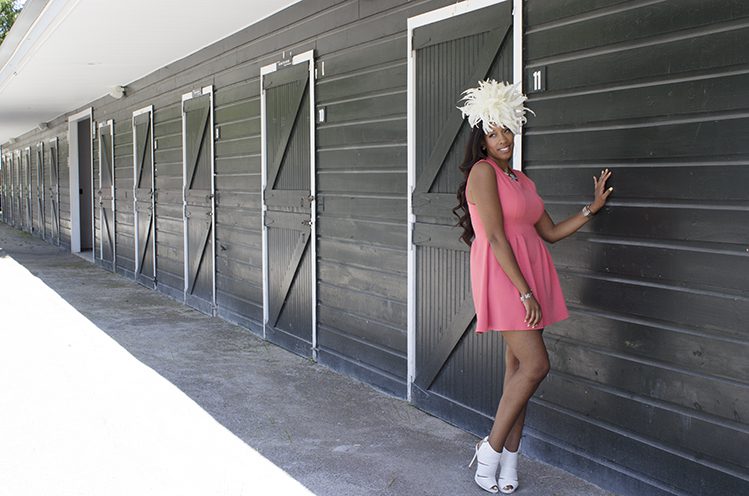 The fascinating horses:  There were plenty of thoroughbred horses on display at the Saratoga Race Course grounds, many of them were seasoned pros just waiting for their next chance to prove themselves on the track.  This beautiful runner was not only very active, he practically made posing for a selfie impossible.  Every time I got in close enough for a good selfie, he'd move in for a kiss (or headbutt) and I freaked out.  Eventually we settled on a topic of conversation that made us both calm, happy and ready for our candid photo.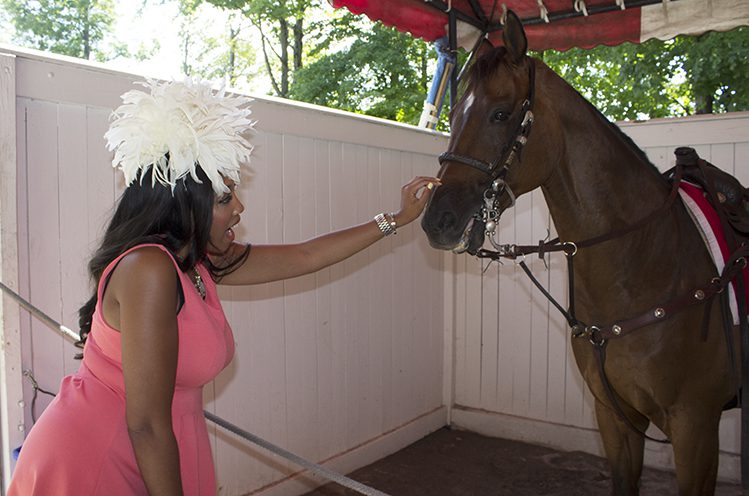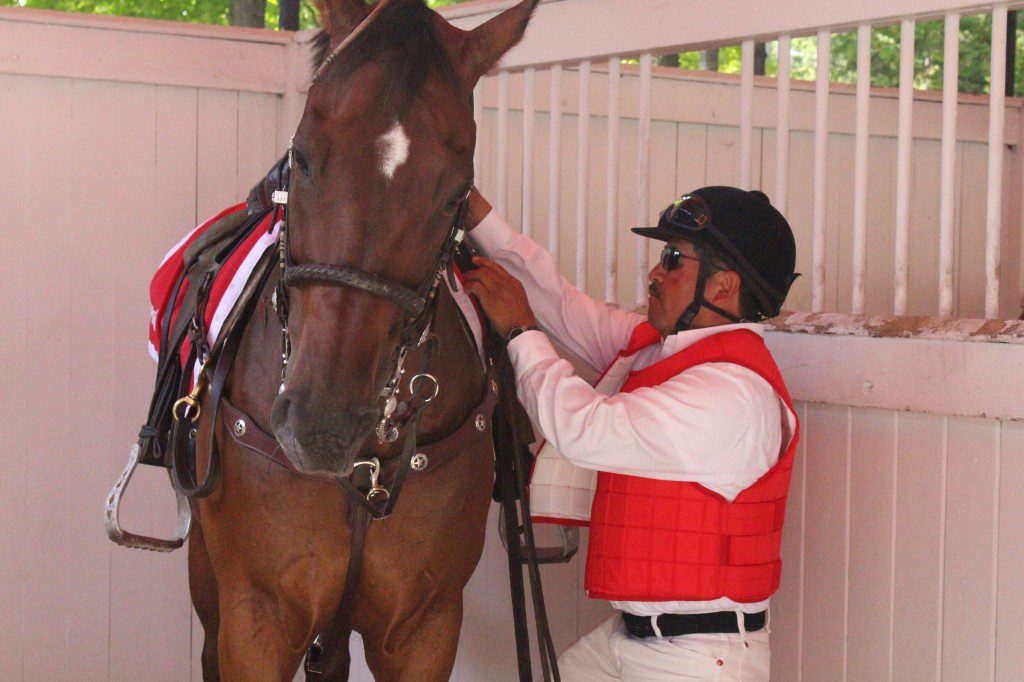 Place your bets:  Did you know that you can enjoy the races with or without placing your bets?  With bets starting at $1 – I couldn't see why you wouldn't want to get your feet wet with a little wager.  Tickets to the races start as low as $5 (that's cheaper than a movie ticket!)  While there, guests enjoy the sun, shopping, food and up close and personal thoroughbred moments throughout the 350-acre racetrack in Saratoga Springs, N.Y.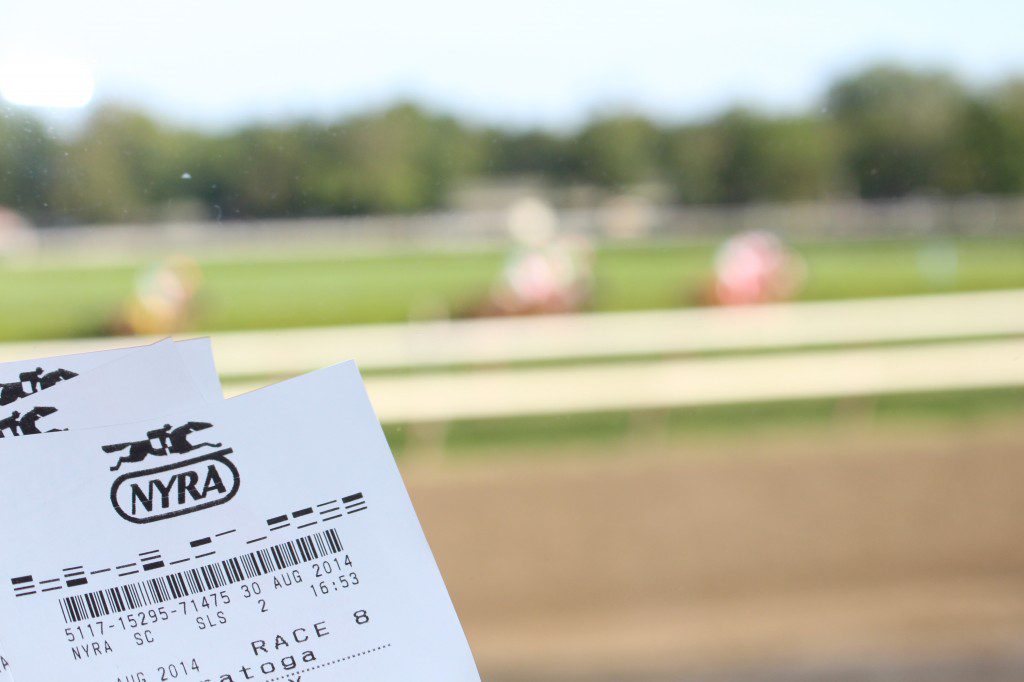 Although the season has come to an end, visiting the Saratoga Race Track next summer should definitely be on your to-do list.  It's the perfect opportunity to grab your girlfriends, dress up and enjoy a fabulous day of fun!  For more information on Saratoga Racing and to plan your next trip visit NYRA.com.  In case you're looking to get into some racing fun before next summer, you can also check out the fall racing schedule throughout at Belmont Park in Hempstead (Long Island) NY below:
September 20
College Day
As implied by the name, this day will be geared toward younger fans and those interested in learning more about how to play the races. There will also be a huge fashion element with people being encouraged to dress up in their best dresses, hats, bow ties and everything else you might expect people to wear at the track.
September 27
Gold Cup Day – Family Fun Day
Gold Cup is one of the biggest races each year. To mark the date, Belmont is hosting a massive food truck festival, there will be music and a live dj in the backyard area and there will be a  giveaway at the door. Additionally, as a "family fun day," there will be a lot of kid-focused activities, including an inflatable climbing wall, a bouncy house, a petting zoo and pony rides offered at the track.
October 4
Oktoberfest
This will be geared more toward adults looking to enjoy some great food and drink. There will be micro-breweries represented, lots of beer to choose from and a chili festival in the backyard.
October 18
New York Showcase Day
This day is all about celebrating the best of New York, from NY-bred horses to NY art and culture. There will be a Farmers Market at the track featuring local food, art and craft vendors. There will also be a pumpkin picking area and the family fun day experience, including all of the same kid-focused activities available at the September 27 event.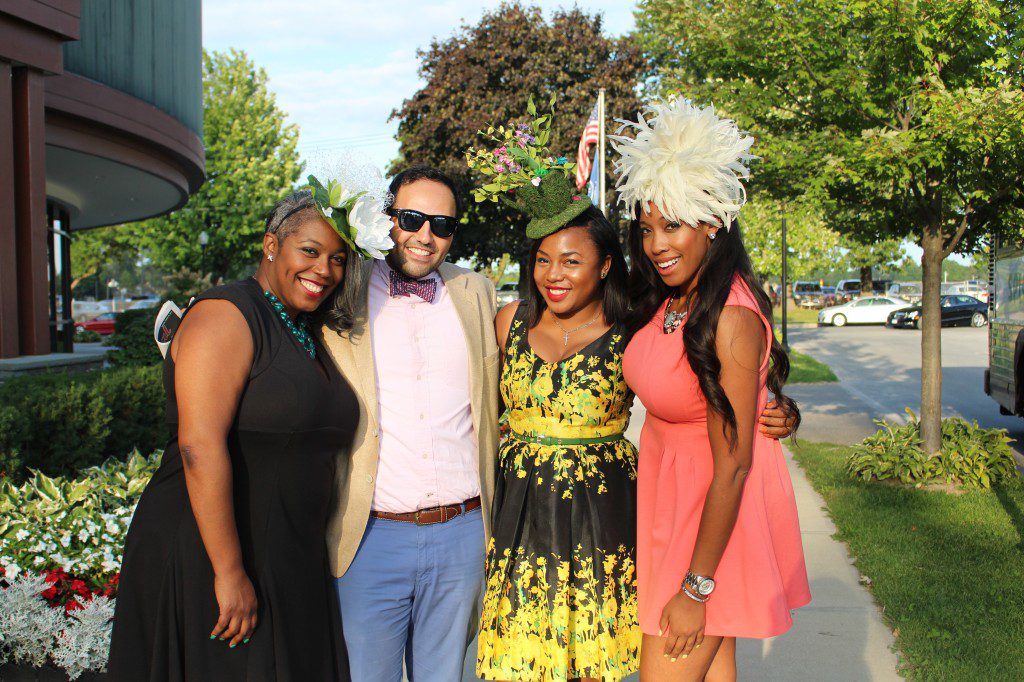 Huge thanks to Dan, Victoria and the entire NYRA team for a lovely day in Saratoga Springs, I can't wait to do it again soon!