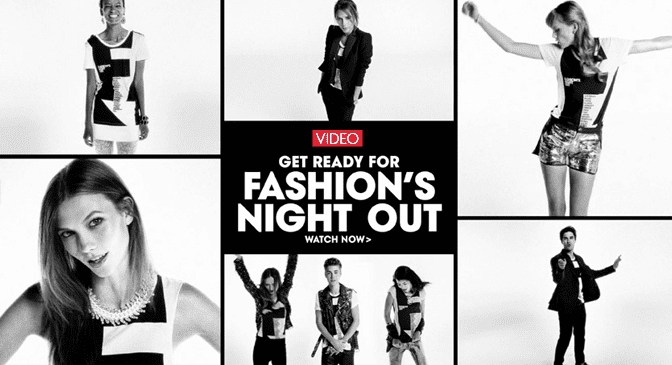 Thinking about attending shopping's biggest night out in NYC or beyond?  Don't forget that every big night has a set of rules and Fashion's Night Out is no exception.
Fashion Night Out Rules
Rule1: Do hop, skip or jump to FNO. Don't skip FNO.
Rule 2: Do go to as many stores as possible. Don't need to RVSP.
Rule 3: Do plan on shopping till you drop. Don't plan on stopping till 11.
Rule 4: Do swipe that credit card for exercise. Don't end FNO without getting your work out in.
Rule 5: Do sport your FNO tee. Don't be caught in anything else.
Rule 6: Do party with the models & celebs. Don't ditch your friends for the models & celebs.
Rule 7: Do bring your boyfriend out. Don't forget about him while you shop.
Rule 8: Do shop online during FNO. Don't miss out if you're stuck indoors.
Rule 9: Do tweet, tumble & fb while you shop. Don't keep all the fashion goodness to yourself.
Rule 10:  Do spend the night out with fashion. Don't spend the night without it.
Rule 11: Do charge your phone. Don't forget to share photos you take.
Rule 12: Do as the fashionistas do, and shop. Don't leave the night empty handed.
Rule 13: Do check our website for event listings. Don't be an uniformed fashionista.
Rule 14:  Do create a shopping list. Don't forget to get everything on it.
Rule 15:  Do invite all of your friends to join you. Don't be a lonely fashionista.
Rule 16: Do visit your favorite designer shoes. Don't forget to check out some new ones.
Rule 17: Do bring your boyfriend along to hold your shopping bags. Don't think you can make it home without some back-up.
Rule 18:  Do remember to look your best. Don't forget a top fashion blogger might be around the corner waiting to take your pic
Rule 19: Do bring along your kids. Don't think you'll find a babysitter-they'll all be out shopping.
Rule 20: Do indulge yourself with a designer splurge. Don't live with fashion regrets.
Rule 21: Do chat it up with your favorite designers. Don't ignore the friends you came with
Rule 22: Do watch our FNO PSA. Don't miss Taylor Swift, Justin Bieber, Darien Criss and more!
Rule 23: Do remember to be on time. Don't be fashionably late.
Rule 24: Do prepare for a fab night. Don't expect to be home before midnight.
Rule 25: Do tell your parents its FNO. Don't tell them how much you plan on spending.
Rule 26: Do accompany your girlfriend to FNO. Don't pretend like you're not having fun.
Rule 27: Do buy shoes you've been eyeing. Don't think they are going to buy themselves.
Rule 28: Do mingle with other party goers. Don't miss out on some stylish new friends.
Rule 29: Do shop all night long. Don't top till you drop
Rule 30: Do purchase a FNO tee. Don't forget 40% of the proceeds go to the NYC Aids Fund in the Community Trust.
Rule 31: Do make room in your closet beforehand. Don't underestimate the amount of space you'll need.
Rule 32: Do join the FNO festivities. Don't host your own house party—no one will come.
Where will your Fashion's Night Out plans lead you?  Macy's – Herald Square? Fifth Avenue? Share with your fellow fashionistas below!