In addition to hosting a "Ready, Set, Engage!" Social Media Basics seminar over the holiday weekend at the 10th Annual AllState Tom Joyner Family Reunion, I also had the opportunity of co-hosting the "Fly On A Dime" Affordable Fashion panel with celebrity stylist Olori Swank & celebrity beauty artist Tia Hebron.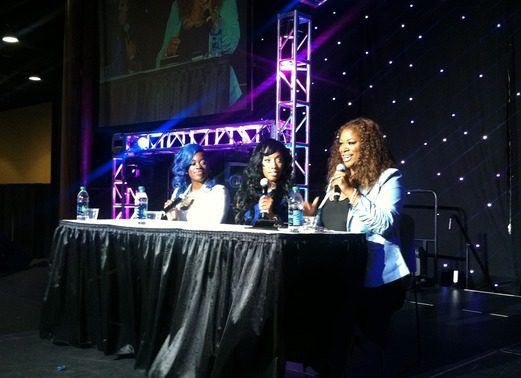 During this panel, several shopping ideas, tips & stories were shared including ways to extend your wardrobe, key pieces that every closet should have & the best time to shop/build your fashion collection.
Did You Know:  One of the best times to build your fashion collection is in November?  It's true, the pre-holiday season boasts almost 6% deeper discounts than any other time of the year.  (It's even better than January which only offers average discounts about 4.5% higher.)
The top three "fashion investments" that every woman should invest in includes:
Leather jacket
Oversized watch
Quality Bras & foundation undergarments
Staple items that every woman should have in her wardrobe includes:
Great pair of black stiletto heels
Convertible wrap dress
Statement scarf that you can wear all year long
Stylish trench coat
Well-tailored black blazer & slacks
Waist cinching belt
Did You Know:  The worst days of the week to shop online is Saturday & Sunday!  According to Consumer Reports, Tuesday is the best day of the week to shop online.  Most consumers find discounts exceeding 5% more than the average discounts found other days online.
Tips:
Before you shop, make sure you know your body type and what works best for your shape.
Essence.com has a great tool online – The Fashion Closet that'll help you out matching designers that specialize in specific body types.
A great foundation will ensure that you look great all over – so make sure to invest in foundation garments.
Overall, don't be afraid to express yourself in fashion but do it wisely.
Invest minimally in seasonal trends, instead opt for investing in quality staple pieces that you can wear for years to come.
The 10th Annual Allstate Tom Joyner Family Reunion attracts over 14,000 people over the Labor day holiday weekend in Orlando, FL.  Filled with celebrity appearances and entertainment for the entire family – you can find out more by visiting http://familyreunion.blackamericaweb.com/ #allstateTJFR