The North American International Auto Show is much more than an automotive trade show, it's charity preview has become the largest single-night fundraiser in the world raising over 5.3 Million dollars for Detroit area children in need! Now that's what I call a party with a purpose!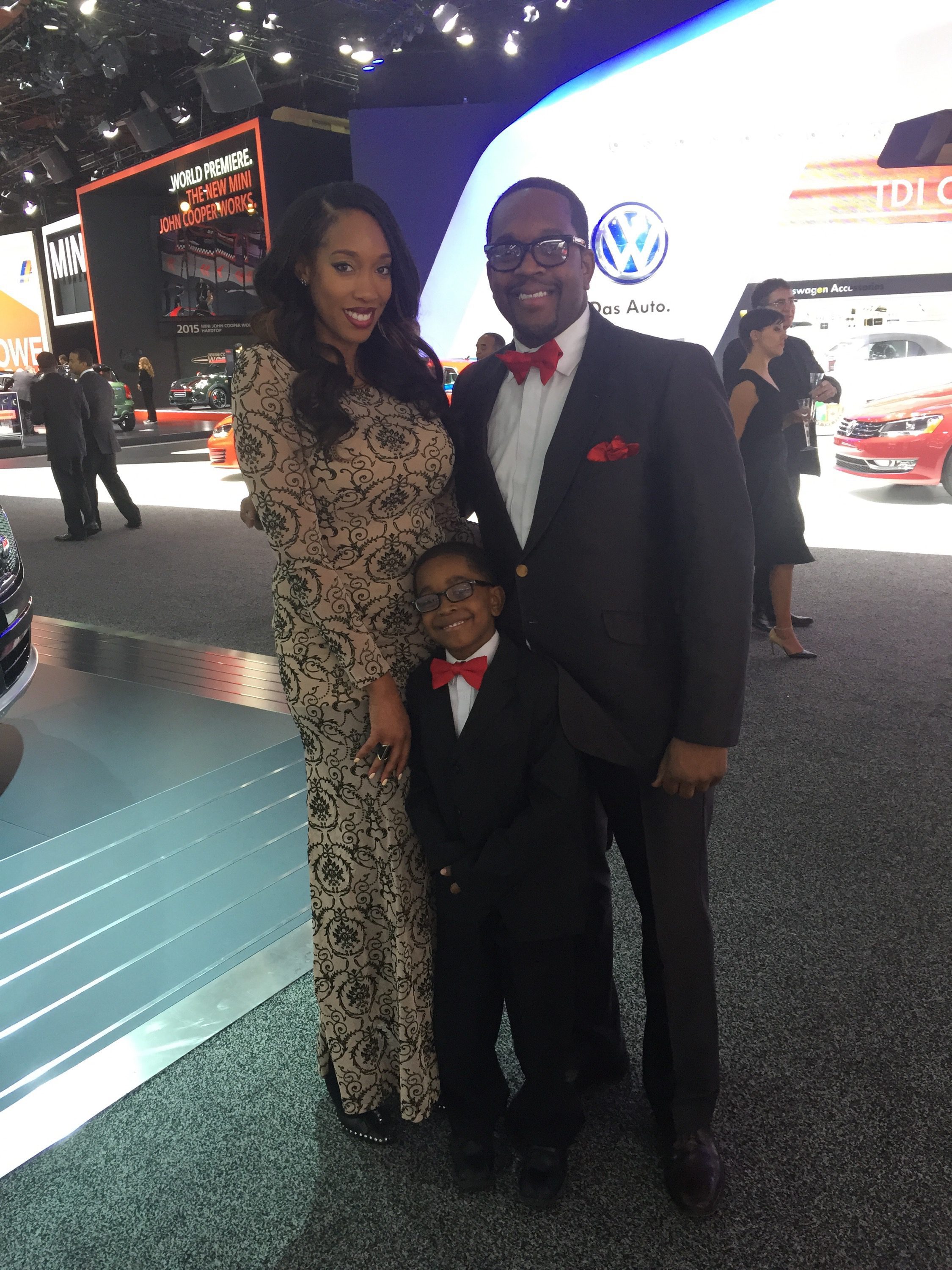 My brother Shannon Rochon and his son Shannon Jr. joined in the Charity Preview fun!
Auto enthusiasts, industry insiders and Detroiters made history on Friday by surpassing the $100 million mark in total funds raised for children's charities since the North American International Auto Show's Charity Preview was established in 1976.
Industry and community joined together for the largest single-night fundraiser in North America, raising $5,340,000 for nine children's charities in Southeastern Michigan. NAIAS reported that 13,350 people braved Michigan's cold outdoor temperatures to attend Detroit's premier black-tie gala presented by FirstMerit Bank.  Of the thousands in attendance, three of the attendees happen to be family.  My brother Shannon and his son Shannon Jr. joined me to attend the black tie affair and Charity preview for a night we'd never forget.
Who wouldn't enjoy gawking at Bentleys and other fancy rides while sipping champagne all for a good cause?
Filled with amazing new reveals and concept cars cascading across several platforms – the North American International Auto Show Charity Preview is where Detroiters and auto industry insiders let loose for a glam night of fancy cars – all for a great cause.  The Detroit auto show's Charity Preview, one of the city's most glamorous events of the year, didn't disappoint this year with style, fashion and panache.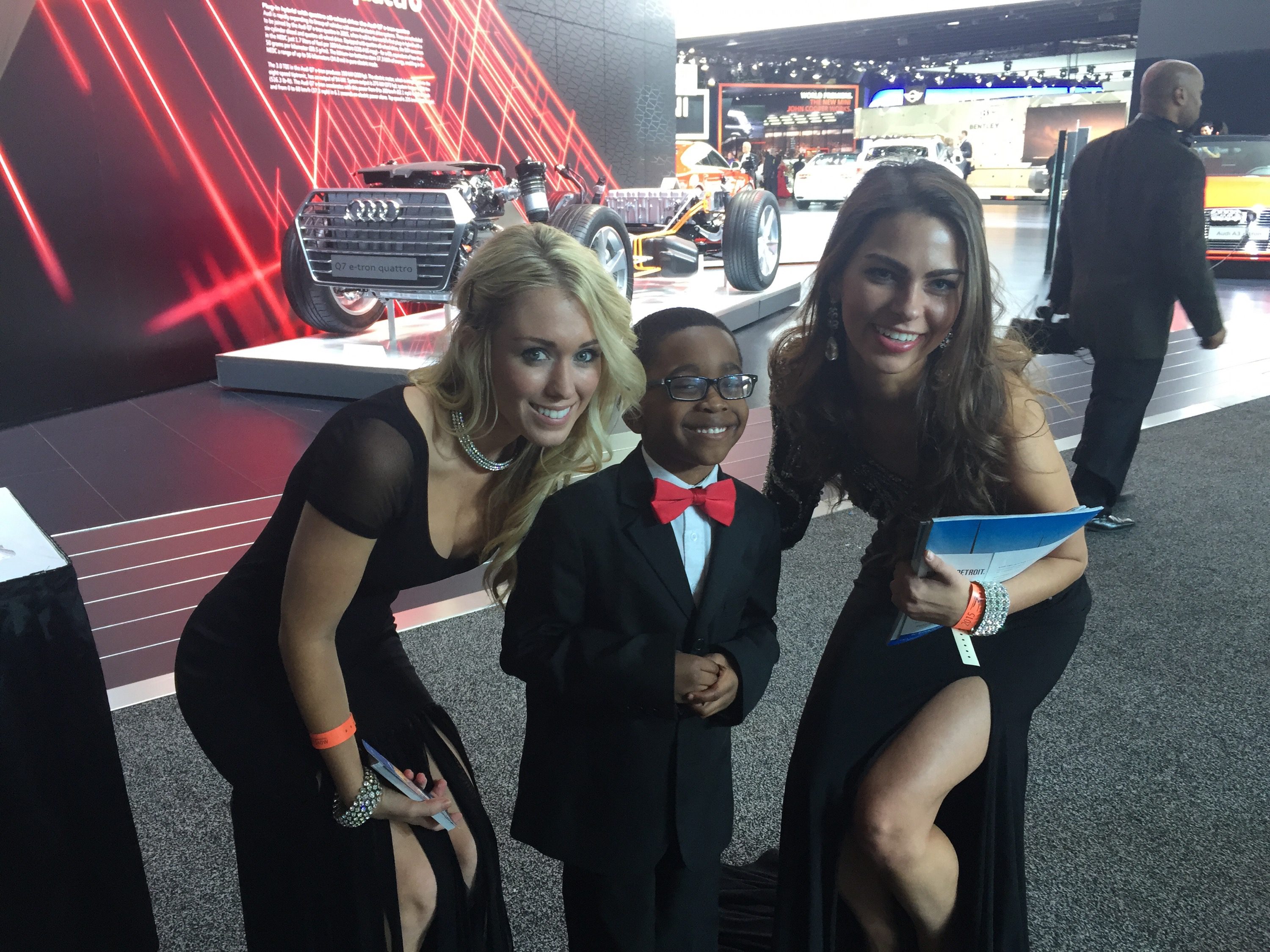 As one of the youngest attendees at the show, my nephew Shannon definitely was the center of attention all night long.
The Maserati Alfieri Concept was the dreamiest car on the NAIAS showroom floor…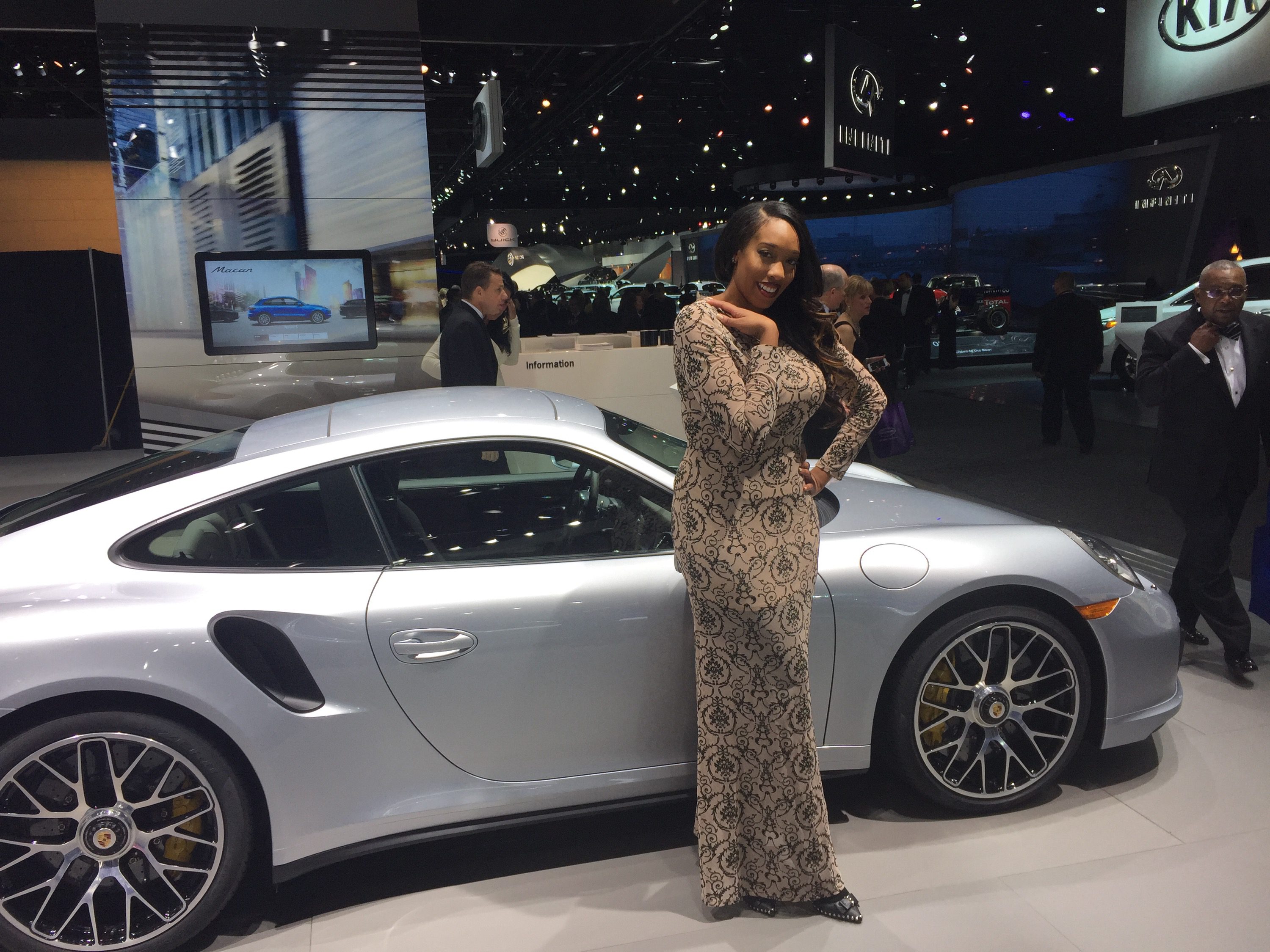 …But a girl could get used to driving this Porsche too…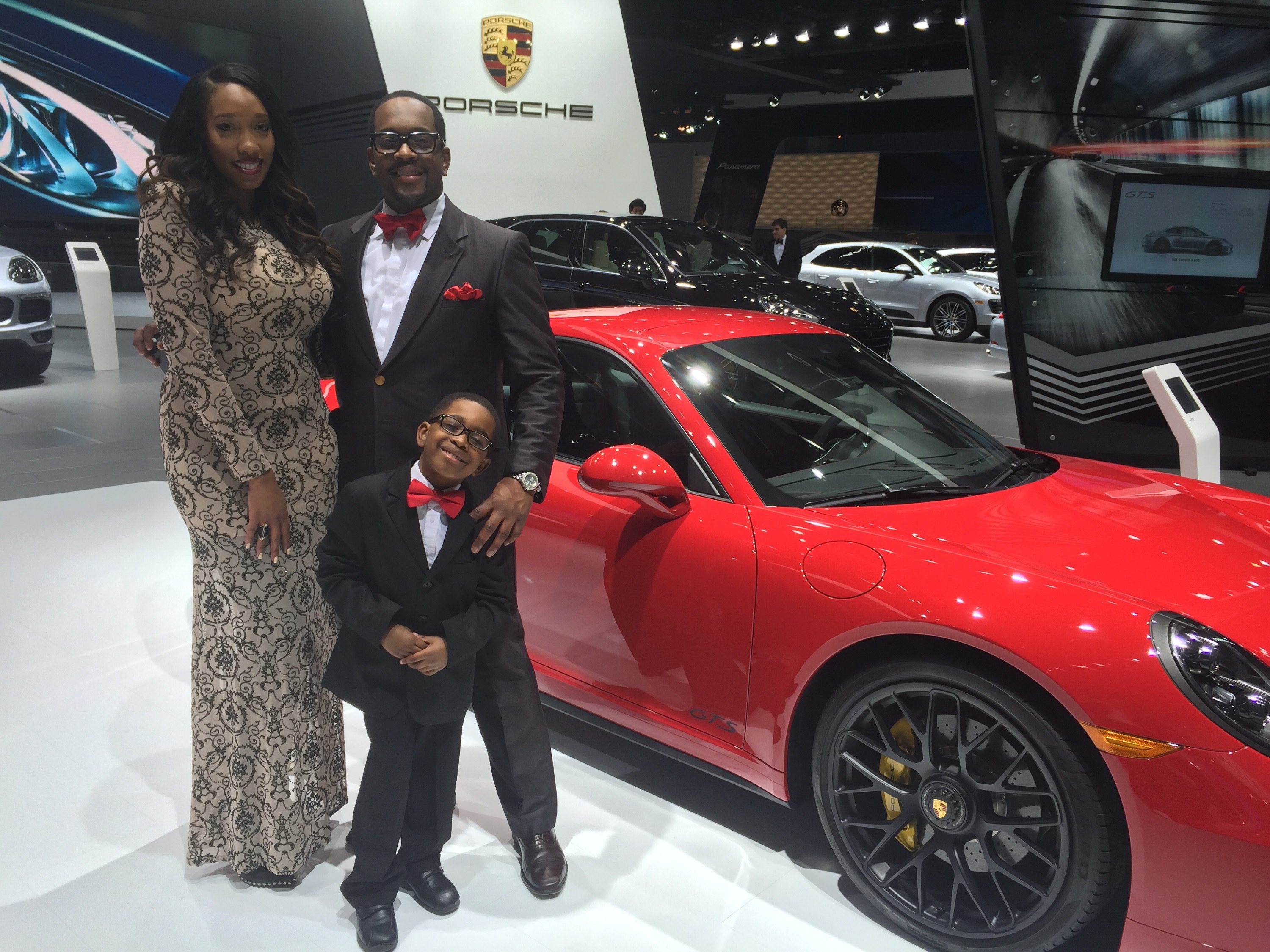 A Porsche picture perfect moment that any brother and nephew would enjoy!
The evening's proceeds directly benefit a wide range of children's charities. Funds raised will support services for children of all ages from birth to 18. Since 1976, the Charity Preview has raised more than $100 million for southeastern Michigan children's charities – over $50 million of which was raised in the last 10 years alone.
Beneficiaries of the Charity Preview include: Boys & Girls Clubs of Southeastern Michigan, Boys Hope Girls Hope of Detroit, The Children's Center, Judson Center, and The Detroit Institute for Children, Think Detroit PAL, March of Dimes, Children's Hospital of Michigan Foundation, and the DADA Charitable Foundation Fund, a fund of the Community Foundation for Southeast Michigan.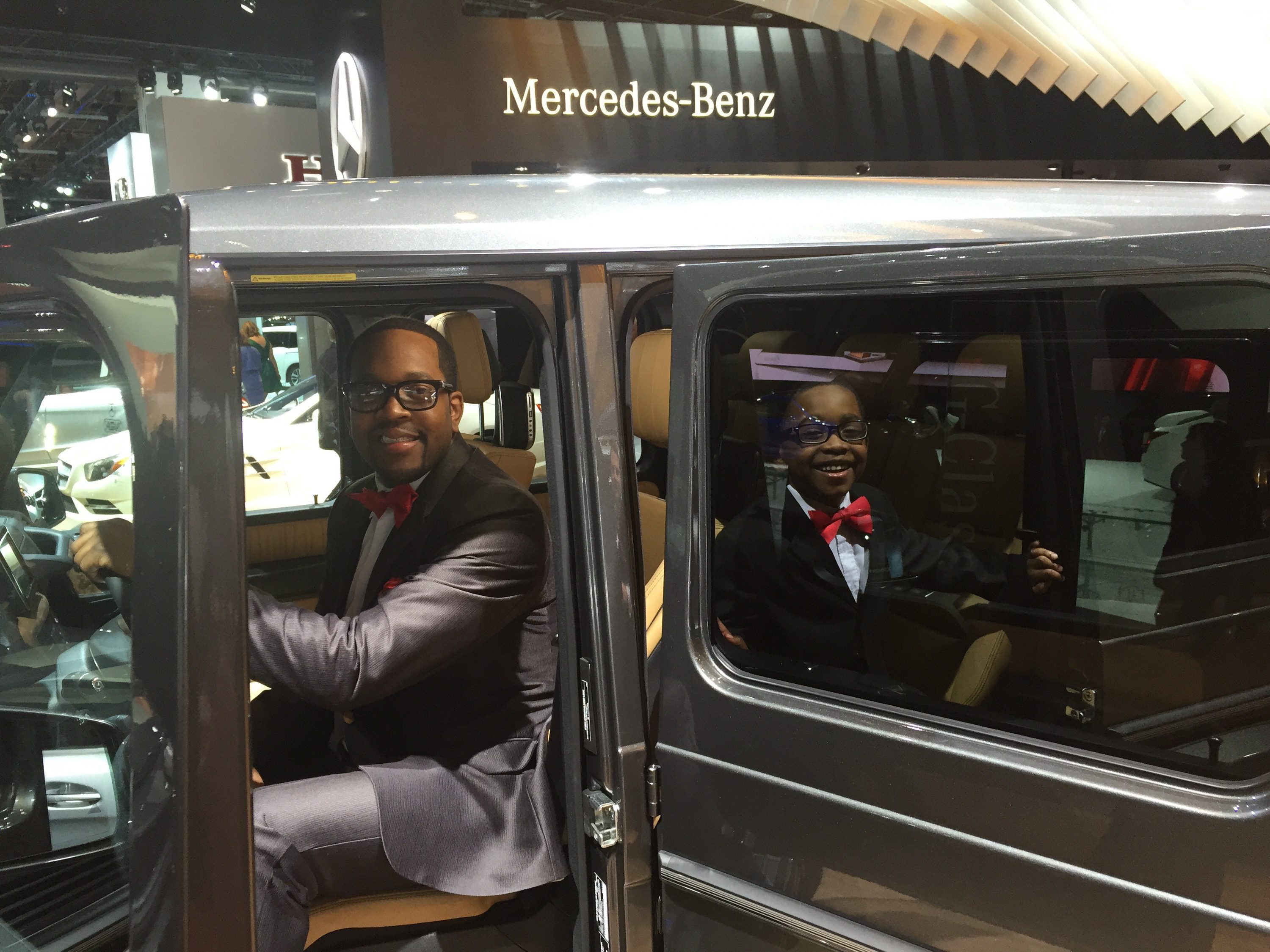 Like father, like son – the Mercedes truck is definitely more their speed…
Experience the next generation of transportation at the North American International Auto Show 2015. See more than 500 vehicles on display, representing the most innovative designs in the world and experience North America's largest and most prestigious automotive showcase. The show is available to the public now through January 25th – for ticket pricing and more information visit Naias.com/tickets.
About the North American International Auto Show
Now in its 27th year as an international event, the NAIAS is among the most prestigious auto shows in the world, providing unparalleled access to the automotive products, people and ideas that matter most–up close and in one place. Administered by Executive Director Rod Alberts, the NAIAS is one of the largest media events in North America, and the only auto show in the United States to earn an annual distinguished sanction of the Organisation Internationale des Constructeurs d'Automobiles, the Paris-based alliance of automotive trade associations and manufacturers from around the world.
Comments