Our tech savvy cosmetic and beauty world continues developing and advancing gadgets that are making almost anything possible from our homes. Just a few years ago the majority of individuals getting laser hair removal were either celebrities or wealthy professionals and done by a physician. Thanks to technological advances in beauty anyone can obtain at home hair removal devices that are more affordable and more convenient. However, before you go laser crazy know your options, read reviews, and research all claims.
There are two FDA-approved hair removal devices that dominate the market, first approved was the TRIA and more recently the No!No!. It's only a matter of time before there are dozens of at home laser removal gadgets and gizmos available to consumers, but for now these are the two worth considering.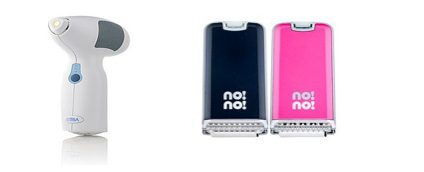 No!No! is one of the newest and most talked about at-home hair removal kits to hit the market. It is available at Sephora and other beauty retailers and is currently sold for about $175-$200. No!No! is reportedly safe to use and successful for all skin types, but is only meant for hair removal on the legs, arms, underarms and bikini line. No!No! emphasizes that for hair removal on the delicate skin of the face, laser hair removal or waxing is safer and preferred. The majority of reviewers I've encountered claimed a noticeable improvement in hair reduction with consistent, frequent use.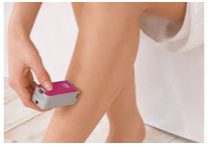 No!No!'s website puts out an important disclaimer as well: "No!No! isn't a permanent hair removal system, and the length of its results generally don't compare to those of laser hair removal or electrolysis. However, with regular and continued use, No!No! should gradually reduce the density and growth of hair on all treated areas."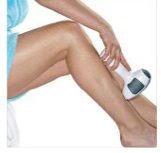 TRIA has had mixed reviews since its creation; it has proven effective for some. According to multiple reviews, the laser technique is tricky to perform at home. Additionally, the lasers used in the TRIA are weaker than those of professional hair removal, so it's not as powerful as a professional laser system like one may expect.
Noticeable and important differences between these hair removal methods is that No!No! only uses heat, whereas the TRIA utilizes light energy. No!No! claims to be pain-free, while the TRIA hair removal system has a little more involved risk than the No!No! system does. If the TRIA isn't used correctly, there's a slight chance of burns from the product's laser. Additionally, the TRIA is not compatible for all hair and skin types; it will not work on darker skin tones nor red, blonde, or grey hair.
But Wait! Before you get laser happy, like I was tempted, weigh your options with your own individual wants/needs. Read all the reviews on each product. Find out your skin type if you don't know already or talk to your physician or dermatologist first. In the end, your decision to use No!No! Hair Removal, the TRIA, or professional laser hair removal will come down to personal preference and your individual hair removal needs. If you are mainly concerned with cost, or just want to remove hair from home, then No!No! may be worth a look. No matter what hair removal method you choose, be sure to do your homework before undergoing treatment or making a financial investment. Don't believe everything you hear about these products either, especially celebrity-endorsed products, and specifically, those endorsed by Kim Kardashian.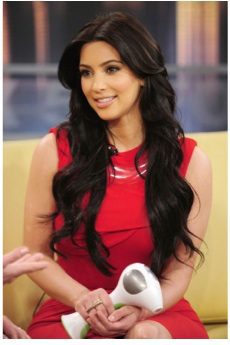 After her highly publicized marriage hoax, Kim Kardashian is back in the news for lying to the public. According to legal documents obtained by E! News Kim has made multiple false claims and is now being sued by TRIA's rival laser removal company Radiancy, owner of No!No!
So, there is also a noticeable difference in the claims that are realistic versus those that are either understated or, in this case, exaggerated. No!No! seems to put it all on the table, while I can't say the same for TRIA and Kim Kardashian.