Thanks to Duncan Hines for sponsoring my writing. There's no limit to the baking possibilities, so grab your favorite Duncan Hines mix and Comstock or Wilderness fruit fillings and Bake On! www.duncanhines.com.
It's the most wonderful time of the year!  In between holiday shopping and new year planning, I decided to up and move into a new home of my dreams! *Squeals* (I know what you're thinking…who in the world plans to move in December? O_o) More than anything, I'm excited to host my first "Divas Night In" within my new cozy home.  Fabulous eats, drinks, conversation and more!  There's nothing quite like spending time with your fellow Divas.  (Think Waiting To Exhale – minus all the guy drama…lol)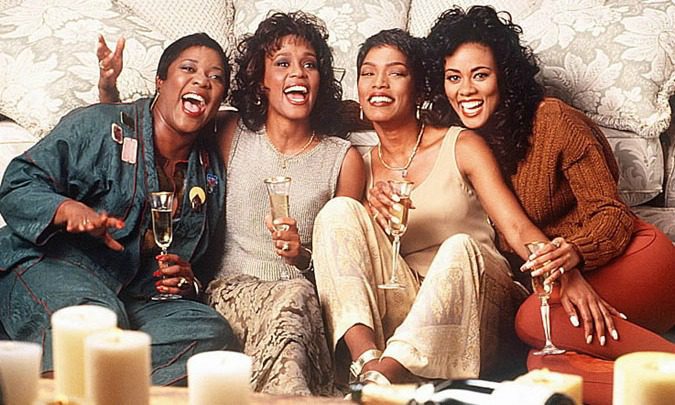 Chatting about the latest happenings, venting about the latest stresses and knowing that no matter what – your girls have your back.  Friendships are especially important to celebrate during this holiday season (trust me, everyone is going through something or another during this time of year and if you can't turn to your friends – who can you turn to?)  I remember growing up with many of my friends (sisters included) and throughout marriages, children and career changes we've all managed to maintain our relationships throughout the years through Divas Night In activities.
Have you hosted a Girls Night In recently?  If not, why not create an impromptu night for you and your girlfriends this month. The holidays are a great time to host get-togethers (especially if you include fabulous sin-worthy desserts…)  Looking for a few activity ideas to make your next Girls Night In fabulous?  Some of my favorite activities include:
Take Out & A Movie – Check out the GrubHub app for the closest Chinese Food delivery resturant and rent a good chick flick.
Makeover Mania – Break out the curlers, makeup pallets and have a ball for a glamourous night in.
DIY Spa Party – Manis & Pedis for everyone!  Try out new colors, styles & lengths and you could leave feeling refreshed and a whole new you!
Vision Board Party –  Ready to plan your goals and make a change? Grab some magazines, glue sticks and bring your girls together to plan, prepare and visualize a successful future.
There are tons of ideas and suggestions available online including passion parties, international cook-off contests and more. No matter when you plan your next get-together, as long as you have great food, fun and your girlfriends – who needs anything else?
Are you planning a holiday get-together?  Let us know how you plan on connecting with your girlfriends this holiday season!
Remember to check out Duncan Hines' website www.duncanhines.com to find some great recipes for your holiday get-together! I was selected for this sponsorship by the Clever Girls Collective.