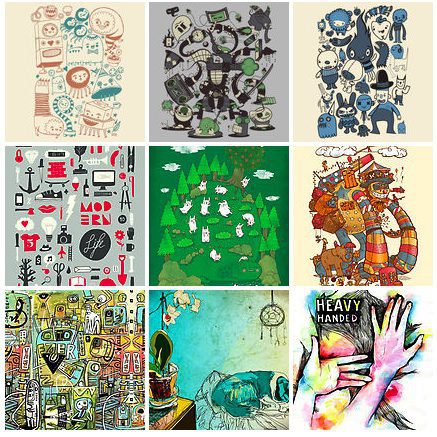 As I am ini-dated with design, drawing and illustrations on a daily basis (because of school…) It's nice to find a parallel and see how common and uncommon art work influences life, technology and style everyday…
RedBubble, the world's premium online marketplace for high-quality independent creative products on demand, saw an astounding response to the addition of iPhone cases to its selection of customizable goods last week, receiving over 10,000 original designs by independent artists worldwide in just a week. The iPhone cases, manufactured in partnership with Uncommon, have received an outpouring of artist submissions since their launch and the number of independent designs available on the site continues to grow.
"I think there is a real sympathy between the strong design sensibility of Apple and the artist community on RedBubble," said RedBubble CEO Martin Hosking. "This has been a simply startling reaction by our community, and it is a testament to the fact the iPhone as a great canvas for art and design."
"The iPhone cases are an exciting next step in continuing RedBubble's mission to bring the the best independent design into people's daily lives," added Hosking. "And we have found the perfect partner in Uncommon, whose manufacturing process beautifully preserves the quality and integrity of all our contributors' original work."
RedBubble has also launched an iPhone case design challenge calling on designers worldwide to submit their most inspired designs. For more information on the design competition, entry details and prizing, click here.
For more original artwork, or to even upload artwork of your own for your personalized tech covers, check out GetUncommon.com