Tis the season to be jolly and express your Holiday spirit on your phalanges (Challenge the Phalange! I hope you said this for it to rhyme…) We searched the web far and wide, also known as google, for some of the best holiday, all holidays this season, DIY (do it yourself) nail art! Even if you have less than ten nails, which is common these days, these designs are sure to get you great compliments and set the perfect mood for holiday cheer:-) Feel free to emulate or get inspired to create your own.
Did you say "I'm dreaming of a white Christmas"? Even if snow doesn't fall this year, you can guarantee a white christmas with NailArt101.com featured snowflakes tutorial! take a look!
Not to offend anyone but where my jews at?! Representing for the Hanukkah Holiday msnlving.com featured this bloggers creative celebration titled "Hanukkah Nails". Using silver striping paint, accented with white and black paint on top of a royal blue this is a sure way to express your holiday cheer.
Habari Ghani!  Whats the news! Does anyone celebrate Kwanzaa?! Surprisingly there were few designs for this National African American holiday, ironic enough the one found featured on Bee Polished blog was designed on an Euro-American hand, but no judgement! This just leaves alot to the imagination! You can just grab you a red, black and green polish and paint accordingly or give this candle design topped on a gold paint a try!
Elegant and soft, this nail look was featured on Allure.com's top 6 holiday nail looks. We love this idea for both nightlife and professional events. Did someone mention the New Year's eve celebration?! Check out this great look!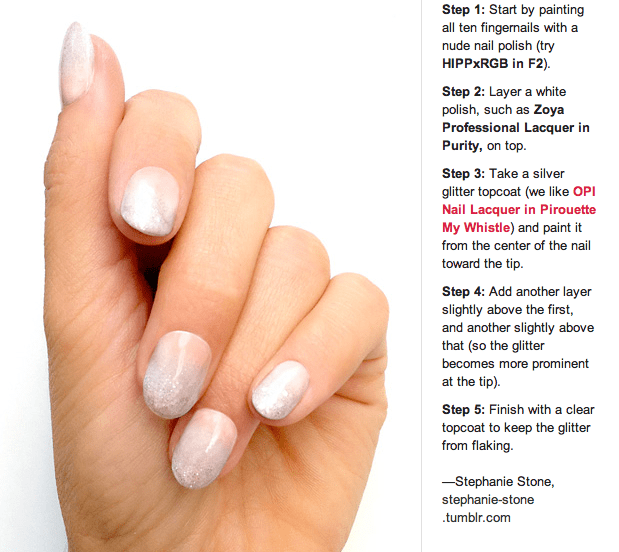 Nothing gives creative nail art better than bedazzled jewels and stones. Try this bubble nail look featured by Truly Madly Beauty blog.  Notice the beautiful discrete glitter base that accents the jewels. Nail Glue is a great adhesive for your extras and don't forget to seal with a clear top coat!
So challenge the phalange (you should definitely had read this to rhyme by now!)
Merry Chirstmas, Happy Kwanzaa, Happy Hanukkah Happy New Years and Happy You!
Have some nail art suggestions of your own? Share and comment below!