Guest Post by:  Terrance Gains – Brothatech.com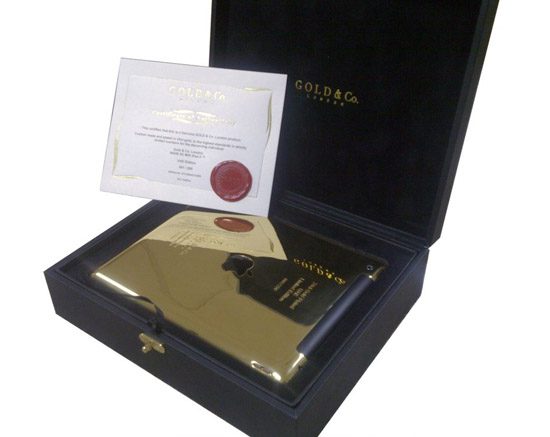 Gold & Co. is known for its gold-plated gadgets in the fashion-forward/money to burn circles. Well, the London-based company has decided to deck out the must-have tablet of 2011 in 24ct gold to offer its client base…who knows what it means to "Go big or go home".
Your limited-edition, made-to-order iPad 2 will be accompanied by a Certificate of Authenticity (only 250 units will be offered in a calendar year) complete with a wax seal and is packaged in a svelte hand-crafted leather box. According to Gold & Co. "It represents the ultimate in luxury. Enhancing an already amazing product and taking it from the mundane to the extraordinary"
And the moment you've been waiting for – The device will be on sale for $6,495, which for the monetarily gifted, is a mere call to their portfolio manager to move some stocks around to free up some dividends to make the purchase. If you haven't quite made "baller" status yet, you might want to make sure your priorities are COMPLETELY in order before a purchase like this comes up in a conversation with your family over dinner.