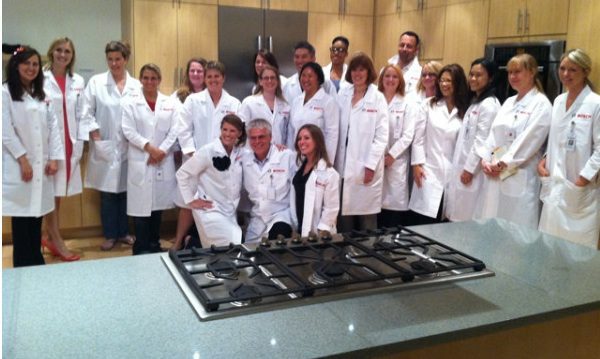 Reporting *LIVE* from the Bosh Kitchen Re-Engineered Retreat in sunny Scottsdale, Arizona – this Diva is ready to get Domestic!  Upon last night's arrival, the team at Bosch provided excellent accommodations at the Hyatt Regency Resort & Spa including a wonderful welcome reception complete with Hors' devours and drinks…


…in preparation for today, BOSCH even supplied us with 'Engineer In Training' lab coats! #GeekGirlCouture

So what's going on today that requires a lab coat, you ask?  We're flame-throwing our way through sizzling interactive experiments using the latest in advance kitchen appliance technology!  Check back often for all the up-to-the-minute details/photos 'LIVE' from the BOSCH Kitchen Re-Engineered Retreat!
10:14am – We're making pancakes! Pancakes using a heat-controlled AUTO COOK induction glass cook top. Perfect pancakes every time.
10:30am – Just cooked asparagus, salmon & chocolate chip cookies in the same convection oven AT THE SAME TIME! (the cookies taste like cookies and not like salmon…) all cooked in 15 minutes!
11:10am – We're getting ICE COLD BABY! with these ultra-cool refrigeration units. Keeping fruits fresh LONGER means this Diva can save money on groceries & spend the money saved on some new shoes!
With a 125 year tradition of social commitment and environmental protection, BOSCH has made a memorable impact on this diva from cooking to cleaning and everything in between!  Making cooking easy for everyday girls on the go, Bosch makes it easy to make the perfect pancakes, vegetables and even steaks with the push of the button, the AUTO CHEF button, that is…
*Updated*
Top 10 Things I Learned During BOSCH's Kitchen Re-Engineered Event


10.  With the BOSCH True Confection Oven, you can cook Salmon, Asparagus AND Chocolate Chip Cookies SIMULTANEOUSLY in 15 minutes (…and it tastes GREAT!)
9.  Handwashing a load of dishes uses 43 Gallons of water, while the Bosch dishwasher uses only 2!
8.  Using a dishwasher?  DO NOT PRE-RINSE THE DISHES!  Dishwashing detergent with enzymes relies on the leftover food particles to power a full clean dish.
7.  Chef Brad and I both love Bosch appliances and the Apple iPad 2!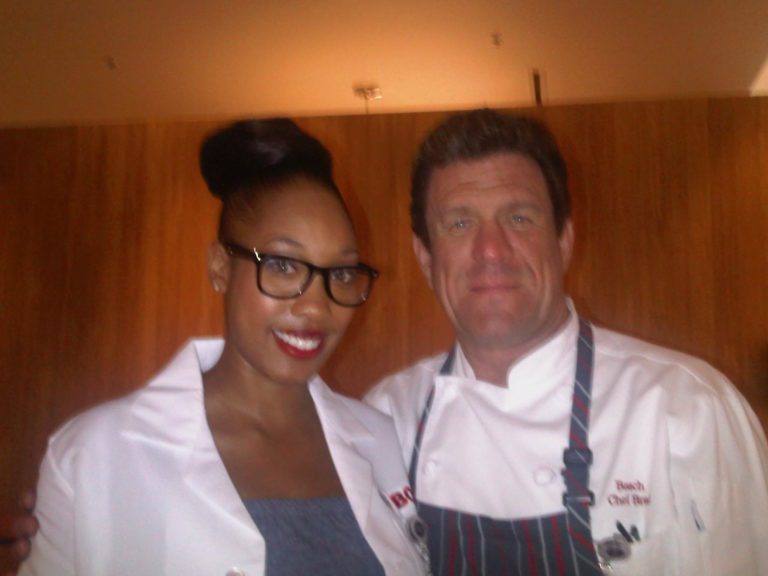 6.  I've learned how to "zest" a lemon….#NICE
5.  Induction cook tops heat the pan AND NOT the cook top surface! #safeforkids  (PLUS! Induction cooking is 30% more efficient than traditional cooking!)
4.  The Bosch appliances have the quickest self cleaning ovens EVER!
3.  Most of you Divas out there use your washer & dryer more than any other appliance (including cooktop ovens and dishwashers..)
2.  I can fit 8 big towels in the ultra-efficient Bosch Axxis washer! (Perfect for my laundry-over-loadin-self!)
1.  Pairing red lipstick with a labcoat, red pumps & sexy specs is HAWT!
All in all, I have to say that I never really considered the importance of household appliances like dishwashers, refrigeration, washer/dryers or cooktop stoves until this experience.  Without going into "Green" Overload – it really is beneficial to consider how your usage could impact the world (with energy waste) and more importantly – how it'll affect your wallet.  So if you're in the market, definitely check out Bosch Appliances online and even on Twitter @BoschAppliances.
Shouts out to the amazing Bosch team as well as some of the amazing bloggers that I met during this experience!