How would you like to binge watch your favorite shows from Netflix, HBO Go and more – anytime, any place?
With Binge ON, T-Mobile unleashes your favorite binge-worthy shows without ever burning up customers' high-speed data.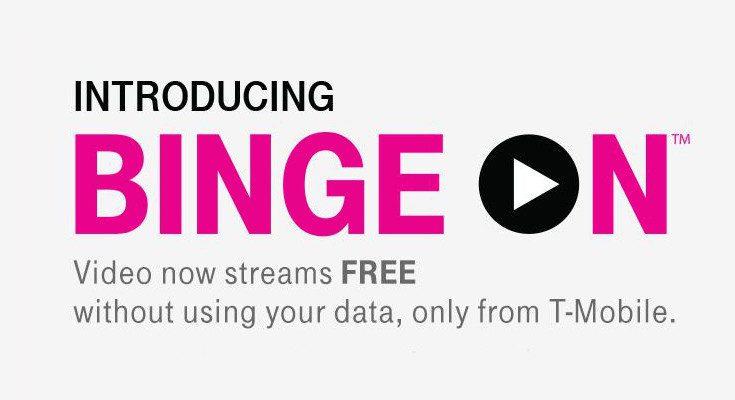 If you're a T-Mobile customer, you can now watch your favorite shows without watching your data or searching for WiFi.  With Binge On, video now streams free for viewers and subscribers of Crackle, Encore, ESPN, Fox Sports, Fox Sports Go, HBO Now, HBO Go, Hulu, MLB, Movieplex, NBC Sports, Netflix, Sling TV, Sling Box, SHOWTIME, STARZ, T–Mobile TV, Univision Deportes, Ustream, Vessel, Vevo, VUDU—with more streaming services on the way—without ever touching their 4G LTE data on Simple Choice plans with extra data.
T–Mobile is also including Verizon's Go90 and AT&T's DirecTV streaming services in Binge On.
"With Binge On, no one pays—not the customers, not the video streaming services—and everyone wins," – T–Mobile President and CEO, John Legere
With mobile video now the #1 way Americans use smartphone data, it's nice to see a carrier making a way for customers to enjoy entertainment easier and less expensive.  Customers are using nearly two-and-a-half times more of their wireless data for mobile video in the last two years. But that's nothing compared to where we're headed. According to forecasts, mobile video usage is poised to surge more than 400% by 2020.
Binge On and the new Simple Choice plan will be available starting Sunday, November 15. Existing T–Mobilecustomers will get Binge On starting Thursday, November 19. For more information on Binge On, see www.t–mobile.com/bingeon.
Comments