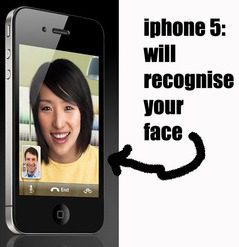 *********  *** Rumor Alert ***  *********
September will be here along with the Apple iPhone 5 – before you know it!  The rumor mill has been buzzing about the newest feature that could possibly come standard with the highly anticipated smartphone coming in less than 7 weeks.
Apple's iPhone 5 will be able to recognise your face claims 9to5mac reporting that the iOS5 update accompanying the new phone will include facial recognition software.
Signficantly, third party apps will be able to build the facial recognition into their own apps.
Apple bought out Scandinavian firm Polar Rose and their facial recognition tech in 2010, If the iOS5 update is anything like Polar Rose's other tech, it won't just scan for the shape of your face, but will pick up how your eyes and mouth move too.