As the anticipation of this week's trip to Blog Her '11 gets closer and closer, I've been hearing more and more about one major fashion accessory that gets all the "OOOOOHS & AHHHHHS".  The laptop sleeve.  I know what you're thinking, "Isn't BlogHer about Blogging?" Well, of course it is! But don't forget the droves of fashionistas on site that will be checking for the flyest accessories to covet for themselves.
Check out my top Five (leather) picks that will give you the fashion flare to jazz up that cold tech piece of yours.
Designer Wool Felt/Brown Leather 13″ MacBook Air Sleeve Case

This rib & hull MacBook sleeve case is made from high quality German designer felt with a full leather front pocket. This classic design is made with thick 1/8″ 100% wool designer felt and semi-aniline brown leather that will look even better with time.
• designer felt – thickness: 3 mm – 1/8″ ; density: 0,28 gr/cm²
• full leather front pocket to hold USB drive, CDs, pen, etc.
• sturdy and slim design
• water repellent
• anti-piling
Available at ETSY.com
—
Personalized Leather Sleeve for Kindle – Nook – Galaxy Tab – eReaders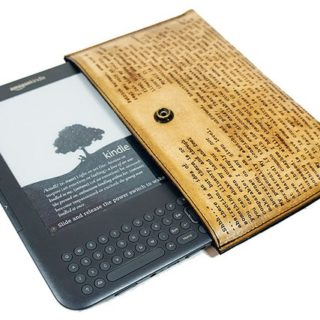 Slim leather sleeve which can be adapted for the following eReaders:
-Kindle 3
-Nook & Nook Color
-Samsung Galaxy Tab
Each sleeve is made using quality vegetable tan leather hides which are then hand rubbed & aged with dye to produce rich and vibrant finishes.  Personalize message can be place on either front or back and or both sides of the sleeve. Message can be printed using any font of your choice. Neatly fit between 1000 – 1500 characters depending on font style & font size to convey your message that will last a lifetime. Leather sleeve is available in the following colors: Antique, Black, Brown, and Tan. (If you want a different color, contact the company and they'll customize it to fit your needs!)
Available online.
—
Wild Honey Leather Monogrammed Tablet Sleeve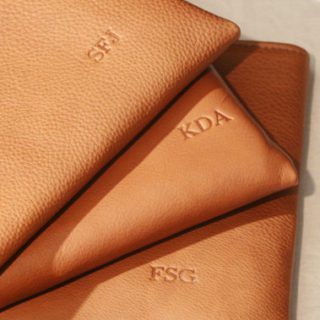 This Mini Wild Honey soft as lambskin Leather Lined sleeve for iPad or other tablets as a classic gem. Magnetic snap closures with optional strap or outside slit pocket. Designer Wool Felt inside a Leather Case or Envelope – the interior is made from premium felted wool (soft as cashmere) double plush thickness, fully lined inside with moleskin and wrapped in a leather case. The laptop is recessed into the case about an inch so that you can firmly grasp the top of the sleeve without strain. This slick design slides smoothly inside your briefcase or bag or you can carry it under your arm.
Available at Chapin Leather.
—
Vegan Leather Macbook Air Sleeve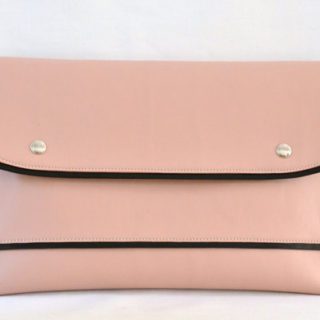 This stylist laptop sleeve is made with vegan material (faux leather), which is animal and eco friendly. It touches, feel, look and strong just like the real leather except its not CUT from animal.
This sleeve is special made to Fit Perfectly the Mac Air 11".
Features & material used:
~Upholstery foam is added to ensure your device is kept safe from scratches, bumps and smudges.
~ Interior cotton liner for easy sliding and protection
~100% vegan leather
~Cotton interior liner
~Snap & rivet
Color: White Zinfandel with Black Trim
Available on Etsy.com
—
1950s Classical Beethoven Album Patent Leather iPad Case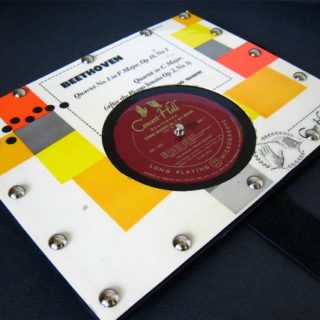 Handcrafted from real leather in a soft black finish and lined with the softest black fleece. Hardware is all nickel.  Fits original iPad and iPad 2 with smart cover this case can be used 1. Book Style – ipad slides in the full pouch while you're not using it, slide it into the leather strap and corner inserts while you are using it. 2.  As a stand – To use this case as a stand, just fold the two covers backwards to form a "V", and button the strap.
Available at Brinda Kay Design.