The whimsical and poignant fashions of Joy Cioci.  I had the pleasure of reviewing the Joy Cioci 2011 Fall Presentation during New York Fashion Week and there were several beautiful designs and textures included within this fashion line.  One in particular struck me as an absolute essential color combo that I'll need in my closet this Fall.  Check out the fashionable video below and see which looks stood out the most.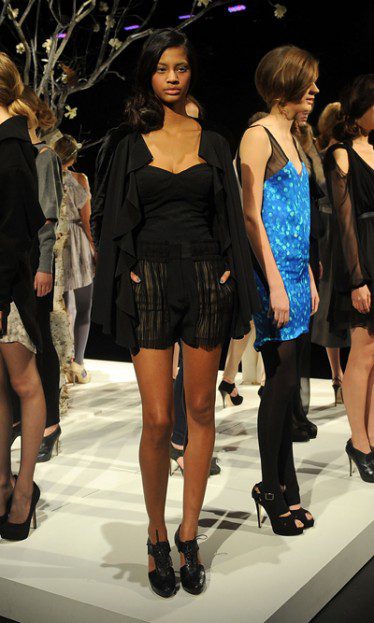 Shorts during the fall and winter months is a trend that I've never been a huge fan of, but with the right legwear – I think this look is chic.  I adore the cape which in my opinion anchors the entire look.  Check out another take on the autumn shorts look below…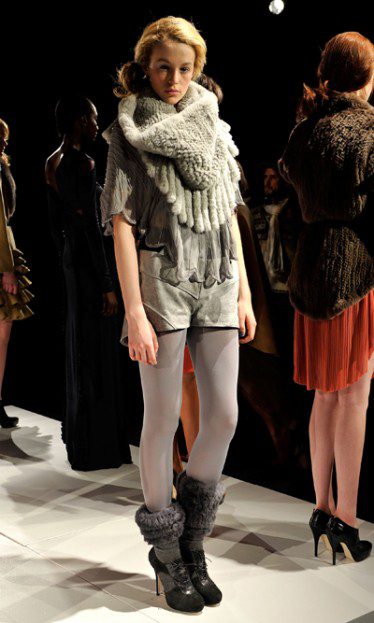 Once again, this look isn't all about the shorts.  I think the shorts minimalize the outfit to bring focus to the legwear, shoes and accessories.  The furry neckpiece brings this entire look together and just reinforces the fact that fur is back (and in a big way come this fall.)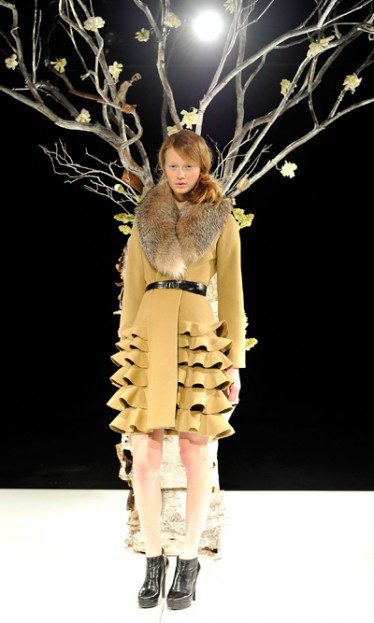 Speaking of fur….this look is definitely something that I would wear.  It has the structured simplicity of a signature camel coat, but its all about the details!  The fur collar brings a bit of color and flair to this usually basic look.  The black belt cinches the waist but also adds a bit of structure to the fit. And my favorite part, the layered ruffles – adds femininity beyond measure to this design.  I am a huge fan of structured looks with a flair of frilliness and this coat delivers!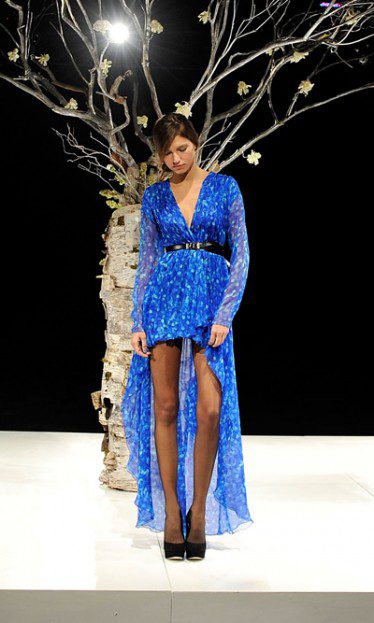 And onto my favorite look for the presentation.  This design (reminiscent to the infamous Versace dress worn by J. Lo at the Grammys) has the perfect shade of blue with white accents and can be worn as a dress, paired with skinny slacks or a suit jacket (or a motorcycle jacket to kick it up a notch!)
These designs – all different in nature offers several elements of fashionable trends to look forward to this fall.  Congratulations Joy Cioci on another beautiful Fall collection for fashionistas to enjoy!