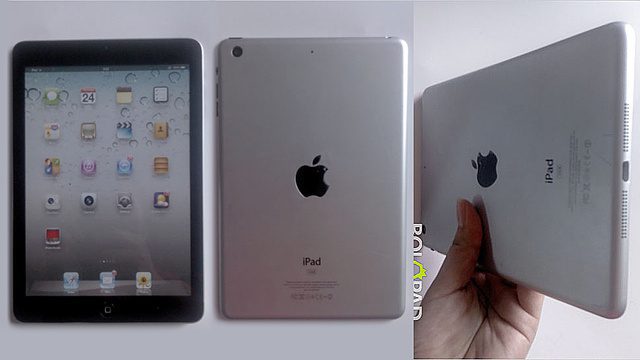 According to Gizmodo, the Chinese site Bolopad claims that these are exclusive shots of the upcoming Apple iPad Mini release.  The 7.8-inch iPad looks like the real deal – but is it legit?  Are releasing leaked pics Apple's newest ploy in positioning themselves against the competition?  Just yesterday we questioned Apple's latest iPhone 5 release & disappointment in the loss of surprise that Apple once had.  Apparently, we're not the only ones questioning Apple…
The author states,
"I have to admit that I'm starting to think that all these leaks can't be just a coincidence. The iPhone 5 has been the most broadly leaked product in Apple's history. The new iPad mini is going to be the next. It almost feels like Apple is letting these products out of the factories to control market expectations and backlash from the press and consumers. Or perhaps Foxconn's workers are getting smarter at smuggling them out the factory. Or things have gotten so massive that it's impossible to control."
What do you think?  Would you rather have leaked images or would you prefer the element of surprise when it comes to new tech releases?