And by ugly, I mean UGLY!
I'm reminded of a printing pal of min in Charlotte, North Carolina by the name of Chris.  As one of the original Greek inhabitants of the city of Charlotte he's experienced an extraordinary life – from cooking for Marilyn Monroe during the war, meeting the POTUS & owning/operating the eldest printing company in Charlotte – Speedee Prints.  As a peculiar and wildly sarcastic man, Chris would light up everytime I entered his business for printing services and would greet me with a line that I'll never forget…
"Is that, that ugly girl Christen again?"
I'd laugh and say, yes its me.
He'd respond.."You know why I call you ugly right?"
"I figure that you've been called pretty all your life… If I'd call you ugly, you'd never forget me for as long as you live!"
Which in fact, is actually true.  So true, that once I began drafting this story about the pros/cons of face-to-face chatting – I immediately thought to myself – "Is it really THAT important to see my ugly face during online chatting?"
—————————————————————————————————————————————-
With the launch of Google+ last week and this week's "huge" Facebook announcement offering Skype video conferencing – I'm starting to wonder if face-to-face chatting is even all that exclusive anymore.  Just earlier this week, Mashable announce the discovery that the friendliest MySpace friend ever (Tom) has been saying all along – MySpace was the first to offer Skype conferencing to friends over seven years ago.
See, video conferencing isn't anything new.  Has it advanced over the years? Yes.  Will it continue to advance? Yes.  Does that secure Facebook's reign at the top forever? Yes, well um first let's weigh the pros/cons of Google+ Hangout vs Facebook/Skype.
Facebook Chat
Facebook chat powered by Skype is simple to use – but first you have to download the plugin  www.facebook.com/videocalling
Making a video call is easy. Select your friends (in the lower right-hand corner of your Facebook page) who are currently available on Facebook chat. Double-click a name, and you'll see there's a new icon at the top of the chat screen — a small video camera. Click it to send an invitation for that person to participate in a video chat. They'll receive a pop-up notification to a video chat, and if they don't have the plugin installed, they'll be prompted to install it.
…and BOOM.  YOU'RE CHATTING!
PROS:  Fairly simple to use.
CONS:  Audio / Video quality lags (A LOT) | You can chat one person at a time. | There's no "chat-waiting" (if a person is chatting with someone else, you'll have to leave a message.
GOOGLE+ (Hangout)
Google+ Hangout is more fully featured than Facebook Video Calling — to begin with, it's designed primarily for group chats rather than one-on-one talks — but, possibly because it's a beta, it's still got a few wrinkles to iron out.
As with Facebook, if you haven't used Hangout before, you'll be prompted to install a plug-in the first time you click on the "Start a hangout" button. Once it's installed, you're ready to go. Creating a Hangout is as simple as pressing the Start a hangout button on the right side of your main stream page (in Google+, your stream is the comments and notifications you get from everyone else). A separate video window then opens — this is your "hangout."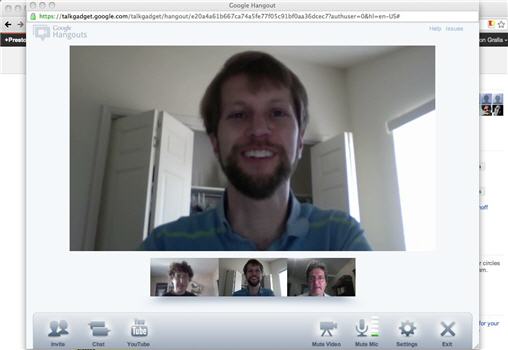 The Hangout pop-out window is larger than the one that appears for Facebook Video Calling. You see a large video of the person to whom you're talking in the main part of the screen. Across the bottom of the screen, there are thumbnails of everyone in the chat, including you.  Google+ offers a number of interesting features with Hangout. You can text chat while you video chat, and you can also mute your audio and video. And if you're tired to talking to each other, you can watch a video: Hangout also has a YouTube button that gives all participants the ability to watch the same YouTube video.
Since this is still limited to only a few users, I'll just lay out the pros/cons here and will wait to hear about your experience with Google+.
PROS:  Chat with more than one person simultaneously.  | Share video and watch it simultaneously.  | Text online while chatting.
CONS:  Video lag was unbearable.  | There are still alot of kinks to work out | Pixelated / blurry video | You can't choose who you listen to (the main screen shifts alot if everyone speaks at once.)
Facebook's video chat (at this moment) is more reliable and  requires fewer system resources. (Believe it or not it has higher-quality video and audio.) On the other hand, Google+ Hangout is a more fully featured application, clearly designed for group video chat. Those who have made it into Google+ may find that some bugs need to be worked out, but in the long run, Google+ could prove to be the "Facebook killer" that everyone is hyping it up to be…and you could see my ugly face coming soon to a computer screen near you 🙂