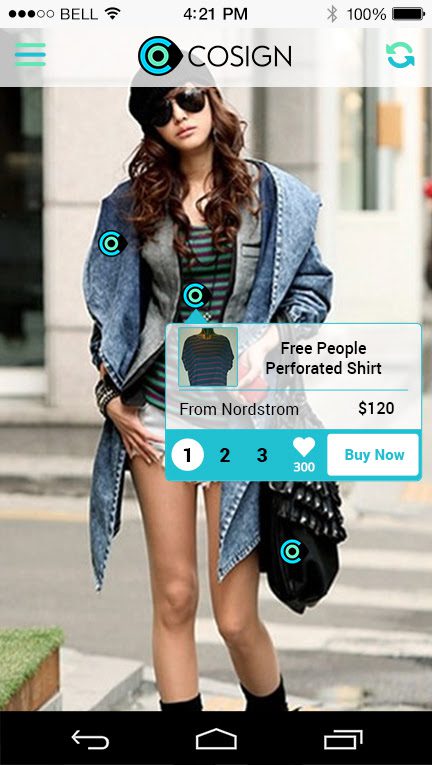 Have you ever shared your favorite shopping find online, and the next thing you know, it's become your friends newest purchase?  If you love shopping and sharing your favorite brands on social media, why not get paid for it!  With the new mobile app,  COSIGN you can share and tag your stylish picks, when someone buys it from your share – you'll get paid!
The COSIGN app brings discovery and commerce together – turning photos into interactive, shoppable pictures. The first social media tool that allows members to share and profit from their recommendations. Now, the where did you get that? question is answered seamlessly.  As your photos spread across the web, the 'what is that and where can I buy it' information travels with them.
So what makes COSIGN different from the hundreds of commerce apps of today?  Many apps like Lyst and Reward Style limit sharing to notable influencers, bloggers, etc and add cumbersome links, emails or additional shopping steps in order for you to complete your purchase – but Cosign empowers users and makes it easy to shop directly from their photos on social networks.  Cosign doesn't exclude either,  anyone can share their favorite stylish picks! From girl next door to celebrities anyone can earn revenue from purchases influenced by their social media.
Want to discover how you can cosign the next great advancement in mobile e-commerce?  Check out Cosign on Kickstarter before the official launch next month and get your preview on the game-changing app today.
COSIGN is the first mobile app of its kind that allows users to "tag" items within content they upload to social networking sites. If their followers purchase the items, they receive a monetary reward. COSIGN transforms images and videos into interactive and viral storefronts by tagging additional information such as location and cost of products and brands. For more information, visit support their Kickstarter Campaign here.
Comments