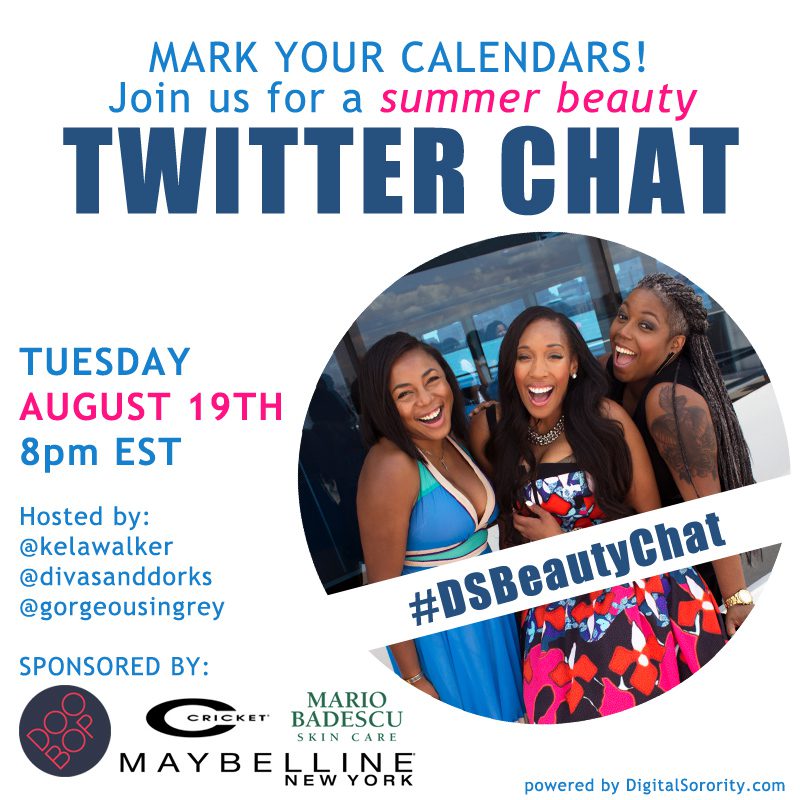 (Hey girl hey!)  Let's talk summer beauty!  I love having conversations with my girlfriends about favorite skincare products, go to hair products and more!  We swap secrets, compare products and always learn something new from each other.  This summer, I have sworn by layering bronzers, using primer sprays and tonic masks for my "get pretty and go" looks.  And now, my girls and I are taking our beauty talks online for a summer beauty chat like no other.
We're talking summer beauty!  Including skincare, bronzers, hair and more – and we want to talk to you!
Who are my girls?  None other than the fashionable and exceptionally stylish Kela Walker from KelasKloset.com and beautiful grey haired bombshell Ty Alexander from GorgeousInGrey.com.   Together, we have practically tried every shade, skin treatment and beauty regimen out there and now we want to talk about it all – with you!
Join us next Tuesday, August 19th as we discuss our favorite beauty regimens, skincare products and more!  We've got some amazing prizes on tap from our illustrious sponsors Doo Bop, Cricket, Maybelline New York and Mario Badescu Skin Care and it's sure to be a great night of fun!
What:  Summer Beauty Twitter Party #DSBeautyChat
When: Tuesday, August 19th @ 8PM (EST)
Where:  Twitter Baby!  
Why:  Because girls love talking about beauty!  Right?!?
(Tell a friend, tag your bestie and follow the hashtag #DSBeautyChat we want to talk to you next Tuesday!)
See you there!
Comments