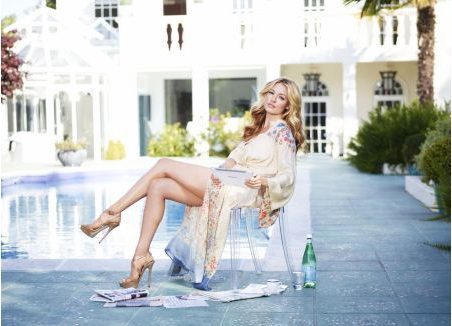 So You Think You Can Dance host, Cat Deeley asks the question – So You Think You Can TAB!
The photograph was taken by Nick Haddow.
Samsung today unveiled the re-creation of Terry O'Neil's iconic 'breakfast' shot of actress Faye Dunaway over thirty years after it was taken. Working with Cat Deeley, Samsung has updated the classic shot in celebration of the launch of the Samsung Galaxy Tab 10.1 and Terry O'Neil's 73rd birthday. The new Samsung Galaxy Tab 10.1 is super slim and light making it the perfect accessory for Cat as she travels between London and LA.
Taking inspiration from the look and feel of the classic image, Samsung brings the image up to date by replacing the multitude of newspapers with a single device, the Samsung Galaxy Tab 10.1. The photo shows Cat with all the information she needs at her fingertips including newspapers, books, videos and websites.
"I love this photo so the chance to work with Samsung to re-create it was really exciting. The new Samsung Galaxy Tab is the perfect accessory for me as I spend a lot of time travelling so need something lightweight and portable. It means I can watch movies, read books, browse websites for some online shopping and stay in touch with email while I'm between London and LA," said Cat Deeley.
The new Samsung Galaxy Tab 10.1 is the newest member in the range of Galaxy Tab devices. It features a 10.1 inch crystal clear WXGA TFT LCD screen, weighs only 565 grams and is the world's thinnest mobile tablet, of its screen size, measuring just 8.6 millimetres.
Available in both 3G and WiFi only versions, the Galaxy Tab 10.1 features the latest version of Android, Honeycomb 3.1, which is designed specifically for tablet devices.
The next device to join the Galaxy Tab range, the Samsung Galaxy Tab 8.9, will be available in the UK later this year. The Galaxy Tab 10.1 and Galaxy Tab 8.9 both join the original 7 inch device to provide a range of Samsung tablets for consumers to choose from.
This past weekend at BlogHer, yours truly was lucky enough to win the Samsung Galaxy Tab and will review it right here on DivasandDorks.com — stay tuned.