As a true fan of the Samsung Galaxy family, I would've never guessed that Samsung could create a tablet better than the Samsung Galaxy 10.1 (check out my FULL review here.)  Need a refresher?  Here's my list of pros and cons for the Samsung Galaxy 10.1:
Pros: The ability to view flash on this device was amazing.
Cons: The widened design, (created for optimum viewing) was a bit too large for me.
Pros: The vibrant LED screen and colors made using the Tab enjoyable.
Cons: The portable function isn't as great as the iPad…the design is too wide for me to put in my bag and go.
Conclusion:  All in all the Samsung Galaxy Tab 10.1 is a great device. It offers productivity "on the go" and with the power and speed of the Android system, I'd love to see how Samsung plans on topping this device in the future.
But to my surprise, Samsung took my biggest gripe about the 10.1 – smacked it, flipped it and rubbed it down (Ohhh nooooo….) and VIOLA – The portable & powerful Samsung Galaxy 8.9 was born!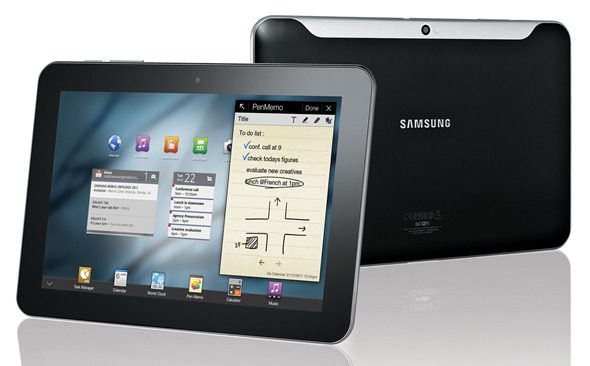 The Galaxy Tab 8.9 joins the Galaxy Tab 10.1 as the thinnest mobile tablets currently available in the U.S. market, measuring at 8.6 millimeters. The Galaxy Tab 8.9 shares many other features and services with the Tab 10.1 including Samsung's TouchWiz UX.  This unique user interface was created to integrate with Android™ 3.1, Honeycomb, to deliver a truly customized and interactive tablet experience.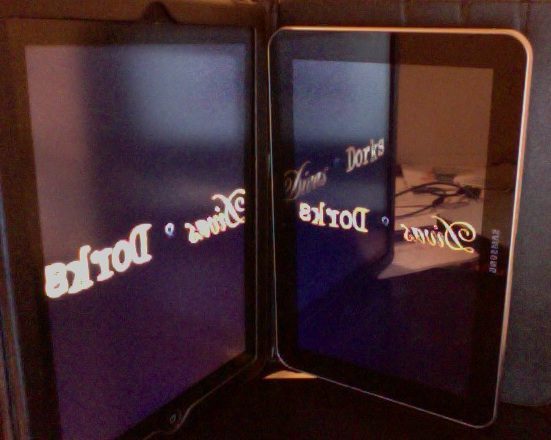 Check out the love-fest and how the Samsung Galaxy Tab 8.9 stacks up to my iPad 2… I'm loving it!
Here's the specs:
The Galaxy Tab 8.9 is built with a dual-core T250S processor, WXGA TFT display (1280×800 resolution) fortified by Gorilla® Glass. The portable tablet includes a 6,100 mAh battery for hours of entertainment without needing a recharge. This premium hardware is packaged in a sleek, portable design weighing less than one pound (447 grams).
Samsung Media Hub: Choose from more than 5,000 popular and acclaimed movie and TV titles to download for rent or purchase. Upcoming new release additions to the Media Hub library include "Fast Five," "Horrible Bosses" and "Green Lantern." The added service, Media Hub Show, uses an HD Extender to playback content on TV through an HDMI cable from the Galaxy Tab 8.9 dock or adaptor.
Samsung Music Hub: Choose from more than 13 million songs to download into an intuitive playback system. Music Hub also provides extensive background information, with access to all artist bios, discographies and reviews.
Samsung Readers Hub: The lightweight design and large display make the Galaxy Tab 8.9 an ideal device to access the Readers Hub robust library of more than 2.2 million books, 2,000 newspapers and 2,300 magazines.
Social Hub: Users can aggregate email, instant messaging, contacts, calendar and social network connections into a single interface through the service's "Feeds" and "Messages" files.
Google™ Mobile Services: A suite of Google Mobile Services is preloaded on the Galaxy Tab 8.9 including access to more than 250,000 applications on Android Market™, Gmail™, Google Search™, Google Maps™ 5.0 with 3D maps and Google Talk™ with video and voice chat.
AllShare™ service: Provides seamless content transfer between the Galaxy Tab 8.9 and other DLNA-enabled devices such as HDTV's, monitors and digital cameras.
Rear and Front-facing cameras: The rear-facing 3-megapixel camera and front-facing 2-megapixel camera including flash and autofocus, 1080p video playback and full support of video chat and digital imaging
Polaris™ Office: Instant access to documents, spreadsheets and presentations to view and edit while on the move
Swype: Re-size the keyboard, move the virtual keyboard anywhere on the screen and type faster by swyping
Mobile Printing: Print documents and pictures wirelessly from the Galaxy Tab 8.9 to any compatible printer.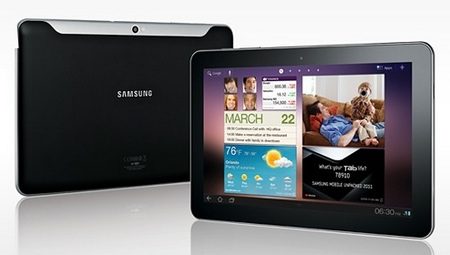 But my absolute favorite feature is the FindMyMobile function.  If the Galaxy Tab 8.9 is lost or stolen, the user can locate the device on a map, and track it live as it moves, remotely lock the device to prevent unauthorized access and delete personal information stored on the device.  (Which is perfect if you're caught slipping on the subways of NYC!)
A tablet of this size and productivity power is perfect for us Divas on the go!  It's portable size doesn't compromise on computing power or speed either, absolutely perfect for a girl on the go!
The Samsung Galaxy Tab 8.9 is available for sale nationwide starting
October 2
for $569 for the 32GB version and $469 for the 16GB version. Visit
www.samsung.com
for additional details on pre-order information.