Well, after a year – what we've referred to as the iPhone 5 will finally be unveiled today!  What has been as elusive as a unicorn, this redesigned iPhone 5 will finally be solidified as Apple's sixth generation mobile device filled with faster speeds, better connectivity & a host of bells/whistles that will undoubtedly make it the best selling Apple device yet.  So what should you expect to see unveiled later today?
Here are our Top five predictions in a nutshell: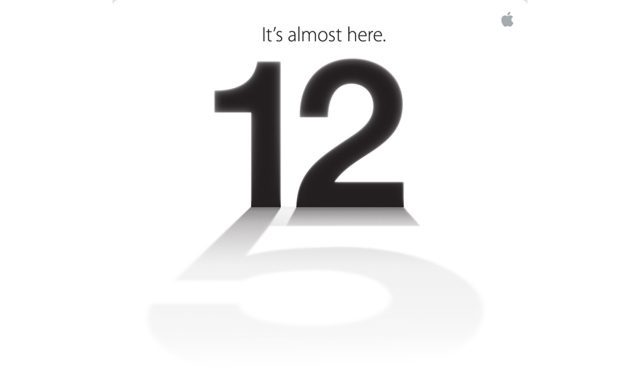 5.  The name?  No trickery here.  Last year, what was thought to be the iPhone 5 was actually introduced to us as the iPhone 4S but this time?  It's definitely the iPhone 5 (as eluded via the Apple press event invitation (pictured above).
4.  Taller.  Thinner.  Lighter.  (NYFW models aren't the only ones with a height & weight requirement…) It's been long rumored that the size of the iPhone 5 screen will be larger/taller than the current iPhone screens. Many suspect it will be about 4 inches diagonally compared to the existing 3.5-inch display. Meanwhile, according to The Wall Street Journal, the iPhone 5 will tout a thinner screen, which would allow the device to be lighter in weight than ever before.
3.   More apps at your fingertips.  A consequence of the larger screen — which is rumored to have 640 x 1,136 resolution — it's expected that we will see five full rows of apps.
2.  New connector?  Rumors indicate that Apple will be switching its 30-pin dock connector for one with only 9 pins. This would make existing speakers and chargers useless when used with the new device. However, it's likely that Apple will introduce an adapter that will convert it back to its original 30 pins.
1.  Super Small Sim Card.  According to 9 to 5 Mac, the SIM card slot may be a lot smaller. This could mean Apple is switching to newer, nano-SIM card, which is even smaller than the current micro-SIM in the iPhone 4S.
These are just a few of the unveiled ideas that'll come later today.  We're expecting iPad/Sprint news, redesigned iPod details as well as a September 21st release date for the new iPhone 5.  What do you think will be unveiled later today?  Check back with us throughout the day as we update this post & live blog the Apple unveilings one-by-one later today.
:::  CHECK BACK FOR UPDATES SOON :::  LIVE ::: APPLE UPDATES :::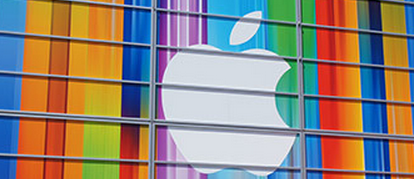 1:01PM – The Apple event has begun with Tim Cook discussing Apple retail locations, upgrades, etc… 380 stores in 12 countries, 13 coming on Friday with the first Swedish store. 83 million visitors in the last quarter, April – June.  Mac news:  "We've had a very busy summer for the Mac. We launched Mountain Lion in July. Mountain Lion is the ninth major release of the best OS on the planet."  Seven million Mountain Lion upgrades have been sold!  Our notebooks now rank #1 in the US in Market share in the last three months.  iPad news:  Last quarter, 17 million iPads were sold April – June. That's another new record.  "We sold more iPads than any PC manufacturer sold of their entire PC line."  Pad is 91% of all tablet web traffic! Tim says "I don't know what these other tablets are doing! They must be in warehouses or store shelves or maybe in peoples' bottom drawer."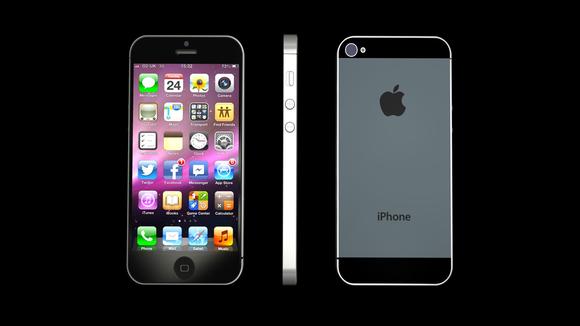 Let's talk pricing first…$199 16G…$299 32G & $399 64 G! You can pre-order September 14th.  Apple senior vice president Phil Shiller took the stage to introduce the iPhone 5. "It's an absolute jewel," Shiller said. For the most part, the iPhone 5 looks like previous models, but taller and thinner.
The phone has a 4-inch 1,136 x 640 pixel display, 4G LTE connectivity, A6 chip, weights 112 grams – 18 percent thinner and 20% lighter than iPhone 4S. It's available in white (silver) & black (slate).
The larger display allows for widescreen display. Apps designed for the previous operating system will not be stretch, but will have black borders. One of the biggest updates is to the camera and iSight. The camera now has an 8 megapixel sensor, 3,264 x 2,448 pixel resolution with backside illumination, hybrid IR filter, five-element lens, f2.4 aperture, is 25 percent smaller and can take panoramic photos. The video camera captures 1080p HD quality. Front-facing camera features 720p support, backside illuminated sensor, and FaceTime works over 3G with iOS 6.  The iPhone 5 will also get a new dock connector called Lightening, which is 80 percent smaller, have an adaptive interface, improved durability and is reversible. Apple will also release an adaptor to make the transition.  Let's talk battery life. The iPhone 5 exceeds the battery life of the 4S at 8 hours of 3G talk time, 8 hours of LTE or 3G browsing, or 10 hours of WiFi browsing, 225 hours of standby time.  To make room for its latest iPhone, Apple announced new prices for the rest of the line — and it appears the iPhone 3GS isn't part of the mix. Cupertino followed asimilar strategy to what it used last year, with the 16GB iPhone 4S dropping to $99 with a two-year contract, and the 8GB iPhone 4 now available for free when subsidized by a mobile carrier. It's an improved value over last year's price drop, however, whether both of the two low-cost models were stuck at 8GB of storage.  PRICING: $199 16G | $299 32G | $399 64G
PRE-ORDER Sept. 14th, Shipping Sept. 21
OLD STUFF iPhone 4 FREE
iPhone 4S 16G $99
iPhone 4S, 4, 3GS, new iPad, iPad 2, and 4th gen get iOS 6 on September 19th.