In celebration of past, present and future achievements – Usher Raymond, Jerome Bettis and more gathered to celebrate inspiring Men Of Courage at the 18th Annual Ford Freedom Awards.
 Andre' Drummond (Detroit Pistons), Ziad Ojakli (Ford Motor Company) & Usher Raymond
Ford Motor Company, in collaboration with the Charles H. Wright Museum of African American History, celebrated the positive contributions of business and community leaders including the late philanthropist and Wall Street lawyer Reginald F. Lewis, (Ford Freedom Award honoree) as well as NBA Hall of Famer and former Mayor of Detroit  – Dave Bing (Ford Freedom Award scholar).
Ford Freedom Award scholar – Dave Bing
Detroit native, NFL Hall of Famer and Ford Freedom Award presenter – Jerome Bettis.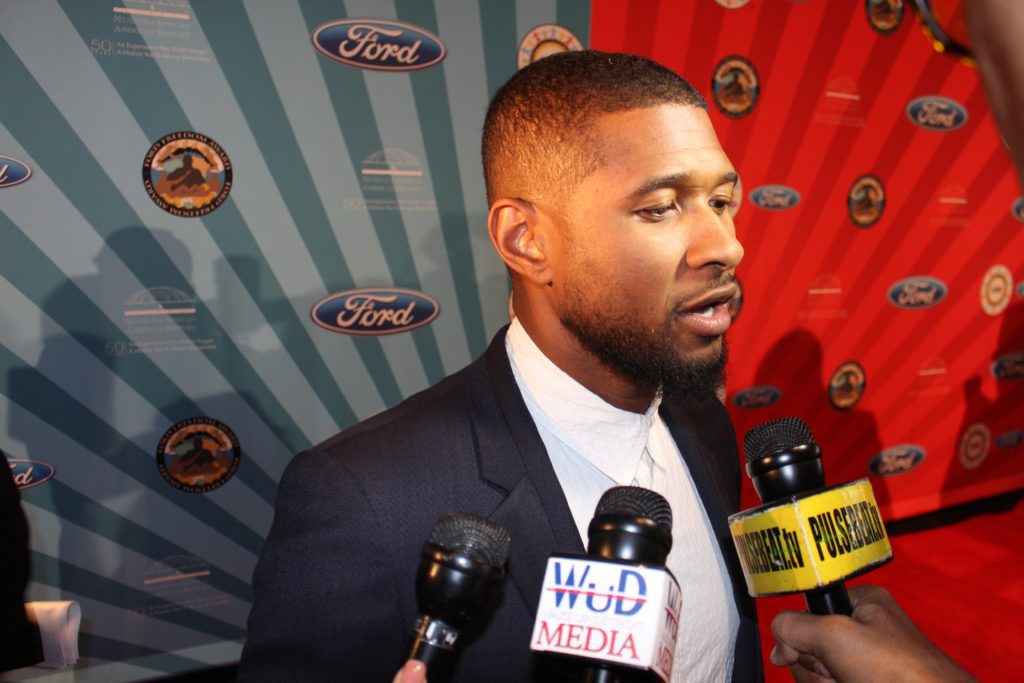 Usher Raymond IV, Grammy award-winning artist and activist shared words of advice for young Detroit entrepreneurs.  Discover his #1 piece of advice to young Motor City moguls in the making here.
Author and advocate Shaka Senghor shared plenty of memorable moments with his son Sekou.
The inaugural Ford Courage Awards honored three courageous individuals in the areas of family, community and sports. The People's Choice Ford Courage Award presented to Shaka Senghor, criminal justice reform advocate, TED Talks presenter and New York Times best-selling author.
Other Ford Courage Award honorees included Kerlin Blaise, former NFL player and successful businessman, president and owner of Blaze Contracting; and University of Missouri graduate student activist and hunger striker Jonathan Butler.
Jonathan Butler
The evening capped off with musical performances from The Voice, singer-songwriter dancer Avery Wilson, Grammy-nominated artist Angie Stone, hip hop icon Doug E. Fresh.
Angie Stone
Avery Wilson celebrates fatherhood performing the Luther Vandross classic "Dance With My Father"
Doug E. Fresh
The Ford Freedom Award program is made possible by a grant from Ford Motor Company Fund, the charitable arm of Ford Motor Company.
Additional photo courtesy of Ford / Stinson Photography
Proceeds from the Ford Freedom Award event benefits the Charles H. Wright Museum of African American History – the world's largest institution dedicated to the African American experience. For more information, please visit www.TheWright.org.
Comments