Did this weekend's deep freeze trick you into believing it was December?  With frigid temperatures affecting the southeast and snow showers pummeling the east coast – many of us learned the hard way that summer is seriously long-gone and winter weather is here to stay.  On a happier note, winter weather brings unforgettable holiday experiences as well as unforgettable holiday fashions with Versace and H&M.
As reported earlier this summer, Versace is set to release it's affordable holiday collection via worldwide retailer H&M.  Known for it's vibrant (and sometimes edgy) fashions – Versace's (led by Donatella Versace) womenswear collection will be dominated by dresses featuring studded leather, silk and colorful print, with accessories including high heels and costume jewelery. The men's collection will focus on sharp tailoring, including 'the perfect tuxedo', as well as belts and jewelery, while for the first time in a designer collaboration at H&M, the collection will include some homeware pieces, including cushions and a bedspread.
"The collection for H&M is the essence of Versace.  For the collaboration we've brought back from the archives, as well as from more recent collections, some of the icons of Versace…I can't wait to see how H&M's wide audience will make these pieces of their own." – Donatella Versace.
Set for release in select stores nationwide on November 19th – H&M is hosting a pre-release celebration sweepstakes that could land you and a friend a trip to NYC (flight/hotel accommodations) and an exclusive sneak peek at the NYC Press Preview, November 18th.  Want to enter?  Click below:
Looking for a sneak peek at what to expect on H&M store shelves in two weeks?  Check out a preview of the fabulous finds that Versace and H&M will have available November 18th …just in time for your fabulous holiday parties…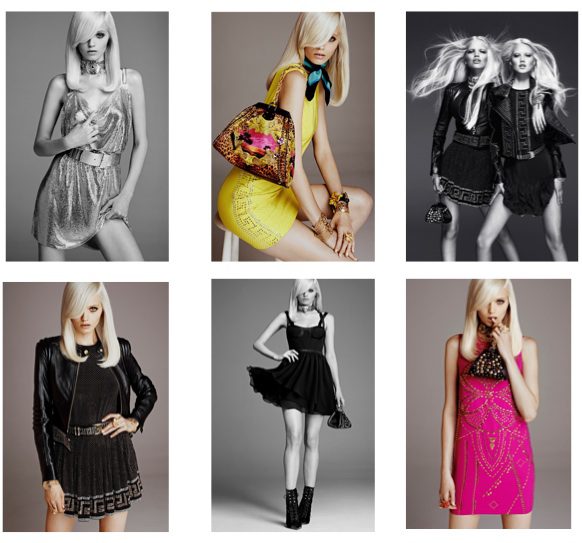 Are you planning on shopping the H&M Versace Collection?