It's Halloween! And even if you don't have the spooky spirit, you can at least get excited for an excuse let loose your inner celebrity & wear a costume. Now some of you may be preparing for a costume party and debating what to wear. Thoughts of "do I really have to dress up" or "I'll look goofy if I wear this" may pop in your head, but don't worry because I have a few options that may work for you!
Since there's a thin line between risqué-exotic-sexy costumes & those suitable for wear around all ages, (especially when it comes to women's costume options) I've gathered a few celebrity-inspired options for you.   Most of us opt for the sultry route when choosing a Halloween Costume, but have you ever considered the idea of a quirky, hilarious and even thought provoking costume? Curious as to what this may look like? Well check out the below…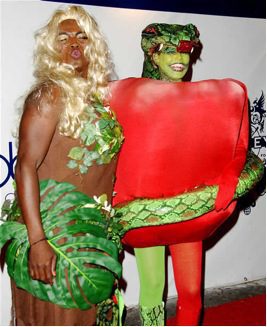 Seal & Heidi –as well all know, this is the one celebrity couple that really gets decked out in full costume gear each year. I personally look forward to seeing their bizarre and hilarious costume choices each Halloween.  They never seem to disappoint me, lol.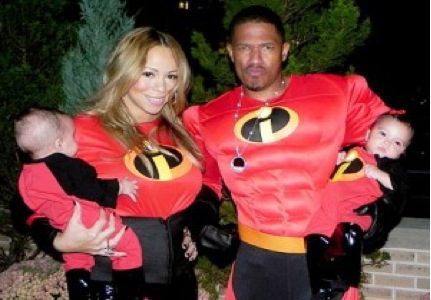 Another celebrity costume couple is Mariah Carey and Nick Cannon. The new mommy & daddy recently introduced their twin babies to the world, and this Halloween, the entire family decided to wear matching costumes. The foursome looked really cute & created a picture that the twins will hate for majority of their pre-pubescent years (LOL).
Annnnd Celebrity Costumes….
Lil Wayne at the VMAs (I'd personally love to see a man with this costume on—and WORN as a COSTUME, and not their regular Friday night outfit choice)..In this case, a woman was spotted in LA as the self-proclaimed 'Greatest Rapper of All Time…'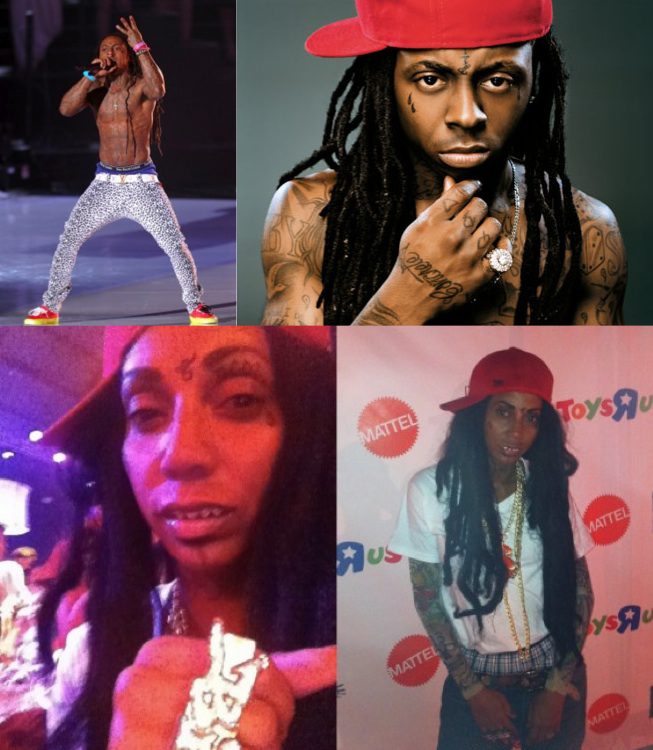 Yes, that's actress, philanthropist and daytime talk show host – Holly Robinson-Pete!  The former '21 Jumpstreet' actress walked the red carpet in LA in this unexpected and unusually popular Halloween costume as Lil Wayne.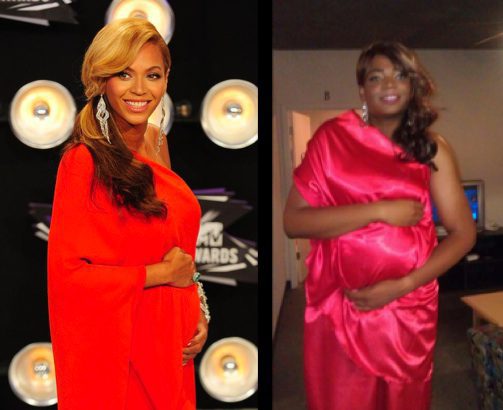 Beyonce Baby Bump (I mean, who doesn't love her?? I actually might sport this look myself (LOL).
And if you can't find anything to wear, throw on a button-up shirt, slacks and a make-shift sign that says "#BI-WINNING". I bet someone will get a kick out of it—if not you, someone will!
We found some pretty cool places to buy last minute costumes online – having trouble finding costumes online, check out the costumes online and walk in these stores below.