We've tweeted, talked, stalked and held our breath up until the day that the Versace For H&M collection was available for purchase…it has came, went and we're still as excited as if the announcement was just made yesterday. Check out the chaotic excitement that was the Versace For H&M Pre Shopping Event…
First off, let me be honest – Am I a die hard Versace fan? No. In fact, I was an anti-Versace fashionista for a long time. Since the Versace for H&M collection was announced, I have had my doubts, snickers and serious side eyes on what to expect from the collection. Since reviewing the collection via online photos, etc – I still had a few reservations on what to expect from the designs in real life. But on Friday, November 18th – H&M launched a special Press Preview & Pre-Shopping event for their highly anticipated Versace For H&M Collection.

Upon arrival I stumbled across two lines – one line filled with people camping out for Saturday's public release of the collection, and another line filled with socialites, bloggers, industry stylists, editors and more. In the blink of an eye, once those doors opened – all since of fashion civility went out the window and the ferocity of finding fashion gold became top priority. Spotted throughout the aisles were Robert Verdi, Bevy Smith, Diane Valentine and more!
Since I didn't have any set piece in mind, I stood by the entrance and watched the H&M staff replinish the racks with loads and loads of Versace designs. Once I saw something I liked, I got the attention of the associate and asked for my size. For the most part, I got away unscathed (barely).
I didn't want to buy pieces (in my opinion) that could easily be identified as apart of the Versace for H&M collection – because once the fad is done, then what? I wanted pieces that I could easily mix and match within my current wardrobe. Some of these looks I could easily pair with a blazer or jeans and take the look from day to night with ease. (Wearing the pieces all at once? Not gonna happen *smile*) Take a look at some of the pieces that I scored during the event and let me know what you think!

Versace For H&M Top – $49.95

Versace For H&M Leggings – $29.95
I just had to get the opinion of my Twitter family before I hit the registers…
Versace For H&M Dress – $79
Now onto my favorite finds….THE ACCESSORIES! I can definitely testify to the fact that I scored big on the accessories (because by the time I even arrived inside of H&M many of the fierce finds were already gone.)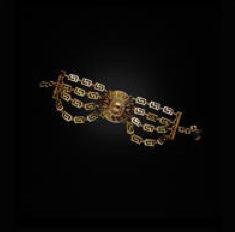 Versace For H&M Emblem Choker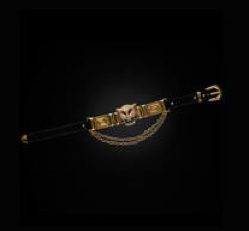 Versace For H&M Lion Choker
Did you head over to H&M over the weekend? Let us know what you found!
If you haven't seen the collection yet check out the rest of the Versace For H&M Collection online here.