This week in Portland, OR dozens of "Hellcat" enthusiasts got the chance to get behind the wheel of the new 2015 Dodge Challenger and Challenger SRT!  Being the "diva" that I am, I had a blast driving the Challenger throughout the mountainous roads of Oregon in my heels and going for a 100+ MPH spin at the Portland International Raceway.  The momentum leading up to the new 2015 Challenger and Challenger SRT is on fire for what's known as the world's most powerful muscle car.  The 2015 Challenger delivers up to 707 horsepower with the all-new supercharged 6.2-liter HEMI Hellcat, 485 horsepower with the all new SRT 392, 6.4-liter Scat Pack and 392 HEMI Scat Pack Shaker; 375 horsepower with the 5.7-liter HEMI and up to 30 miles per gallon with the award-winning 3.6 Pentastar and TorqueFlite transmission… but long story short?  This car is stylish, FAST and great on gas!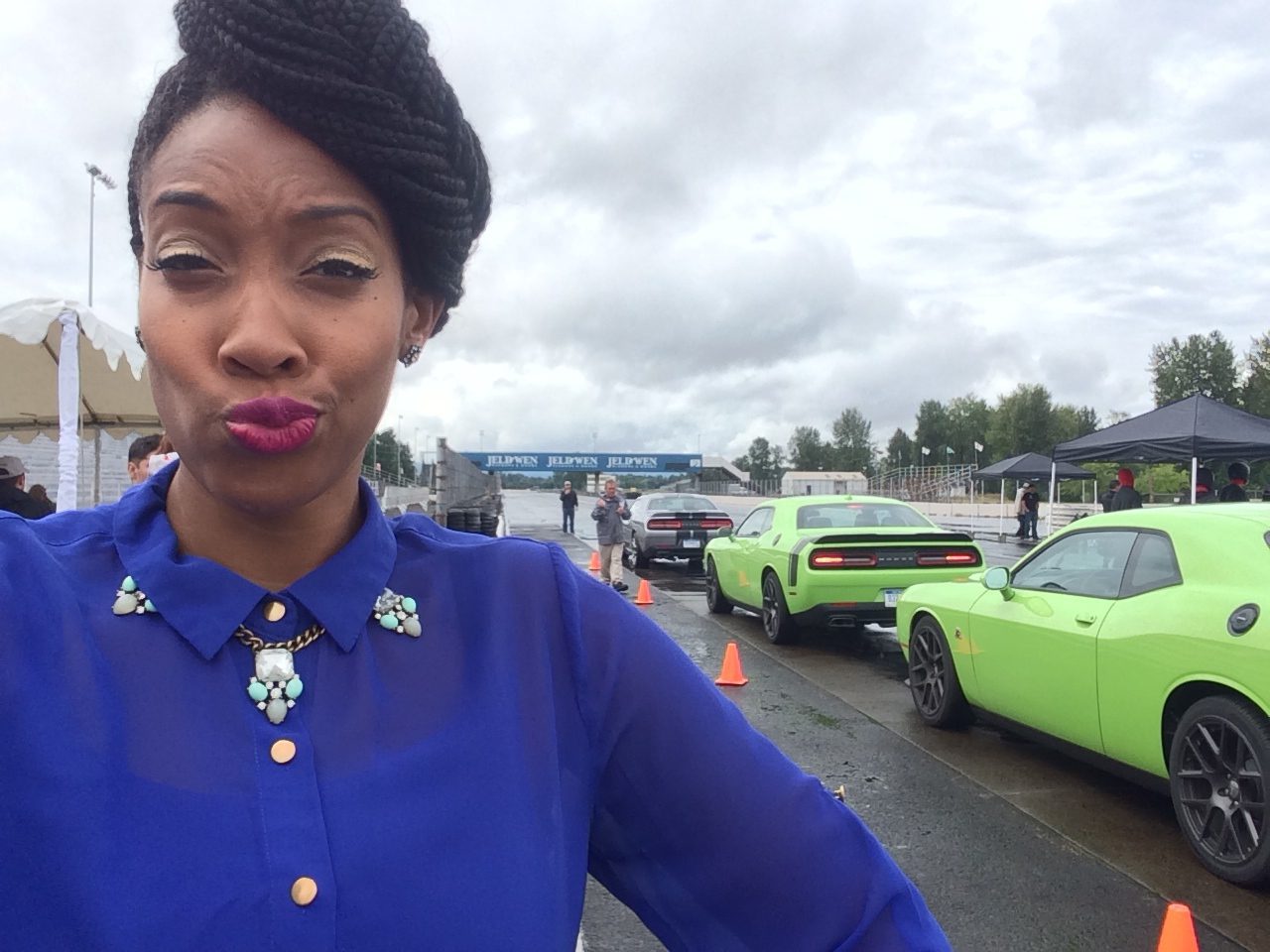 The 2015 Dodge Challenger and Challenger SRT also features an all-new interior loaded with class-exclusive technologies, including the 8.4 Uconnect system and all new Performance Pages,which enable greater performance and further make this iconic coupe an extension of the driver.  The new 8.4 -inch touchscreen and electronic shifter paired with eight-speed automatic transmission and ParkView rear backup camera really transforms this classic ride into a tech-savvy masterpiece.   Recently, I got the chance to talk interior designer Dan Zimmerman who took us beyond the new interiors with new retro colors and gave me insight on the thought process behind the interior design of the all new 2015 Challenger.  Check out what he has to share below.
For more check out what others have to say about the 2015 Dodge Challenger by following the #DriveDodgeChallenger and #Hellcat conversations online and stay tuned for more on the 2015 Dodge Challenger and a full review coming to DivasDriveInHeels.com soon.
Comments