As my #HybridSummer experience comes to a close, it's been an amazing experience testing out unique, environmental-friendly rides, like the ones which utilized a car dealership marketing agency, on the road. It's rare to have the chance to test drive a fleet of hybrid cars for an entire summer with the hopes to lower my carbon footprint and help save a few extra dollars in my pocket too.
From Camry, Fusion Energi and Volt it's only right that I save the best hybrid drive for last. Say hello to the Porsche Panamera S E-Hybrid. It's the perfect intersection where smart driving and performance collide. Wait, you didn't know Porsche manufactured hybrids too? Let's just call it the pinnacle of the best of both worlds! The Panamera S E-Hybrid is the ultimate smart drive, driving the sports luxury & plug-in intersection it knows when to operate as a sports car and when to kick into hybrid-mode when efficiency matters most.




First Impressions
I'm instantly drawn to designs that are as unique as I am. Needless to say, the moment I noticed the Panamera's acid green brake calipers cradled by the Agate Gray Metallic frame, I knew I was in for a treat! At first glance, it's a beautifully-designed sportscar with that commands attention, but once I looked a little deeper, I discovered that it owns technological smarts that measure up beyond it's good looks.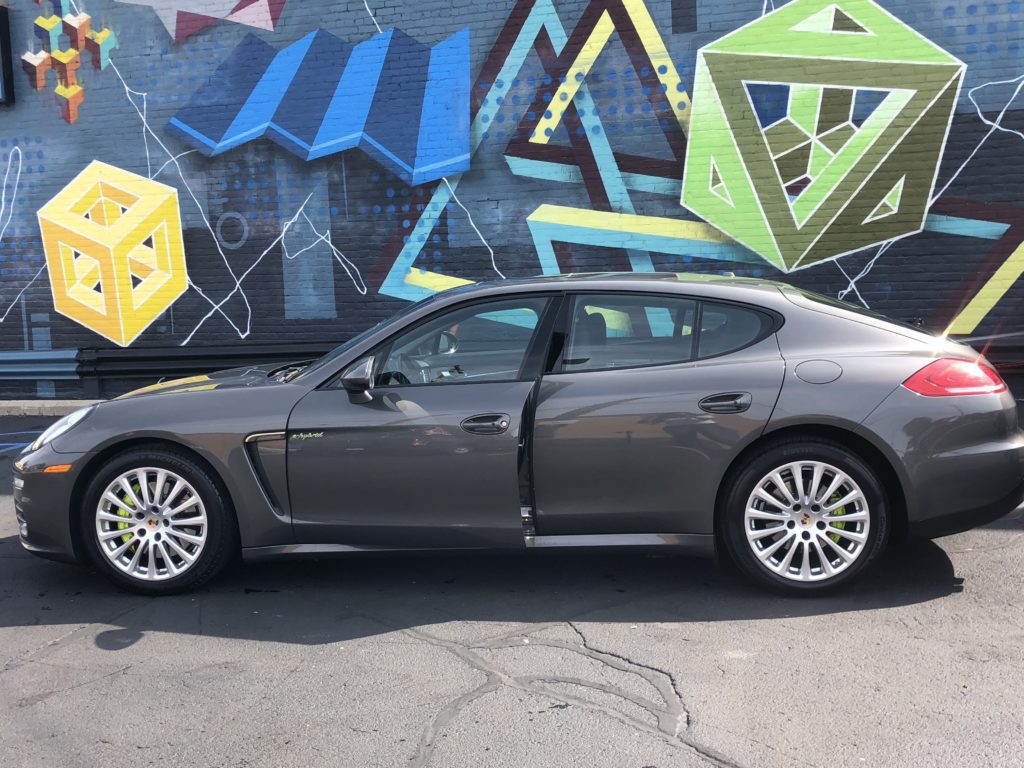 A real smart, Smart Car
As Porsche's first plug-in hybrid vehicle, the Panamera E-Hybrid is an amazing all-electric Porsche sport sedan. It's a relaxing, comfortable sports car that looks big, yet drives easy, nimble and small. It looks and feels like a sports car, only smarter. The e-hybrid automatically defaults into driving in e-mode while the battery has a charge. As a plug-in, you can score more than 20 miles on a single 2.5 hour charge at home or work. (There are tons of other public spaces, parks and shopping malls that offer free charging as well.) Even when you're unable to sit still enough for a charge, the e-hybrid offers e-Charge driving mode that uses the engine to replenish the battery while driving.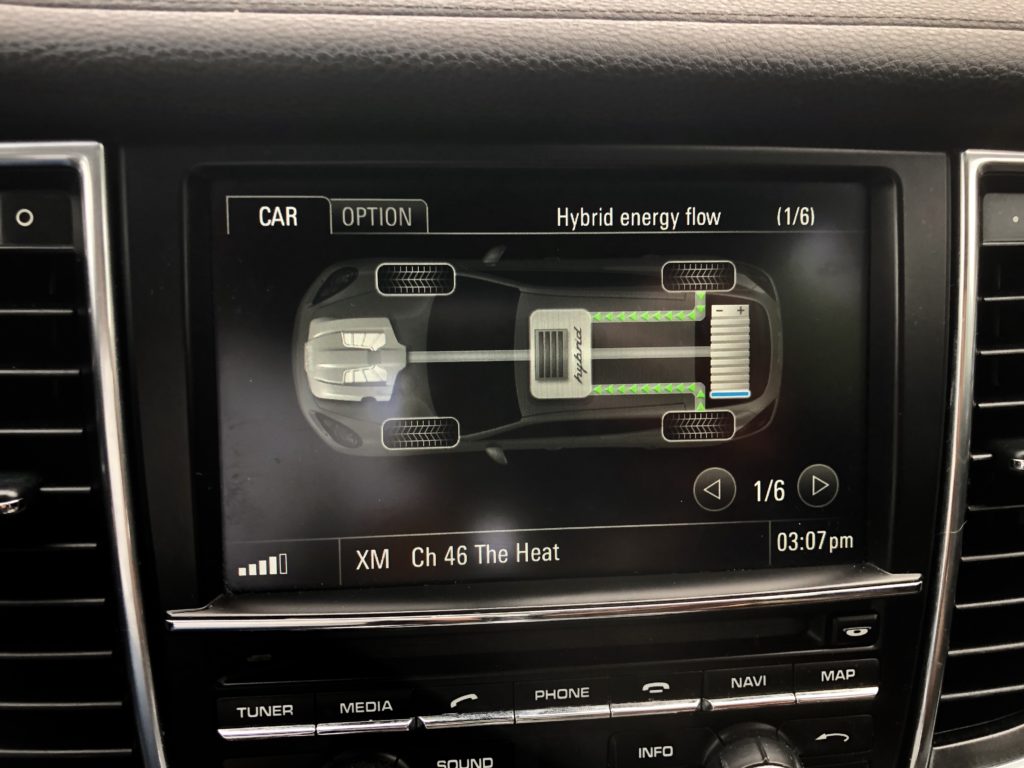 Interior/Exterior
The Panamera S E-Hybrid is pretty similar to your standard luxury Porsche interior, except a few redesigned elements have been added to the hybrid driving experience. Standard features include a moonroof, quad-zone automatic climate control, 7"-inch touchscreen, navigation and an 14-speaker BOSE surround sound audio system with satellite and HD radio.  And since I'm constantly on the road, this ride provides the perfect environment for me to get pumped up for the hustle with a little Jeezy or catch up on the latest news with CNN on Sirius satellite radio.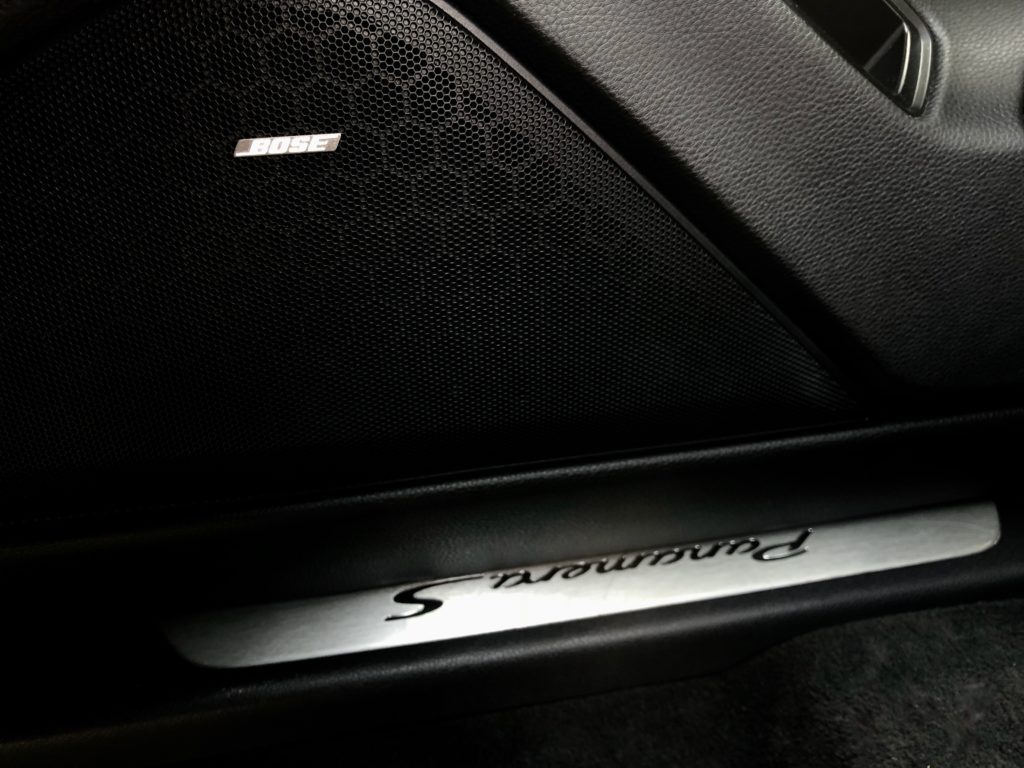 There are dozens of control buttons centered down the helm of the driver's view. While many luxury cars have opted to use a single knob and menu options to control the vehicle's features, I love the ease of use and location for each control (and after a while it's easy to memorize where everything is located and no need to move your eyes off the road.)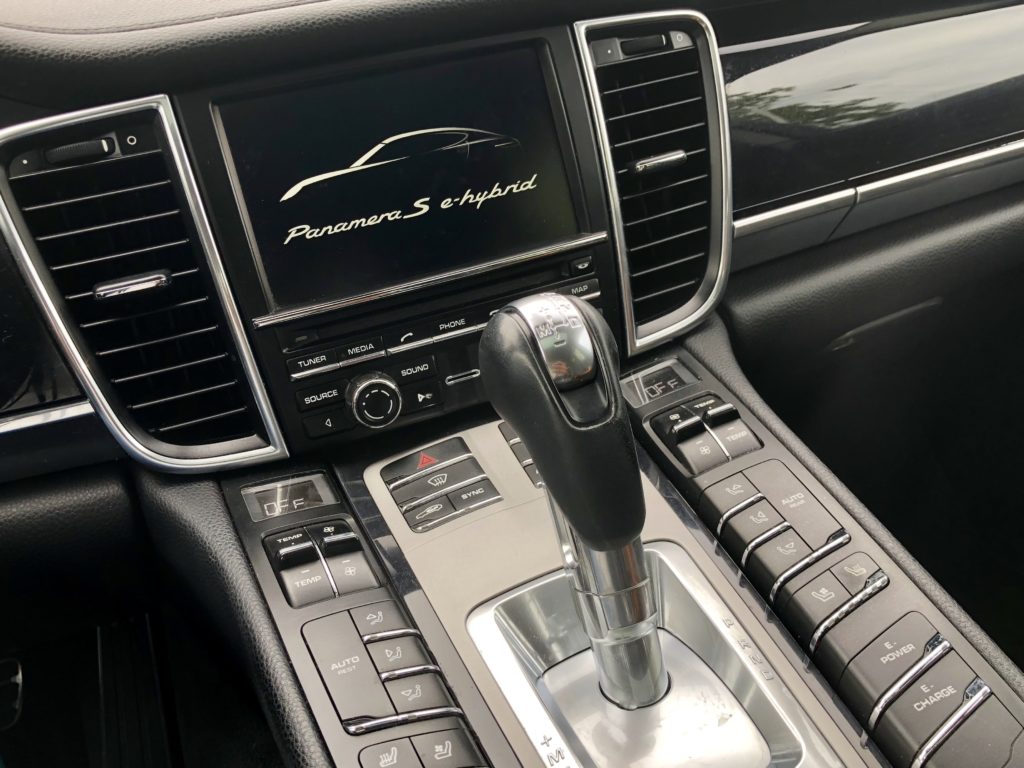 There's comfortable seating available for up to four adults with full leather bucket seats. 18-way power-adjustable seating ventilated with heating and cooling options and is accompanied by a heated leather steering wheel and rear seat sunshades for added privacy.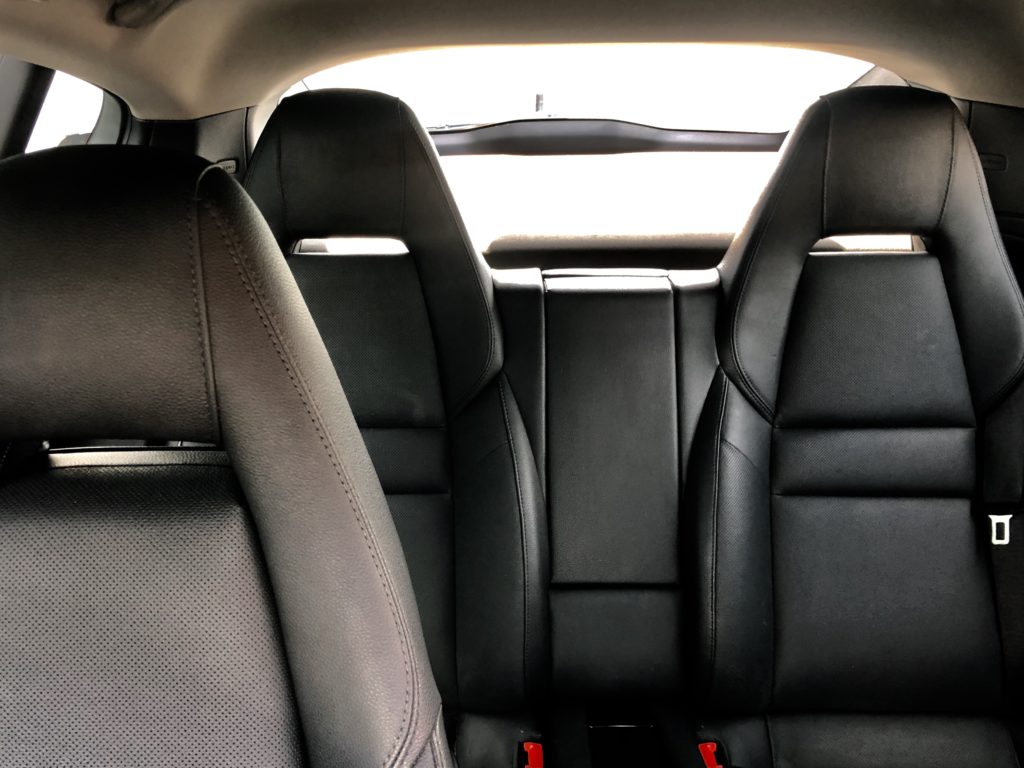 The Hybrid Drive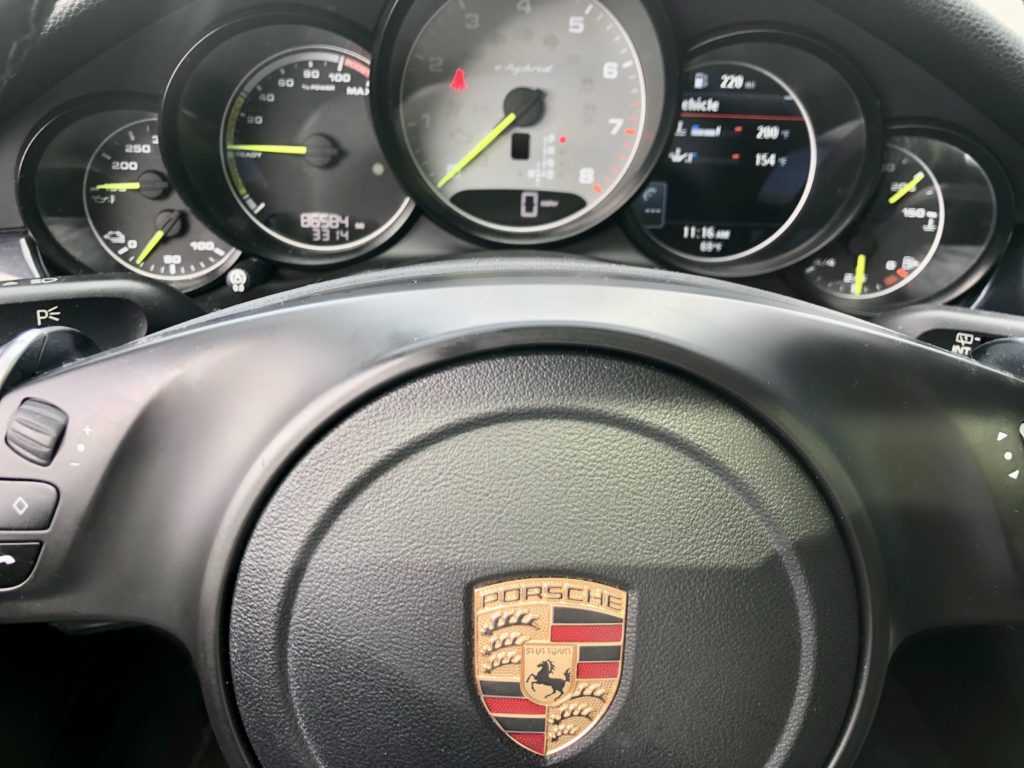 Who's going 0 – 60 in 5.7 seconds flat…in a hybrid? This girl is! The e-hybrid can give 20 plus miles of electric-powered operation with speeds of up to 83mph. But don't let the 83mph fool you, in full power mode, you can easily match speeds of 167mph+. There are three defined driving hybrid experiences in the Panamera S e-hybrid: e-Power mode, e-Charge mode and standard mode.
e-Power mode is the smoothest of the drive. Like most hybrids, while in e-Power mode the drive is quiet with smooth gear transitions up to speeds of 83mph. It's so smooth it's hard to believe that all this speed and power is actually transmitted from a hybrid sportscar.
Standard mode is just as it sounds. Pretty standard. It's the typical sportscar driving experience of any Porsche Panamera ride. Plenty of smooth transitions and easy maneuvering makes this ride fun to drive. For an extra added bonus, you can opt for Sports mode for an even better/expressive driving experience.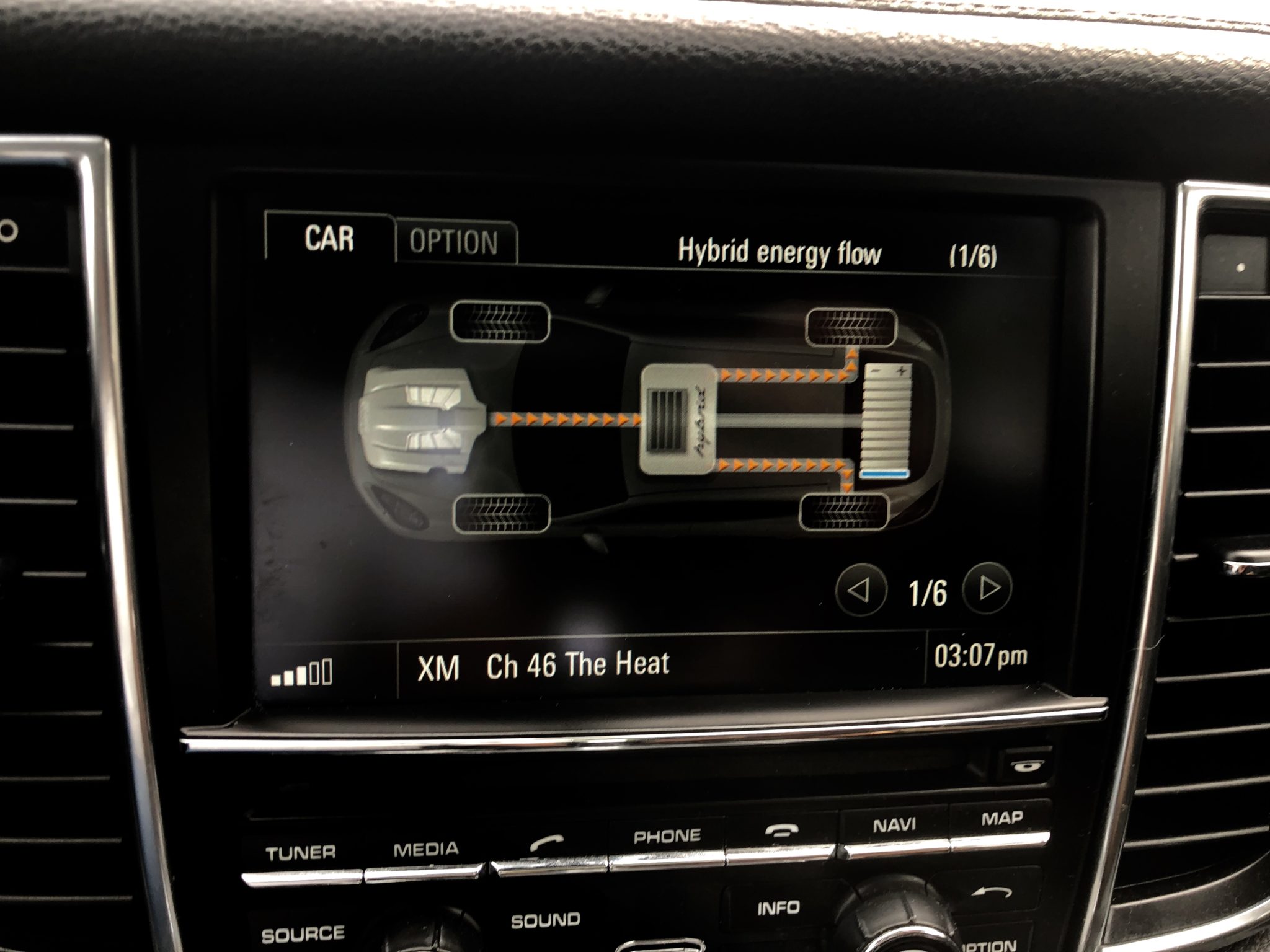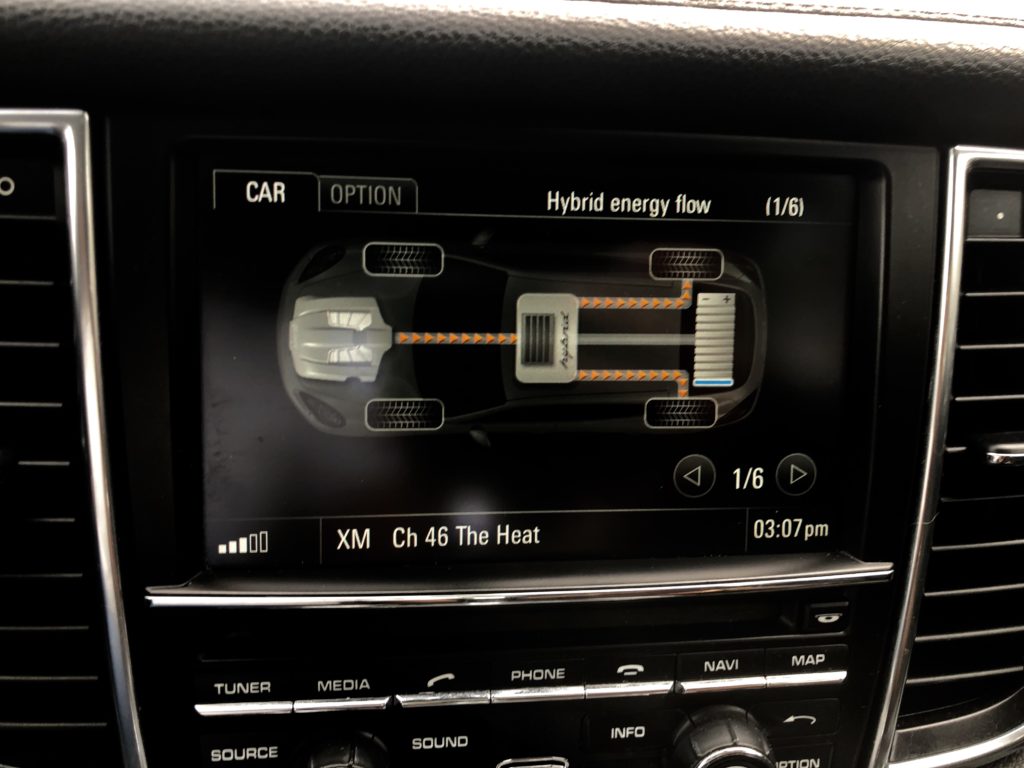 e-Charge mode is my favorite go too mode when I want to drive efficiently, but can't find a place to plug-into. In e-Charge mode, the engine powers the battery while driving and will fully charge the battery on the go in no time. The only caveat? Using e-Charge as your primary source of battery power too often will wreak havoc on your fuel efficiency as your engine will be forced to run double duty of powering the battery and propelling the car.
There are so many benefits to owning a hybrid in addition to efficiency and preferred parking is one of my favorites!  Next time you're out and about, check out the preferred parking placement for plug-in vehicles.  You'll notice that many shopping malls, restaurants, stadiums and parking structures (and even Ikea) offer VIP parking front and center for plug-ins.  It's the convenient gift that keeps on giving.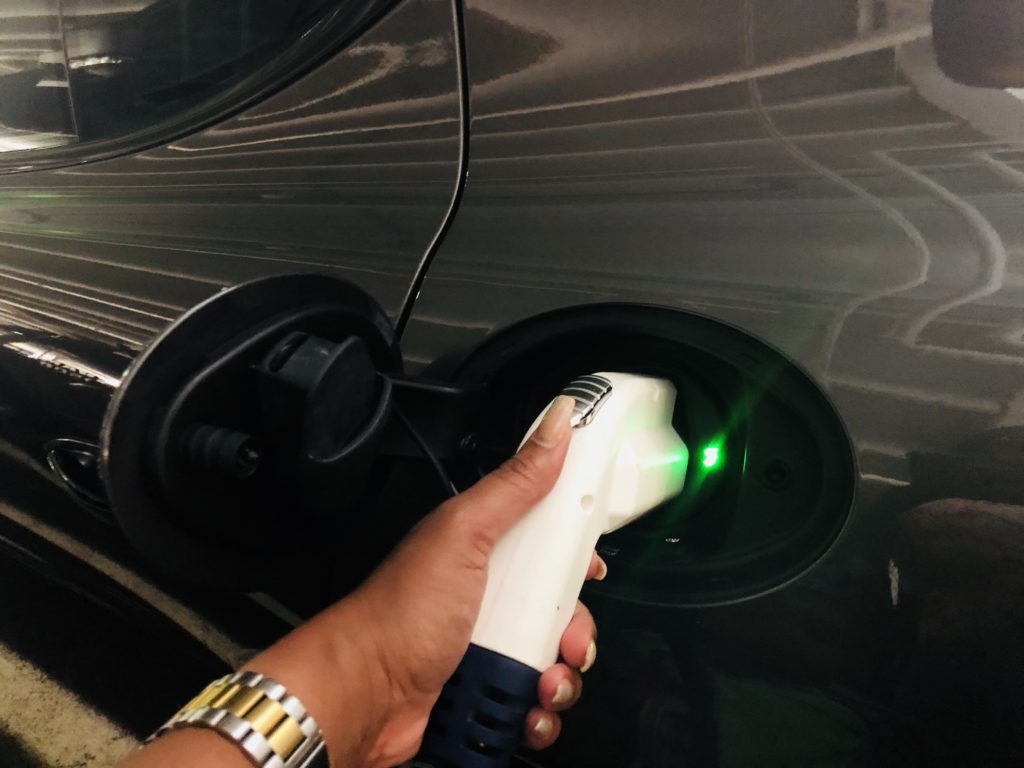 Overall, the Panamera S E-Hybrid is power-packed with style and performance from the inside out. It's a hybrid masked as a stealth sportscar with all the money-saving efficiencies that makes driving a hybrid such a hot commodity today. While there are other hybrids that offer longer battery mileage, where this S e-hybrid lacks in efficiency it more than makes up for it 10-fold in sheer design and function. This ride is so hot, I just had to make it my own! Say hello to my new hybrid friend!