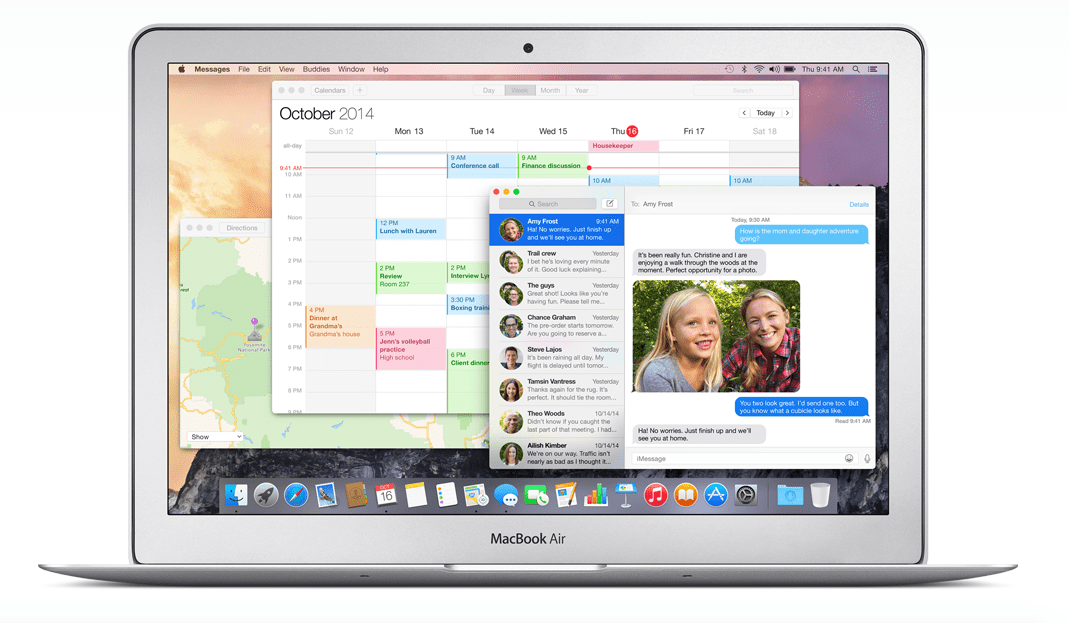 So you've just downloaded Yosemite, (or you're still pondering if a lengthy download is worth it) – Apple's latest update to the Mac platform. There's a lot that's familiar, but a number of features still look, feel, and function differently.  Depending on how much of an avid user you are, the new features could really be a game changer.
There's quite a lot to take in with the new update, but don't worry – I've narrowed down the best 7 Yosemite features that will change the way you use your Mac.
1.  Spotlight Search
Whether you're looking for a file, a fact, or a place to eat, Spotlight is a robust and useful tool for your needs.  Press the command-spacebar shortcut, or tap the magnifying glass icon in the upper right of your Mac's display, and you summon Spotlight, Apple's system-wide search tool. In Yosemite, Spotlight goes beyond the file system though, tapping into Maps, Wikipedia, Mail, and your web history to cull answers to your search queries. Type in a restaurant name, and it pulls up the establishment's information and ratings from Yelp, a map of its location, and any calendar events that have or will take place there. Type in a band name, and you get options to check out their albums on iTunes, music files on your computer, their Wikipedia page, and more. It's often quicker and more informative than opening up the browser and doing a Google search.
 2.  Record Your iDevice Screen
For sharing tips, or other useful productivity moments, you can record your iOS device's screen as a video file in Yosemite.  Plug your iOS device into your Yosemite-running Mac via its Lightning cable, open QuickTime, then go to File > New Movie Recording. Select your iDevice from the dropdown menu next to the record button, and hit record. Now you can easily record what's happening on your iOS device screen using your Mac. To stop recording, just hit the record button again. This capability could be useful for capturing some epic game moves, for showing a friend or family member how to adjust a setting on their device, or for documenting a glitch that's plaguing your machine.
3.  Handoff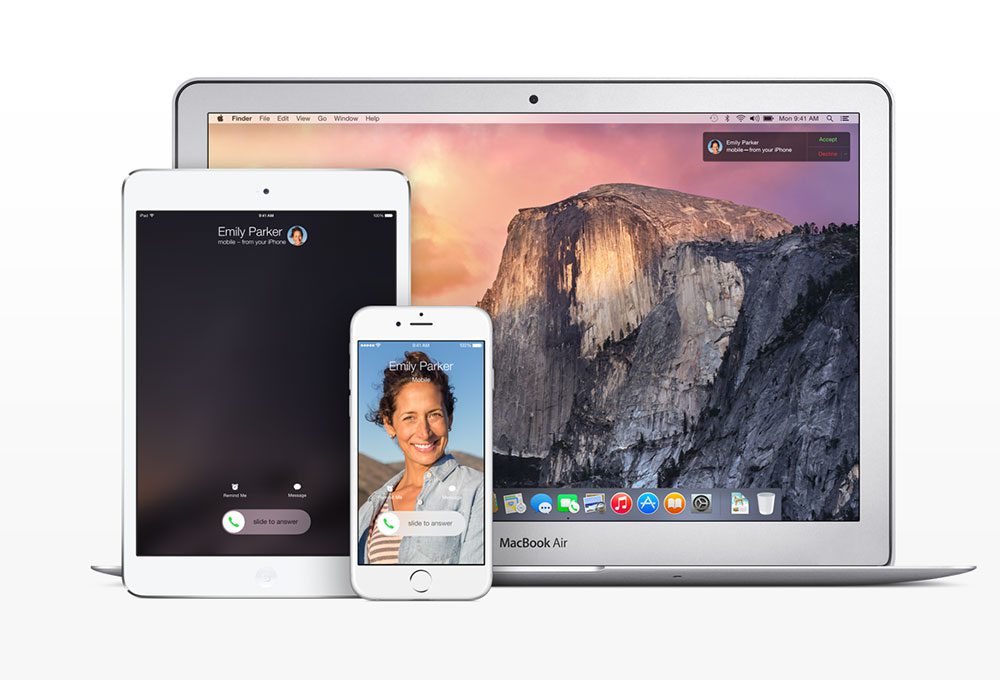 Handoff lets you pick up where you left off when you switch devices, in a variety of apps.  With iOS 8 and Yosemite, you can easily stop what you're doing, be it browsing in Safari, writing a text, or an email, and pick back up right where you left off on another Apple device. If you start surfing in Safari on your iPhone, for example, when you hop on your Mac, an extra Safari icon will tack onto the edge of your dock with a small iPhone symbol in its corner. Tap it, and you're taken to the exact page you were reading on your mobile. Conversely, this works from Mac to iOS, too, with an icon showing in the bottom left of the device's screen. Third party apps will begin integrating this soon, making it even more useful.
4.  Your Mac Is Now Also a Phone
You can send and receive SMS, MMS, and iMessages from your Mac, as well as phone calls, if you're on the same Wi-Fi network as your iPhone.  Beginning with OS X Mountain Lion, we've been able to send iMessages back and forth with other iOS users whether on an iOS device or a Mac, while FaceTime (introduced in 2010) lets us make video calls on either platform. With Yosemite, you can send and receive SMS messages from friends on your Mac, as well as make phone calls. As long as both your Mac and iPhone are on the same WiFi network, calls will get forwarded to your Mac, so you can answer them there if it's more convenient. And if you don't have time to chat, you can send an iMessage or SMS.
BONUS:  iMessages
Silence chatty group threads, and share your screen, with Apple's new Messages app.  Messages in Yosemite gains one of the features that also makes it great in iOS 8: the ability to bow out of super chatty group threads. You can mute a thread temporarily, or you can leave a conversation altogether. Messages on the desktop also gives you the ability to screenshare with the person you're chatting with, if you want to share something cool on your desktop, or help troubleshoot a relative's tech issues.
Have you downloaded the new OS Yosemite for your iMac or Macbook device?  What are you waiting for, download and take advantage of the new features today! 
Comments