After the well-recieved launch of the HTC One M8 last week, some of our readers have asked if I really think the HTC One M8 could replace my standard iPhone 5S.  After careful consideration, I have come to the conclusion that not only is the HTC One (M8) a better device than the iPhone 5S, but some of my favorite features of the new HTC One sync so well with my lifestyle that it tempts me to give up and replace my iPhone 5s altogether.  Don't believe me?  Here is a list of five ways the new HTC One beats the iPhone 5s. Are they reason enough for you to make the switch from iOS to Android?

TV Remote
The TV Remote feature is a godsend for a girl like me, I misplace my remote control all of the time – but I never misplace my phone.  Not only does the device act as a remote, but it also suggests new programs based on your television show preference and interests.  Your HTC One is able to power on your TV, change the settings, control the volume, and switch between channels.  The HTC One's IR blaster even has exceptional range, so much so, it even worked when it wasn't pointed directly at the TV or cable box.  The Sense TV software is extremely powerful. It provides detailed information on TV shows and movies, and gives you the ability to easily switch between them. The app provides complete TV schedules through the channel guide and includes built-in notifications to ensure that you never miss your favorite shows again.

Zoe
If you're an iPhone user that has more photo editing apps than any other apps on your photo – listen up!  One of my favorite things about the HTC One M8  is its Zoe camera mode. Tapping on the shutter button records continuous still photos and video simultaneously. This might not sound like too big of a deal, but it's a godsend when trying to capture action shots on the go. The resulting photos and videos are automatically remixed into multimedia videos thanks to the phone's Highlights feature. I've spent way too many hours of my life editing and sharing photos using various editing  and sharing tools. None of them are as easy and satisfying as uploading a Highlight to Facebook, tagging a few friends and calling it a day.  Zoe is like your magical editing genie in your HTC – no additional editing apps required.

Screen
The HTC One features a 5″ display that delivers full 1080p resolution (1920 x1080 pixels). The HTC One's display is an inch bigger than the iPhone 5s and is simply better suited for everything from reading news to watching movies. It's not that the iPhone 5s's display is bad, it's just that it's stuck somewhere between 2010 and 2012. Apple introduced the Retina Display back in 2010 with the iPhone 4, kept it the same in 2011 with the iPhone 4s and stretched it out a bit in 2012 with the iPhone 5. Nothing changed for the iPhone 5s display in 2013 and now we're stuck in in 2014 with an iPhone 5s with a display that's too small for getting the most out of our 4G LTE networks and more powerful apps.  (And even though the HTC One is slightly larger, I can still operate and maneuver the device with one hand without worrying about fumbling or dropping the phone.)

Speakers
The HTC One M8 has a pair of BoomSound speakers facing forward. They're loud and produce stereo sound that's far superior to the mono sound piped out of the iPhone 5s's single speaker. It's easier to hear movie dialogue on the HTC One than the iPhone 5s. Games and movies have way more depth to them on the HTC One than the iPhone 5s because sound is actually split into left and right channels, just like when listening through headphones.
Isis Mobile Wallet / Google Wallet
The HTC One supports both Isis Mobile Wallet and Google Wallet payment solution. This means users can pay with their phones rather than credit cards at many retailers by simply tapping the HTC One when checking out. That might sound trivial to some, but it's always nice to have alternative ways to pay.   [Tap, Pay and Go With Isis Mobile Wallet]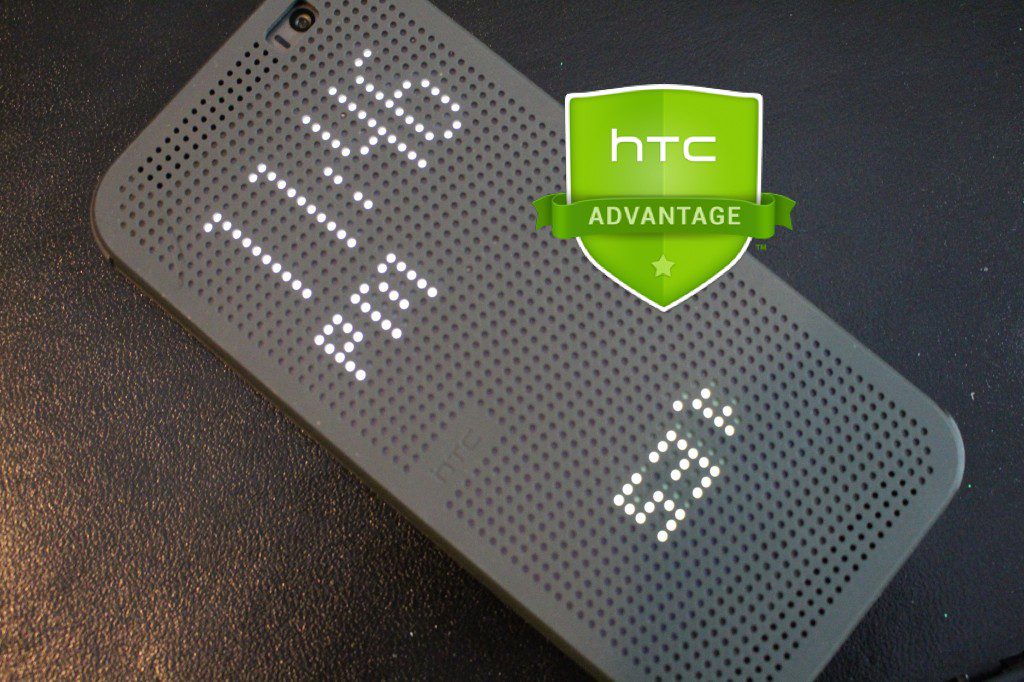 HTC Advantage
HTC believes in caring for your device, even after you've taken it home.  So much so, that if case you ever drop or damage your phone HTC offers a free one-time cracked screen replacement within the first 6 months. You also get 50GM of free online storage (that's extra storage above and beyond taking advantage of the external memory slot.) and  a host of new software and updated features.  Discover all the added freebies at HTC.com/advantage.
Now of course your iPhone 5S still maintains the lead in accessory variety, app availability, music management and support – but when it comes down to pricing, this just might be a key factor that'll change your mind.  The HTC One is already available from Verizon Wireless for just $199 with a contract. Which is $100 less than the 32GB iPhone 5s, and that's just the beginning. Verizon's already offering a free HTC One with the purchase of an HTC One, which drops the price down to $100 each. If HTC and its partners are offering these kinds of deals right off the bat, imagine what we'll see in a few months. Verizon Wireless has a bit of a head start selling the HTC One (it's available now in stores and online).  If you're looking to buy the HTC One on other carriers, you'll have to wait until next week – when it becomes available on over 230 carriers on April 10th.
Comments