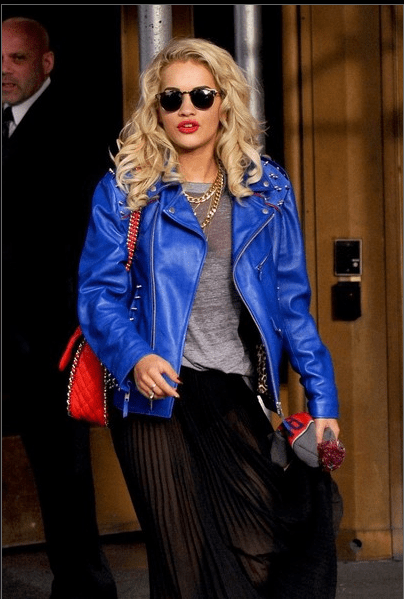 There's no better way to celebrate a change in seasons than to mix a little color with colder temp wardrobe staples.  One of the best ways to mix up your look is by adding colorful leather to your wardrobe.  Rock Star Rita Ora knows exactly how to tease the paparazzi with her amazing looks and eclectic wardrobe. Her bright blue jacket and red leather bag make her look trendy without trying too hard. Opting for less traditional colors in leather is an instant way to be among the fashion elite. Learn the DO's and DON'T's on how to snag this look.
DO
Go for the Gold– or red! Brown and Black leather clothing and accessories are the norm. If you really want to turn heads, choose a bright color that will stand out. This is not the time to play coy.
DON'T
Wear this trend with too many other colors or over the top prints.  Rita perfectly paired her hot ticket leather with more subdued clothing. The result is a more balanced ensemble.
DO
Treat your leather before you first wear them. Protect your items early against water, salt, and snow. This will give you more bang for your buck and keep your items looking good year after year.
Check out a few of these colorful options to mix and match within your wardrobe starting today.  You'll love the versatility that this pop of color  will add to the bland colors of autumn.  Which piece could you see in your closet?